When a SharePoint intranet comes into a company's life, it is to reach several goals: to facilitate business processes, to help employees with their day-to-day routine, to support collaboration and to promote corporate values.
But sometimes, despite all the efforts, no one shows any interest in the new system, leaving it unused for months. Let's look at possible reasons for users' reluctance and find out how to address them.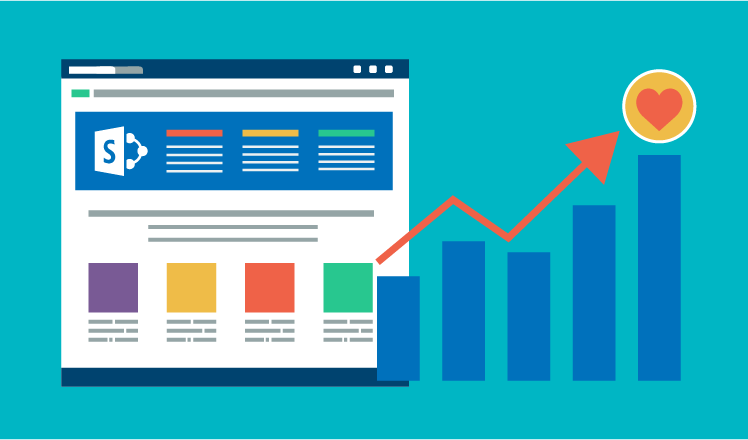 Why do users reject a corporate intranet?
Poor intranet adoption can be the result of psychological barriers, but it can also be a sign of UX defects or a lack of information.
Look at some possible rejection scenarios:
"I use other tools and I like them." If you introduce a new intranet, get ready to face users' natural rejection. When employees have been managing their tasks with other tools (via email, messengers, face-to-face meetings, etc.) for a long time, they can meet a new solution with cold hearts just because it encroaches on their usual working process.
"I don't want to handle another system." Employees can also be hostile because they don't want to learn one more system. They will consider the portal just a new time-eater.
"I don't understand how it can help me." If you hear such a reaction, be sure the intranet came to users without any official training. When users don't understand how the SharePoint intranet can serve them, the solution has little chance to succeed.
"It's dull and unattractive." SharePoint is the platform that has heard tons of negative feedbacks about its out-of-the-box look and feel. So if your organization doesn't invest into SharePoint customization, the risk of a poor user adoption is very high.
Foreseeing all negative reactions before you've implemented the intranet is hard. Fortunately, it's still possible to win users' favor when the intranet is already up and running. Your response should be quick, though.
Why should you react promptly?
You have to react as soon as you notice the first signs of the portal rejection. Don't try to reassure yourself that the portal can serve to manage workflows or to store documents while employees will collaborate the way they like. Collaboration ensures the portal's vitality. Once it's gone, the portal will quickly transform into a mere document storage, or, at worst, into a browser bookmark.
Then, let's not forget about security. If employees don't collaborate on their intranet, they collaborate somewhere else. When your staff keeps using third-party solutions, you can't control what data crosses the borders of your organization, where it is stored and who accesses it.
Finally, the portal rejection means that you lost the battle for the highest productivity and employees will have to stay with their old working style full of papers and meetings. If so, you can hardly call the SharePoint intranet implementation a success.
4 steps towards an improved SharePoint intranet
There are several aspects you can enhance to ensure SharePoint users' loyalty.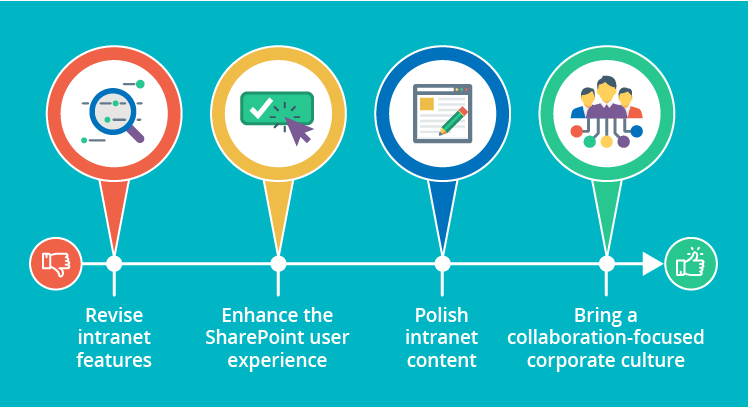 Step 1: Revise intranet features
Make sure your corporate intranet is balanced. It means your intranet should provide relevant features to help employees fulfill their daily tasks and support social life. When the feature balance is distorted, your intranet attracts only a limited audience, so SharePoint feature parity should be your goal. For an example of a balanced SharePoint intranet, check our interactive demo.
Apart from finding the right proportion of job-related and social features, make your intranet more dynamic and powerful. Handy SharePoint add-ins will diversify the functionality of the corporate portal. They will help users solve specific business tasks or find useful information quickly (for example, their colleagues' birthdays, the office plan, etc.). Engaging team sites will help teams consolidate their core activities in a private and secure hub, while community sites will unite employees sharing the same interests.
Step 2: Enhance the SharePoint user experience
Sluggish and unfriendly intranet always results in users' disengagement. Three components require your particular attention.
SharePoint UI. As we've already mentioned, SharePoint out-of-the-box isn't enough to engage your employees. Luckily, the SharePoint UI is highly customizable, so the portal can follow modern web trends, contain the corporate identity and support your brand. As for team sites, they can be customized according to team members' preferences.
Intranet response time. Ideally, portal pages should be rendered in less than a second. Slow response can originate from server overloads, incorrect distribution of server roles or poorly designed pages with many web parts sending multiple server requests. To bring the response time up to the standard, you need a comprehensive diagnosis of specific pages, servers and network connections, server hardware and software configuration.
Intranet adaptability. If your employees work out of the office quite often, provide them with mobile and tablet versions of the corporate intranet. The mobile and tablet versions shouldn't be inferior to the desktop one and should provide all the business-critical features. At the same time, your intranet should be well adapted to the most popular mobile browsers such as Safari, Chrome, Edge, Samsung Internet, Android Browser and IE.
Step 3: Polish intranet content
To keep your audience engaged, you should stick to an active content management strategy.
Control the quality of organization-specific content. It's necessary to establish a high-quality standard for corporate content, such as corporate news and blogs. A well-thought newsfeed will help to promote corporate values, strengthen the sense of community and involve every staff member into the company's life. At the same time, quality corporate blogs can become important sources of unique organizational knowledge and expertise.
Involve employees into content generation. Don't concentrate on material rewards only, but think about psychological triggers inciting people to contribute to corporate content. This can include growing personal influence, getting valuable feedback and acquiring peers' acknowledgment through the portal. It's also worth creating community sites where employees will share their interests in an informal manner.
Update intranet content regularly. To keep your internal portal always up to date, you will need extra help. Assigning content moderators for particular sites or topics can be a reasonable approach.
Step 4: Bring a collaboration-focused corporate culture
The last but not the least, corporate culture changes should come together with your SharePoint intranet. Employees have to adopt a new corporate collaboration-oriented psychology to use their internal portal actively on a daily basis. It's critical to gather users' feedbacks regularly and let employees share their experience with the SharePoint portal. This will help your employees to voice challenges they face and address them. Besides, this will allow you to gather their ideas on intranet improvement and implement the most valuable ones.
Training is the shortest way to users' buy-in
As you can see, there are several steps you can take to improve your SharePoint intranet adoption. However, if you don't present the improvements to employees and if you don't explain to them how the intranet can foster their professional life, don't expect positive changes.
Regular training sessions and short presentations of newly delivered features will help employees understand the true value of their intranet. Training sessions are also helpful to prevent psychological rejection and to convince your employees that the new portal is not their enemy but a helpful tool for them to be more efficient and productive.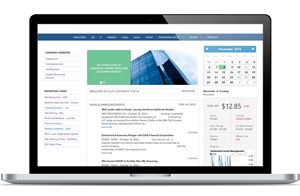 Do you want to create a brand-new Office 365 or SharePoint intranet or improve your existing corporate portal? Let's make it real together.