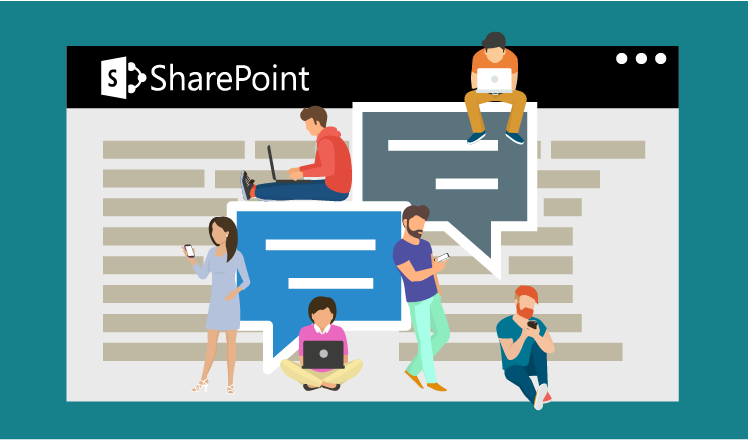 Announced during the SharePoint Virtual Summit this May, communication sites became available for Office 365 First Release customers on June 27, 2017. Microsoft plans to finish a complete rollout of communication sites by the end of August so that companies all over the world try out this brand-new collaboration tool to the fullest already this fall.
While communication sites intrigue SharePoint owners, confusion and doubt are already here: not only it's hard to understand the difference between SharePoint team sites and communication sites, the entire Office 365 suite has grown up once again, which complicates the choice of relevant team collaboration tools.
So let's take a closer look at communication sites and learn how they can power organizational collaboration.
Predefined site templates and page layouts for a quick start
With communication sites, it will be much easier to start collaborating in SharePoint. Using default site templates (Topic or Showcase) and choosing a suitable page layout, it's possible to launch a communication site in just a few clicks without additional coding or complex customizations. Further tuning is always possible, but if a company or a particular community needs a site urgently, it will take just a few moments to launch it. As default sites look nice, hopefully, the number of complaints about unfriendly out-of-the-box SharePoint will decline.

SharePoint communication sites come with 3 default designs: Topic and Showcase are ready-to-use, while Blank lets you create a custom site. Picture source: Office Blogs.
New web parts for diversified communication
Communication sites came up with a nice bonus new web parts. Using these web parts you can diversify SharePoint sites' look and feel, extend publishing capabilities of site members and enrich your intranet with versatile content. Among new web parts you can find:
Hero: to sum up and emphasize the most important content of the site.
People: to put site members together and get them connected quickly.
Events: to announce upcoming events and let employees easily mark them in their personal calendars.
Stream: to combine videos from a Microsoft Stream channel.
All these web parts will be available across SharePoint team sites too, which will help you make them more engaging.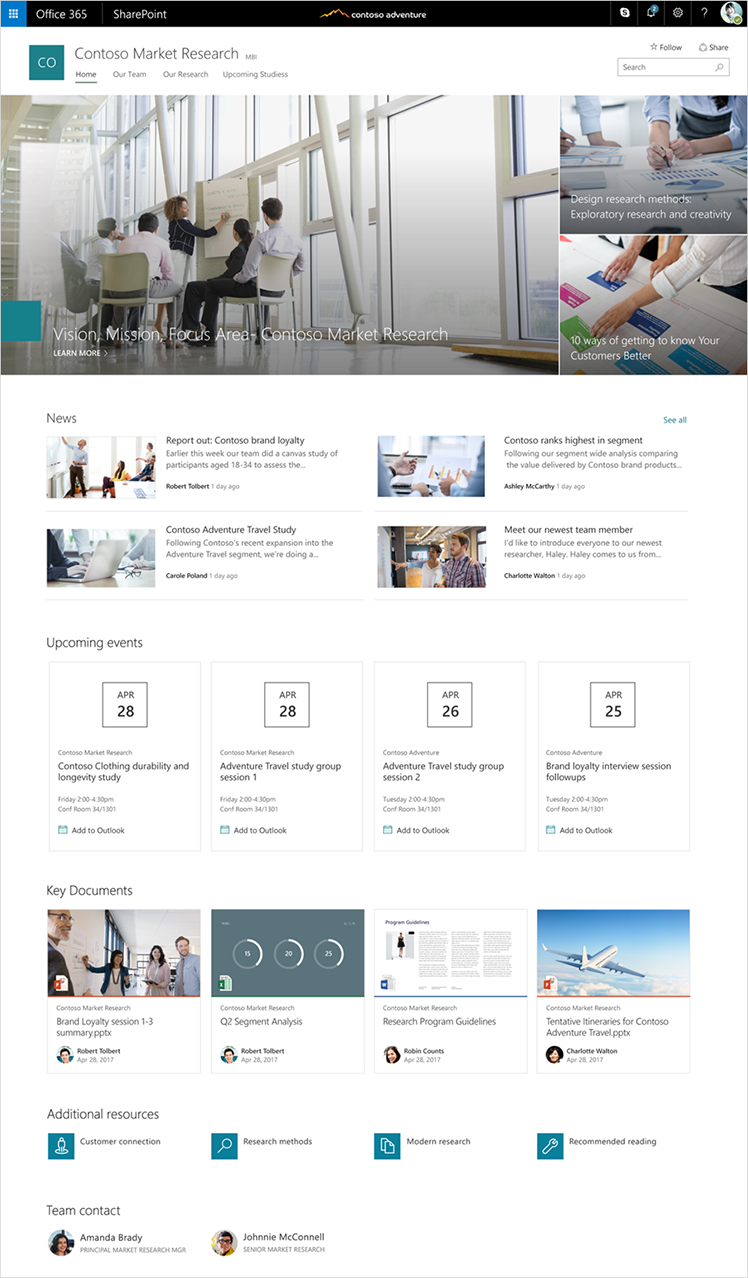 SharePoint communication sites offer new web parts, including Hero, People, Events and Stream. Picture source: Office Blogs.
Responsive design for mobile users
SharePoint and mobile devices had been living in parallel worlds for quite a long time, which annoyed end-users a lot. That's why each single update to mobile SharePoint is so much cherished by the community. Communication sites have all chances to win employees' hearts because they are responsive by default, so no effort is required to start using them on mobile devices. This can please both end-users and SharePoint developers: while the former can follow activities on their communication sites using various devices, the latter can save their time on elaborating and setting responsive design separately.
More perks for SharePoint advocates
Communication sites will bring other advantages to make your SharePoint experience positive, including:
Search suggestions for news, documents and people to let employees find the needed information through any available channels.
Extranet scenario to allow the use of community sites for external collaboration with users outside the organization.
Content usage stats to show how popular particular content is. This feature will help you tune your message and deliver only the most relevant and catchy content.
Will communication sites force team sites out?
Communication sites are just making their first steps, however, debates around them are already intense. One of the most burning FAQs is how to turn team sites into communication sites and how to migrate data from team sites to communication sites.
As Microsoft didn't consider communication sites as a rival to team sites, the corporation representatives get surprised with users wishing to replace their team sites with communication sites. For example, Mark Kashman, Senior Product Manager of Microsoft's SharePoint team, asserts: 'There will not be default tools to move content in this way.' And he asks right back: 'Can you share more about why you would like to move content from a team site to a communication site?'
Vivid discussion across the community proves overexcitement about communication sites and their capabilities, which makes SharePoint owners and users want to get the experience of communication sites throughout the entire SharePoint. At the same time, it's obvious that currently both SharePoint owners and users hardly see the difference between two types of sites and think they are mutually exclusive, which isn't true.
SharePoint sites are complementary and serve different purposes. Explanation by Susan Hanley, a Microsoft MVP, clears up things: ?Communication sites are focused on broadcasting or communicating a message to a wide audience. In a team site, most users contribute content. In a communication site, typically there are a small number of users and a large number of readers.'
Thus, team sites are team collaboration tools, while communication sites support organization-wide communication that can fit one of the scenarios below.
When to use communication sites
Since real examples of communication sites are still rare, we can only suppose what collaboration goals they can hit. First, communication sites can attract HR managers, who can use them to spread corporate news, announce events and achievements by reaching the widest audience possible.
Communication sites can also become companions of marketing departments to deliver reports and keep the entire company or particular teams informed about the latest industry trends and competitors' activities.
Powered with the Yammer web part, communication sites can be knowledge aggregators facilitating knowledge transfer between regular employees and newcomers. Provided with external collaboration capabilities, a company can also use communication sites to spread information among business partners, as well as to co-innovate and co-learn.
If you have already tried out SharePoint communication sites, you are welcome to share your impressions in the comments below. What do you like/don't like? What is the role of communication sites in your organization and how they help you make enterprise collaboration more effective?
Our Office 365 services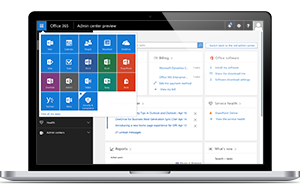 Office 365 Consulting Services by ScienceSoft
Unleash the power of cloud collaboration in your organization. Our consultants will help you to make your Office 365 project a success!