Editor's note: Find out whether an Office 365 intranet is a successor of a SharePoint intranet or its imposter, explore its peculiarities and potential implementation challenges. And if you already have an Office 365 intranet and consider customizing the intranet's design to give it a branded look, you are welcome to turn directly to our Office 365 consultants for expert advice.
When Office 365 just stepped into the business world, it met lots of skepticism both from the professional IT community and potential adopters. Many companies worried that Office 365 was going to ruin traditional SharePoint intranets without offering anything instead.
Fortunately, turbulent times are over and organizations got used to the word combination "Office 365 intranet". The latest report "10 Best Intranets of 2020" by Nielsen Norman Group proves that Office 365 is now a popular intranet platform helping companies build highly effective corporate networks.
At ScienceSoft, we have been developing collaboration solutions on SharePoint and Office 365 for 12 years already and know the length and breadth of the Microsoft Office 365 intranet. So, if you are considering a cloud intranet, you may find my overview of the Office 365 intranet useful. In this article, I analyze its peculiarities, as well as important aspects you should consider before implementing one.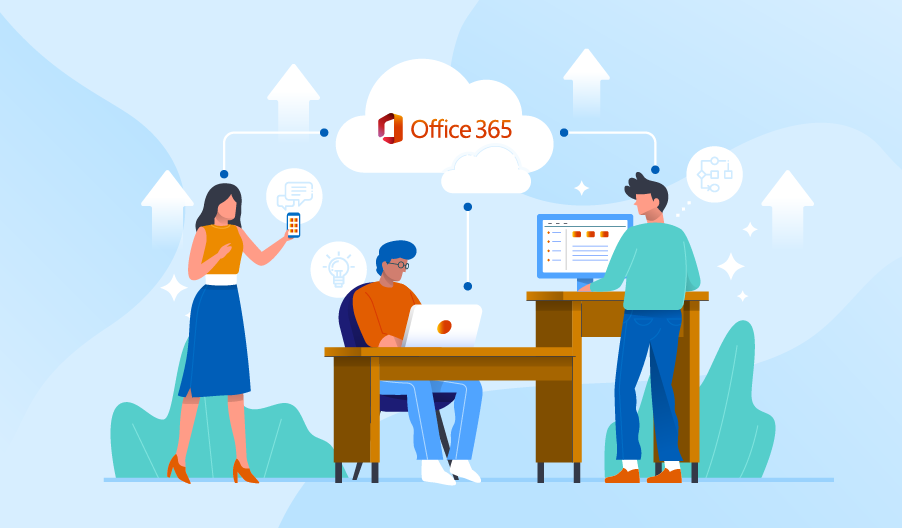 If you launch Office 365 on your computer, you will access a set of collaboration and productivity apps that cover a wide array of activities, including content management, task and project management, communication and more. Still, you won't find an intranet tile there as to build your unique and multifunctional intranet, you need to combine various Office 365 apps. Let me give you an example from our practice. For one of our customers, we built a robust intranet by combining such Office 365 features as Exchange Online, Office 365 Groups and Skype for Business. All this allowed the customer to leverage intuitive and convenient email management and create secure team collaboration spaces via facilitated meeting scheduling.
As for the intranet's core, Microsoft Teams, Yammer, Planner and OneDrive can be used. But to our customers, I always advise choosing SharePoint Online as it offers strong and diverse content management and collaboration features.
For your convenience, I've united Office 365 apps into several functional groups depending on their key purpose. For example, you can manage your tasks in Planner, Outlook Tasks and To-Do or you can communicate with peers via groups in Yammer, channels in Microsoft Teams or Skype for Business.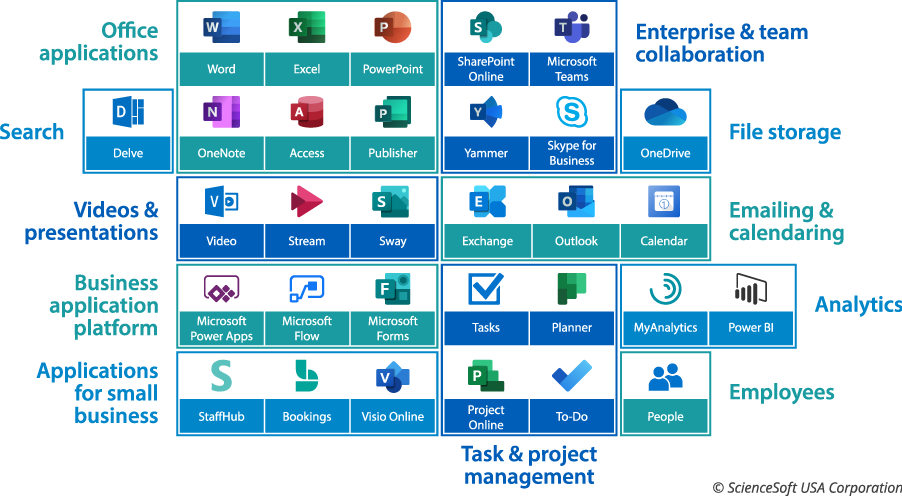 To my mind, when implementing an Office 365 intranet, organizations should find the right balance between:
Different groups of apps (collaboration, task management, content management, etc.)

Different apps within the same functional group (for example, Tasks, Planner, Project Online, To-Do within task and project management group).
Many managers I talk to think that an Office 365 intranet is a standard SharePoint intranet that can be extended with other apps. In reality, there are several critical differences between a typical SharePoint on-premises intranet and an Office 365 intranet.
MySites don't exist in Office 365. An important component of on-premises intranets, MySites are responsible for employees' profiles and help users manage their personal info and content. In Office 365, MySites' duties are delegated to Delve. The app hosts users' profiles, puts together all the files a user works with and helps find other employees by their names, documents or conversations. Delve also hosts Delve Blogs where users can create their personal blog-like content.
The Office 365 intranet offers wider SharePoint capabilities. It can seem strange, but Office 365 really comes with richer SharePoint capabilities than SharePoint on-premises. Since Microsoft is laser-focused on the cloud suite, all new features come to the cloud first, which explains this functional disruption. Apart from traditional team sites, SharePoint Online offers communication sites and hub sites. Neither of these features is available in the on-premises versions of the platform.
Office 365 Groups are yet another component absent in a typical SharePoint intranet. I'd say, Groups aren't a feature but rather a capability within the suite that enables users to create shared collaboration spaces. Although the concept of Office 365 Groups seems great, they are one of the biggest management pains for our customers because they entail uncontrollable propagation of shared SharePoint sites, Outlook email boxes, OneNote Notebooks and other group items.
Mobile Office 365 intranet. Creating a mobile-friendly SharePoint intranet was always a challenge for companies. Luckily, Office 365 comes with a number of default mobile apps for SharePoint Online, OneDrive, Office apps, etc. This way, employees can have their intranets at their fingertips at any place and use them at any moment.
User-enabled intranet management. The Office 365 intranet is also more user-oriented in terms of management. For example, modern page layouts in SharePoint Online allows building nicely looking and personalized team or communication sites in a few clicks without coding.
Although companies started to adopt the suite actively in 2015-2016, I've encountered many managers who still put off Office 365 implementation because of the platform's customization, maintenance and adoption challenges. Luckily, these challenges can be solved with professional help, and I'll show you how.
Migrations and customizations. Implementing Office 365 from scratch can be less challenging than moving a deeply customized on-premises intranet to Office 365. The second scenario implies substantial migration effort and can bring various customization pitfalls. Therefore, developers who perform transfer to Office 365 should have relevant skills and expertise to ensure smooth migration and fix or recode customizations if needed.
Simpler support vs tougher management. An intranet built on Office 365 won't be a headache in terms of support. Since the suite belongs to Microsoft, the corporation is responsible for its performance, as well as functional and security updates. Your IT staff has some work to do, though, especially if you run a large Office 365 intranet. The solution will require substantial maintenance effort so that customizations work as intended, collaboration is secure on all types of devices and Office 365 Groups don't go wild.
Ineffective usage of an Office 365 intranet. When an organization decides to implement an Office 365 intranet, a clear adoption is a must to avoid various collaboration problems in the future. In this context, user training is one of the most effective measures against an intranet rejection, and we at ScienceSoft always offer it to our customers.
The choice is easy with a SharePoint intranet, as companies mostly choose a custom development path to get a tailored solution that offers a number of benefits However, with an Office 365-based intranet, I can't name a definite pattern: customers go either with a custom solution or choose among ready-made intranets.
Ready-made solutions are usually packed with custom designs and pre-configured features, so this is a good option for companies that aim to avoid development from scratch. At the same time, I warn our customers that the ownership cost of a turnkey cloud intranet can exceed the cost of Office 365 subscriptions substantially in a longer run due to customizing it in line with their requirements and integrating it with enterprise systems.
As for a custom intranet, I admit that it can be more costly at the development and customization stage but more economically reasonable in the long run. What's more, you will also be able to continue your intranet development with any Office 365 partner, instead of sticking to a turnkey intranet vendor only.
An Office 365 intranet can provide your employees with a dynamic and engaging collaboration medium with diverse capabilities, exactly as this Office 365 intranet that ScienceSoft made for a healthcare organization.
At the same time, implementing it won't be an easy ride, especially if you need complex customizations. But you don't have to struggle with these challenges on your own. I recommend you to turn to experienced consultants for thorough planning of your future solution, a balanced approach to its features, and the help in creating a highly effective and engaging intranet. If you think this recommendation resonates with you, please feel free to contact me and my colleagues.
Our Office 365 services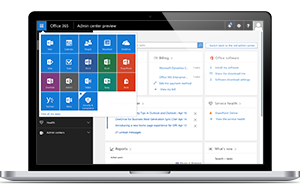 Office 365 Consulting Services by ScienceSoft
Unleash the power of cloud collaboration in your organization. Our consultants will help you to make your Office 365 project a success!