Hardly had Microsoft presented Dynamics 365 in late 2016, and we were speculating what this announcement could mean for businesses using good old Dynamics CRM. Now, two years later, we are armed with hands-on experience and a good understanding of how Microsoft's new product is different from its predecessor. Here, we will outline some of the key improvements of Microsoft Dynamics 365 and give a few reasons to upgrade.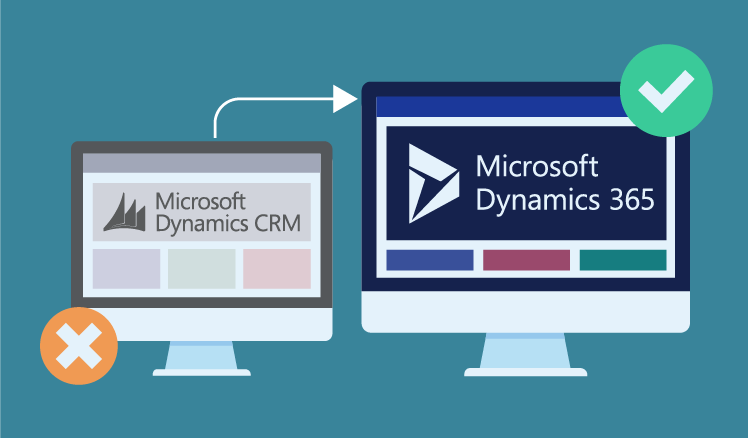 So, what is Microsoft Dynamics 365 exactly?
As a matter of fact, Dynamics 365 is neither an entirely new product, nor even one single piece of software. Rather, it's a repackaging of some of the Dynamics suite's most popular products, which now sit together under the Dynamics 365 umbrella. The products — or apps, as Microsoft now refers to them — are still separate entities, though they can be integrated using Microsoft's Common Data Service for Apps, a data repository helping Dynamics 365 apps standardize and share information between themselves and other Microsoft platforms.
Under the rebranding, the most recent version of Dynamics CRM was renamed the Dynamics 365 Customer Engagement Plan, which consists of six discrete but associated apps:
Dynamics 365 Project Service Automation
Dynamics 365 Field Service
Microsoft Social Engagement
These apps can also be purchased individually, or as a part of the Dynamics 365 Plan which also contains ERP apps.
Since revamping Dynamics CRM, Microsoft has been updating the platform, infusing it with new technologies like AI and machine learning. Switching to Dynamics 365 is a go-to solution for companies that want access to the latest features and the best version of their software. But with all the customizations made and workflows organized in Dynamics CRM, the process of upgrading the current CRM implementation to Dynamics 365 can be quite a challenge. Dynamics 365 consultants will help companies find the right migration path and minimize concurrent work disruption.
New tricks in Microsoft Dynamics 365
Dynamics 365 for Sales, Customer Service, Field Service, and Customer Engagement are all essentially newer, reshuffled versions of Dynamics CRM 2016. Though they're closely based on original Dynamics CRM software, Microsoft has pushed through several waves of updates and new features for the Dynamics 365 platform since November 2016.
The most recent update, the October 2018 release, introduced a host of new functionality and even a new app: Dynamics 365 AI for Sales, the first of a new class of Dynamics 365 apps that will use machine learning to deliver data-driven insights and help organizations make more informed, proactive decisions.
Below are key features, functions and integrations exclusive to Dynamics 365:
In late 2017, Microsoft unveiled a new interface for Dynamics 365. Called the Unified Interface, the new user experience aims to surface the data you need faster, standardize the interface across apps, and move towards a more mobile-friendly look that's consistent irrespective of device, screen resolution, or orientation.
The Dynamics suite exists within a broader stable of business productivity tools, and Microsoft has taken steps to ensure that those tools work better together and help businesses be more productive and more informed. Office 365, LinkedIn, and Power BI among others can all be connected to Dynamics 365, enabling the sharing of information between platforms and giving businesses a clearer picture of their operations.
Plus, Dynamics 365 ships with Microsoft PowerApps and Microsoft Flow – two new tools designed to help users create apps, connect to both Microsoft and third-party apps, and customize workflows without the need for code.
With its machine learning capabilities, Dynamics 365 provides users with more intelligent insights, contextual data analysis, and predictions. It can also automate certain business processes to free up users to spend more time on bigger issues.
For example, Dynamics 365 for Sales features the Relationship Assistant, part of a new set of AI functionality that tracks behaviors, analyses information, and automatically generates action cards to help keep pipelines moving. The Relationship Assistant can evaluate relationships with customers and offer next steps like reminding users of upcoming activities, suggesting reengaging with a contact who has been inactive for a while, and alerting a sales rep when an opportunity is nearing its close date.
Similarly, the Relationship Analytics gives a graphical display of KPIs and activity histories for any contact, opportunity, lead, or account. The add-on helps sales reps decide what opportunities are the most valuable, where they should focus their time, and how their relationship with a customer is progressing.
Dynamics 365's mobile app has new capabilities like access to cameras and geolocation to help smooth out operations for those working in the field and enhanced access to CRM functions (such as editable grids, dashboards, and Power BI) on the go.
While Dynamics CRM offers a free development sandbox solely for accounts with 25+ licenses, Dynamics 365 users receive one by default, so that developers have more room to customize, innovate and test to make their instance of Dynamics as productive and stable as possible. It also comes with a self-service portal.
Cloud computing means less infrastructure to maintain and, thus, fewer overheads. But even without onsite hardware, Dynamics 365 users still need somewhere to store their data. Dynamics CRM Online provides 5GB per seat out of the box, plus an extra 2.5GB per every 20 full licenses to a maximum of 50GB. By comparison, Dynamics 365 comes with 10GB of storage per seat, an extra 5GB for every 20 full licenses, and no upper limit on storage allocation.
Gamification allows employees to participate in solo and team-based competitions to increase their efficiency. The benefits of using gamification in sales teams have been well documented, and now Dynamics 365 ships with a gamification module to help motivate and engage sales teams.
Future of Dynamics CRM
Any Dynamics CRM user who's running a version that predates version 8.2 (the one that was rebranded as Dynamics 365) will have limited access to the latest updates and developments being rolled out by Microsoft. Though the company extends some updates to older versions of CRM, they've made it pretty clear that their further efforts will be focused on their cloud-based Dynamics products, meaning Dynamics 365.
The support for older versions won't last forever. While mainstream support for CRM 2011 and CRM 2013 (since early 2019) has already ended, users of CRM 2015 will be on their own in early 2020. Once mainstream support ends, support for Dynamics CRM will extend only to basic security updates. Any other hotfixes or support incidents must be paid for, and no provision will be available for warranty support, design changes, or new features.
Cost-cutting with Dynamics 365
Of course, it's unreasonable to make any kind of blanket statement about if and how much money Dynamics 365 will save a business. With multiple apps, packages and license types on offer, the cost-effectiveness of Dynamics 365 will depend on a multitude of factors. Still, there are 3 key reasons why Dynamics 365 may work out cheaper than its predecessor:
In terms of license prices, the top-end Enterprise license for Dynamics CRM costs $200/user/month, while a Full User license for the Dynamics 365 Customer Engagement Plan will set users back $115/user/month. Light, read-write access seats are also cheaper for Dynamics 365 – $8/ user/month as opposed to $15 for Dynamics CRM.
Running a cloud-based platform will mean less spend on maintenance and hardware upgrades, and reduced utility and labour costs. There are also more abstract, difficult-to-calculate money-savers, like increased uptime, better productivity, and reduced risk of data loss.
With Dynamics CRM, users would purchase a single app. If they only wanted sales functions or used another platform for their marketing, they would effectively pay for unneeded features. Dynamics 365 licensing offers users more flexibility to pay only for the services they need and scale up easily when needed.
A few last encouraging words
There will come a time in the not-so-distant future when Dynamics CRM users will need to jump ship if they want to keep up with Microsoft's CRM offerings. The more carefully planned the migration process, the more likely a successful outcome will be. Take all these advantages into account and make the move with the help of Dynamics 365 experts.
Are you planning to implement Microsoft Dynamics 365 or experiencing troubles with your existing solution? Our experts are ready to address your challenge.