Editor's Note: Microsoft Dynamics 365 can help with managing sales and client support, as well as optimizing internal processes. In the article, we help you pick the most suitable Microsoft Dynamics 365 implementation for your business, which can give a return of up to $16.97 for every dollar spent. Read on and turn to ScienceSoft's team for Microsoft Dynamics 365 implementation services to handle the task.
To use Dynamics 365 efficiently, you need to decide which version is better to choose. Over 80% of our clients chose the cloud deployment hosted by the Azure servers; the other 20% chose the on-premises version. Let's see what reasons stand behind their decision and how these findings will help you make your choice.
Similarities and differences
Both online and on-premises solutions have similarities:
All versions have identical core features and possibilities of expanding.
Custom settings from the on-premises version can be moved to the online one (and vice versa).
Any supported code works in both versions.
App integration is identical for online CRM and on-premises CRM.
However, there are significant distinctions between online and on-premises versions: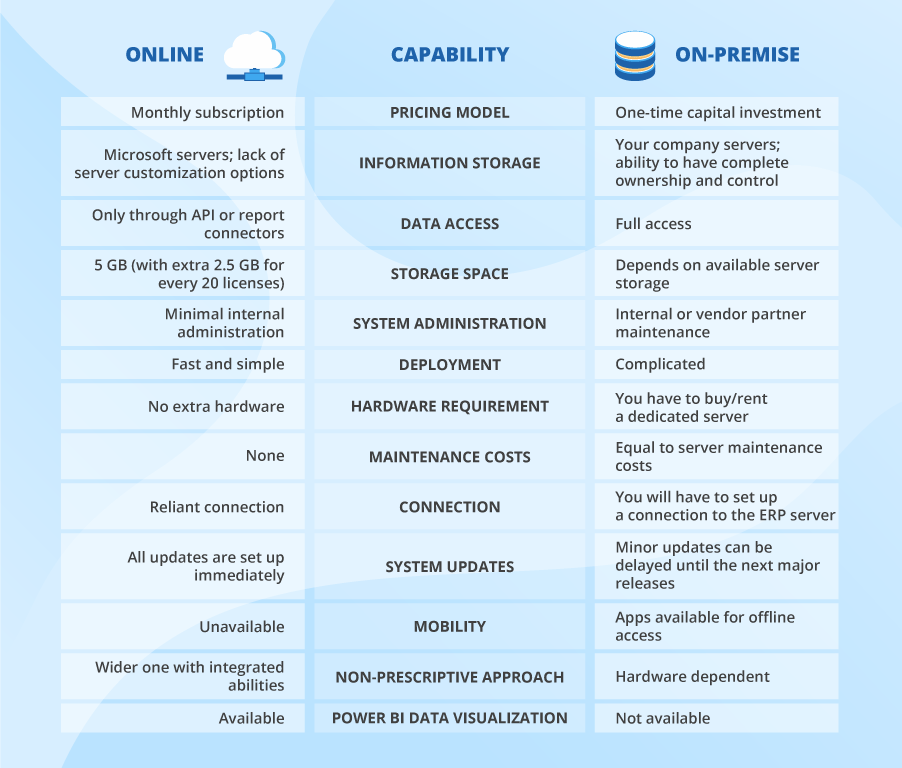 What online abilities are not available with the on-premises license
Microsoft Dynamics 365 cloud updates that are not available or partially available in the on-premises version include:
Task recorder.
Support panes.
PowerBI.com integration.
Recurring API integrations.
Microsoft Office integration.
Electronic reporting (ER) integration with LCS.
ER integration with SharePoint.
Business document management.
Purchase requisitions: Punch-out from external catalogs.
Trace Parser and PerfTimer.
SSRS scale out.
Telemetry.
Data task automation.
SSRS Report Viewer control.
Document Routing Agent.
Is the cloud option safe?
Microsoft Dynamics 365 provides various protection features, like the multi-factor authentication service, to guarantee the security of your business data. All connections among clients and external data servers are encrypted. Microsoft's cybersecurity infrastructure can successfully detect and prevent any intrusions.
Hybrid deployment: advantages and disadvantages
Some customers prefer hybrid deployment hoping to get the benefits of both solutions. Advantages of such deployment include:
Added cloud services for less investment in hardware.
Local data storage for compliance settlements.
Business continuity for retail and manufacturing.
However, keep in mind that by gaining additional benefits, you get disadvantages from both options too. Not only will you have to pay for the cloud version, but you will also have to pay for the support and maintenance costs of your own service, invest in its installation and ensure proper data protection.
Which version is better to choose?
Cloud Dynamics 365 option is suitable for an organization of any size. It's more cost-effective than buying or renting a dedicated server. You won't need to handle any server maintenance, and all support requests can be performed very quickly.
In case of strict compliance requirements or sufficient budget to handle the integration costs with the on-premises version, which include the hardware and license price, you will be able to experience the full potential of Dynamics 365 customization possibilities, as well as offline access. Moreover, it will be more convenient in the long term.
Ready to decide on Dynamics 365 implementation or have more questions? Contact our team for a discussion on what's better in your case.
Are you planning to implement Microsoft Dynamics 365 or experiencing troubles with your existing solution? Our experts are ready to address your challenge.