Editor's note: Microsoft Dynamics 365 is a platform of choice for many companies, which want to keep their CRM-related processes function smoothly and in sync with each other. Read on to learn what the platform has to offer to enhance your sales, marketing, customer service, and other processes and check how ScienceSoft implements solutions based on Dynamics 365.
Dynamics 365 was released in 2016 by Microsoft as part of a major update of the Dynamics suite. The update bundles several CRM and ERP apps, providing businesses with a single platform for all of their operations, including marketing, finance, and customer service.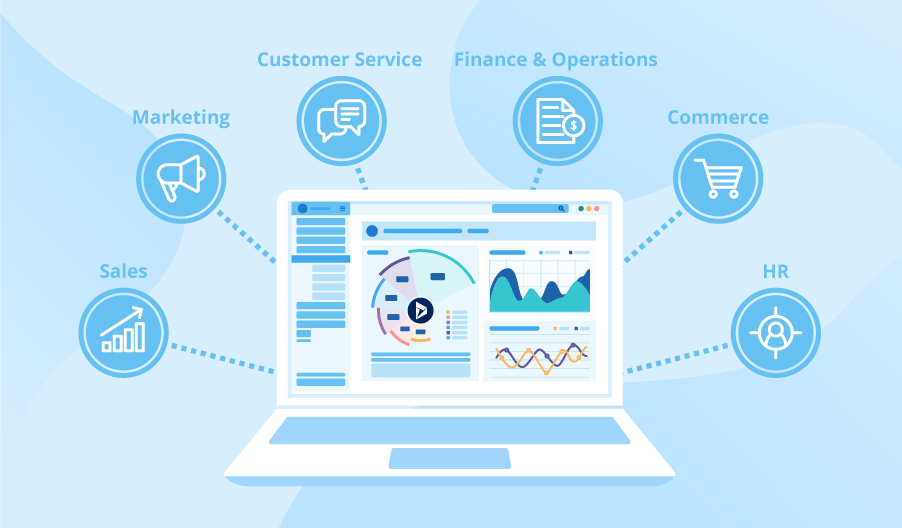 Sales
Dynamics 365 for sales professionals has a number of built-in BI features that offer actionable insights. There are pre-built dashboards for sales managers, showing important stats such as won vs. lost deals, actual revenue vs. estimated revenue, open opportunities, closed opportunities, etc. Besides the default dashboards, you can also set custom dashboards according to your needs.
The lead-to-sale business flow informs the sales team about the steps to take to increase their chances of closing a deal. With the 360-degree customer view, sales reps have the info about the leads, the history of the communication with them at their fingertips. The software also offers predesigned email templates for communication with potential customers.
Pricing: The pricing for Dynamics 365 Sales depends on whether you currently have other Dynamics apps or not. The pricing for the Sales Professional plan is $65 user/month for old users and $20 user/month for new users and for the Sales Enterprise plan, it's $90 user/month for new and $20 user/month for old users.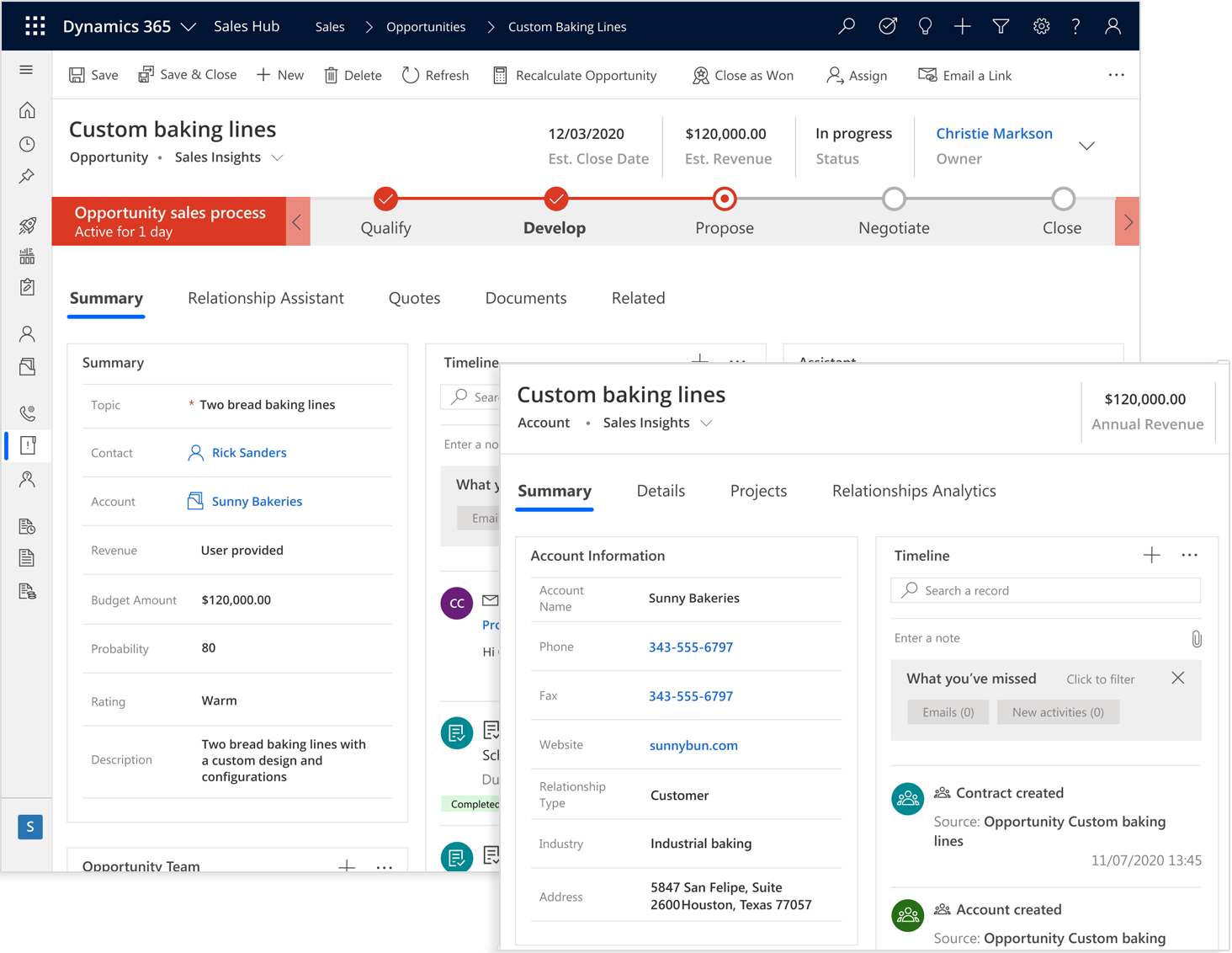 Marketing
Integrated with Microsoft Dynamics 365 Sales, Dynamics 365 Marketing enables you to manage multi-channel campaigns and understand leads. The CRM has a drag-and-drop design tool that allows creating customized messages for each of your leads. The marketing content is present in one place and can be edited using embedded content designers. Integration with social media means that you can import your leads from social media directly into Dynamics 365.
The Marketing module also offers lead-scoring capabilities. The software automatically identifies the most profitable leads and routes them to the relevant sales reps.
Pricing: The price for the Marketing module is $1,500 tenant/month for new users and $750 tenant/month for old users. The price for Customer Insights, an AI-powered marketing solution, is $1,500 per month and $1000 tenant/month for old users.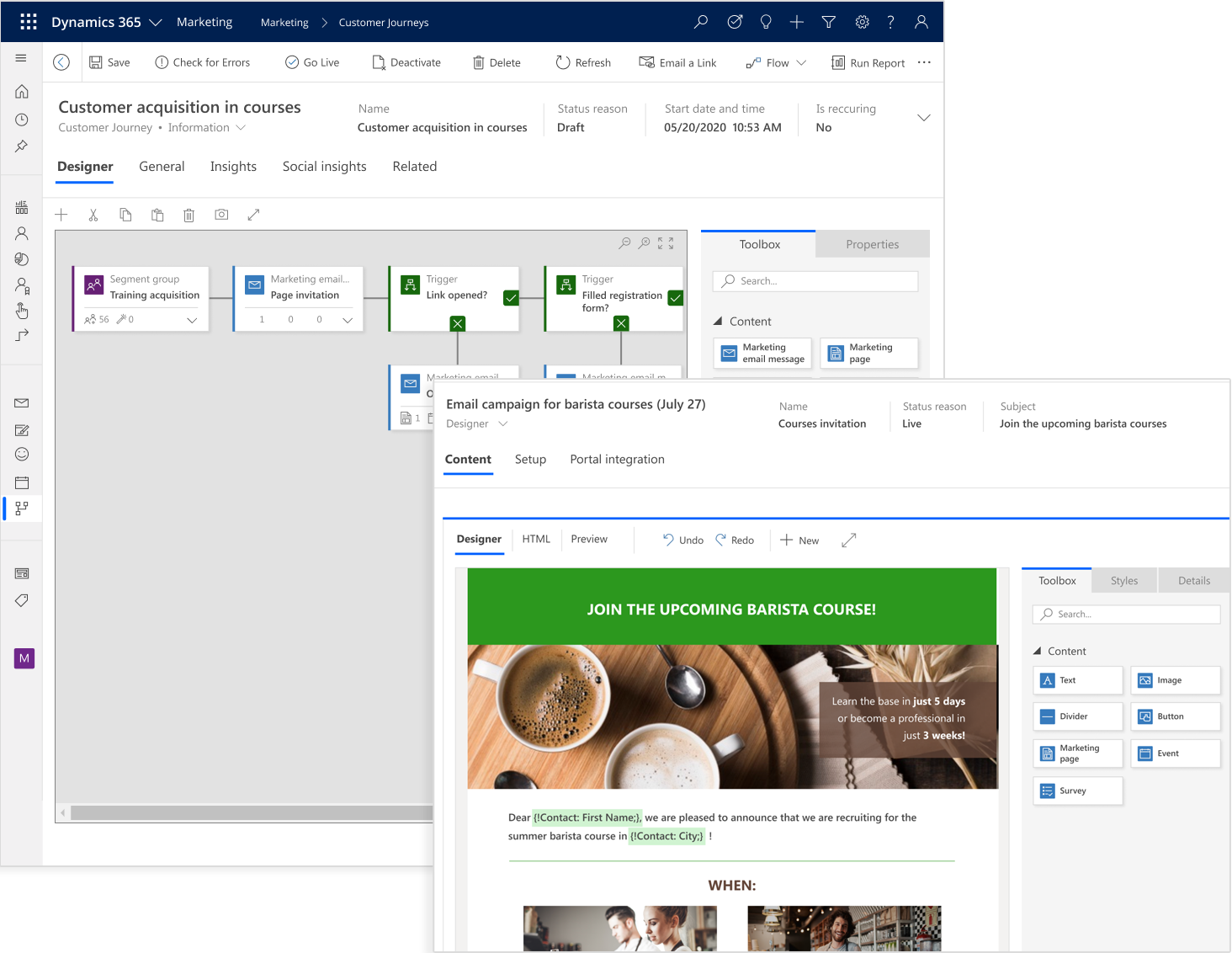 Watch Dynamics 365 Marketing Demo
Customer Service
Dynamics 365 Customer Service allows you to interact with customers via their preferred communication channel (including phone, email, social media, etc.) and use virtual agents to automate communication. The Customer Insights feature provides service agents with AI-driven insights for personalized engagement with customers.
The system also automatically routes cases to the agent most suitable to handle the issue based on the experience with similar cases.
Pricing: The pricing for the Customer Service Professional module is $50 user/month for new and $20 user/month for old customers and Customer Service Enterprise is $95 per user/month for new and $20 user/month for old customers.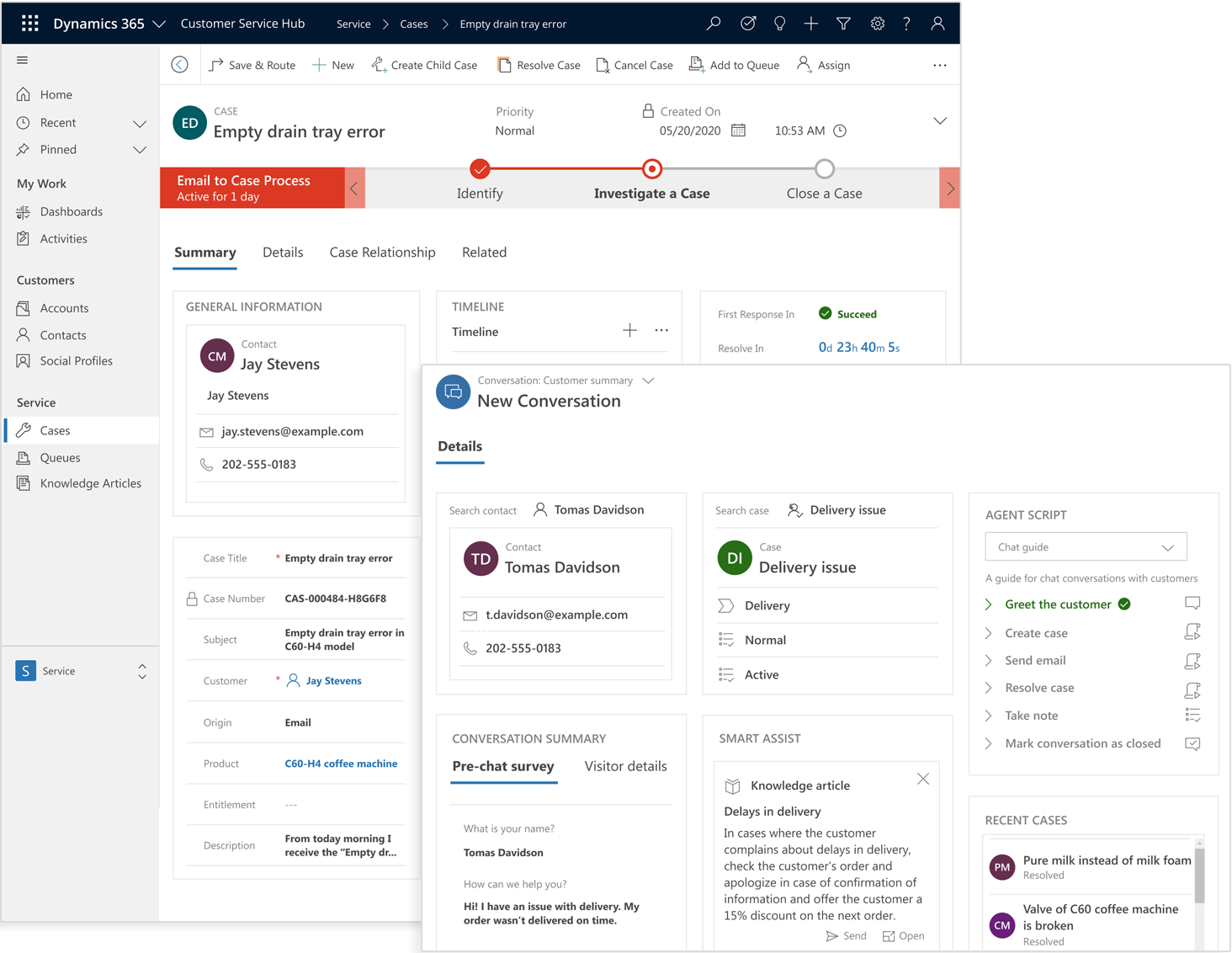 Watch Dynamics 365 Customer Service Demo
Finance and Operations
Microsoft has split the Finance and Operations module into two apps: Dynamics 365 Finance and Dynamics 365 Supply Chain Management. The Finance module helps you automate and prioritize your finance-related tasks. The Supply Chain Management module provides you with the tools to enhance each element of the supply chain, from planning to transportation management.
Pricing: The pricing for both Finance and Supply Chain Management modules is $180 user/month for new users and $30 user/month for old users.
Commerce and Human Resources
The Dynamics 365 Commerce module allows you to personalize your web pages and communicate with customers after the sale. The Dynamics 365 Human Resources module supports the complete employee life cycle.
Pricing: The pricing for the Dynamics 365 Commerce module is $180 user/month for new users and Dynamics 365 Human Resources is $120 per user/month for new customers.
What you may get with Microsoft Dynamics 365
Opting for a Microsoft Dynamics 365 solution, you may unlock the following improvements for your sales, marketing and customer service processes:
Increased revenue
Higher win rates
Higher lead conversion rates
Increased customer satisfaction
Quicker case resolution
Better employee productivity
Streamlined sales, marketing and customer service processes
To find out how ScienceSoft can help your reap these benefits, check our Microsoft Dynamics 365 service offering.
Implement Dynamics 365
Microsoft Dynamics 365 Implementation
Make the most of Microsoft Dynamics 365 with the help of ScienceSoft's CRM team.