Editor's note: In the article, Oleg provides an overview of advanced Dynamics 365 report types, their capabilities and constraints. To get tailored help in creating meaningful CRM reports, feel free to turn to our Microsoft Dynamics 365 customization experts.
In my consulting practice, I see how leveraging meaningful CRM reports helps businesses of different domains advance. Getting a full picture of their sales, marketing and customer service activities allows ScienceSoft's customers to spot opportunities for improvement in their sales pipelines, pick the most efficient lead generation strategies and increase their customer service efficiency. For displaying basic concepts, like closed opportunities valued up to $100,000, I usually recommend opting for Microsoft Dynamics 365 default reporting features like Advanced Find and Charts. However, if you need a more sophisticated view of your Dynamics CRM data, I suggest resorting to the following custom report types:
FetchXML-based reports

SQL-based reports

Microsoft Power BI reports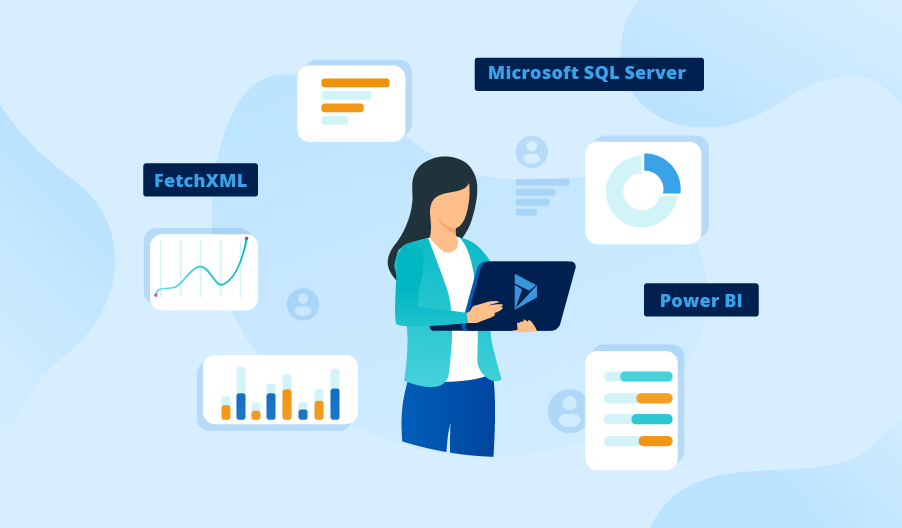 FetchXML-based reports can be built either with the Report Wizard in online and on-premises Dynamics 365 CRM, or with FetchXML queries and the Report Authoring Extension used for retrieving data from the CRM database. An advanced CRM user or an administrator can create basic FetchXML-based reports with the Report Wizard, while customized reports with the FetchXML query language can be built by developers only.
FetchXML-based reports work well for advanced reporting scenarios, like reflecting two CRM record types in a single report, e.g., showing all the accounts without opportunities, or accounts with contacts whose full name follows a particular pattern. Still, the capabilities of XML-based reports, like grouping and filtering data, performing drill-down data analysis, adding visuals like tables and charts have the limitations, like:
The maximum number of records returned as a query result is 5,000.

The maximum number of duplicate detection rules per CRM entity is 5.

Reports can't use non-Microsoft Dynamics 365 data sources (e.g., external databases).

Reports can't be scheduled; they're

executed on-demand only.
If you feel like you need a more powerful reporting functionality, you can consider SQL-based reports.
Although building such reports requires Microsoft SQL Server skills and development experience, they provide more varied capabilities in data presenting than FetchXML-based reports, so they can address more complex business needs. In particular, Dynamics 365 SQL-based reports allow reflecting multiple record types at the same time, performing complex calculations, visualizing data through charts, and formatting the output with various colors, fonts, and tables. For example, an SQL-based report can depict the necessary opportunities with quotes and product details related to them. So, if your CRM reporting demands include reflecting multiple record types, getting data from external data sources, scheduling and automatically sending reports by email, then a Dynamics 365 SQL-based report might be your better option. However, such reports aren't available in online Dynamics 365 CRM solutions.
Microsoft Power BI is a self-service business intelligence solution that can be integrated with online and on-premises Microsoft Dynamics 365. The main advantages of PowerBI reporting are vast capabilities for data visualization and integration with external data sources. Just like in Dynamics 365 custom reports, data in Power BI reports can be visualized in a variety of ways: charts, graphs, etc. Power BI also allows presenting the info from Microsoft Dynamics 365 along with the data from external data sources in one report. It allows a customer to look at their aggregated business data from any perspective and, consequently, make better business decisions.
Time to reap your

Microsoft

Dynamics 365 reporting benefits!
To make your Dynamics 365 reports a source of valuable insights, you'll need to map your reporting needs to the capabilities of each Dynamics 365 reporting option. ScienceSoft's Dynamics 365 team is ready to guide you on the most feasible reporting solution and customize it for your business benefit.
Are you planning to implement Microsoft Dynamics 365 or experiencing troubles with your existing solution? Our experts are ready to address your challenge.