Editor's note: In the article, we explain what sales process can be defined as complex and how a robust CRM system like Salesforce can help address the key challenges. Our CRM consultants can work with your company's sales process specifically to make it fast and high-performing.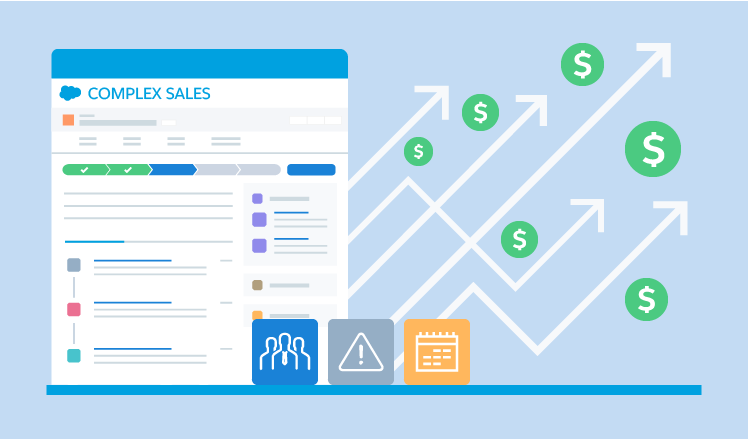 Company A is involved in IT consulting. One day, it gets a promising lead – Company B, an online retailer that needs to develop a mobile shopping app. Having noticed that mobile visitors comprise 60% of their traffic and bring only 30% of revenue, they need to offer a convenient way for mobile users to shop in their web store. By adding a new sales channel, Company B expects to see a revenue boost upon the app implementation. Thus, they are really scrupulous about the choice of app developers (high perceived risk). After negotiations with top executives of Company B (multiple stakeholders), Company A prepares a proposal. There are minimum, if any, chances that Company B has sent a request to the only IT consulting company. Most likely, they have contacted several candidates, and now will compare offerings and discuss all the details to choose a contractor (a long sales cycle).
By this example of complex sales (also known as enterprise sales), we observe its 3 distinctive features in action. Understanding the specifics of the process, sales teams involved in complex sales strive to build their work in a way both convenient for buyers and rewarding for them. If backed up with the right technology, they get a great helper in this task.
When CRM comes into play
A CRM system is a reputed tool for sales teams. It enables centralizing all the sales data – leads, prospects, closed and lost deals – in one place and formalizing sales processes. It is only natural to assume that the more information a company generates and the more customers they have, the more use they will make of a CRM.
But can it be helpful in complex sales when a vendor doesn't have a large client base and focuses primarily on building closer relationships with their customers? In fact, it can. For example, Salesforce, one of the world's leading CRM platforms, has all the functionality to prevent specific features of complex sales from turning into business problems. We have secured the support of our Salesforce consulting experts to say that, and we are ready to prove our point.
1. Salesforce against nurturing only one decision-maker and for effective communication with multiple stakeholders
Several representatives of a potential buyer may participate in a decision-making process. It may seem to be a sure-fire way to success to determine the main influencer and fully invest efforts in them. But let us outline the worst-case scenario. A sales team feels like they understand who plays the bigger role in the buying process and who will have a priority in the final decision. Instead of building trustworthy relationships with all stakeholders, they place a single bet on this person. As a result, they may lose the contract if the influencer takes a new position, retires or leaves for another company (and that sounds plausible taking into account a long sales cycle). Besides, a consent from several managers might be a mandatory condition for closing a deal. With all that in mind, we would recommend sales teams to consider a different approach to their communication with prospects.
If sales reps pursue a more viable strategy to nurture multiple stakeholders, Salesforce can be of great help. Creating a new Opportunity in Salesforce, sales reps can link it to as many Contacts (company's representatives) as they need. Further, they add personal details and keep a record of all interactions there.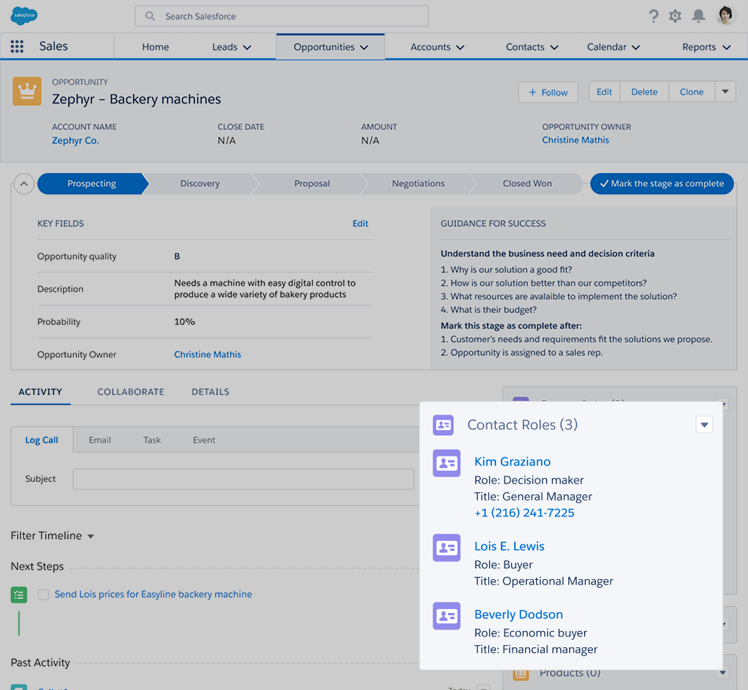 Contact Roles
An important feature for establishing effective relationships with multiple stakeholders is Notes. Sales reps can create a comprehensive profile of each contact by writing down personal characteristics, seemingly minor patterns of behavior and communication style. Before a call or negotiations, sales reps open the contact's profile, look through the notes and develop the interaction in a winning way. For example, they know whether they'd better give a general overview or discuss a question amply, act more persistently or allow time to process the received information. Storing and leveraging customer data, sales reps build and navigate relationships with multiple stakeholders efficiently.
2. Salesforce against lost customer information and for continuous communication during a long sales cycle
Opportunity nurturing might take months and years (e.g., large-scale government contracts) from the moment of getting a lead to the final stage of closing a deal. Sales reps need to maintain a sustainable relationship with potential customers all along.
Salesforce assists in two ways:
Sales reps fill in the Activity block where they schedule customer interactions. Getting a reminder each time they need to make a call or email a presentation, they ensure to keep in touch with the prospect throughout the nurturing process.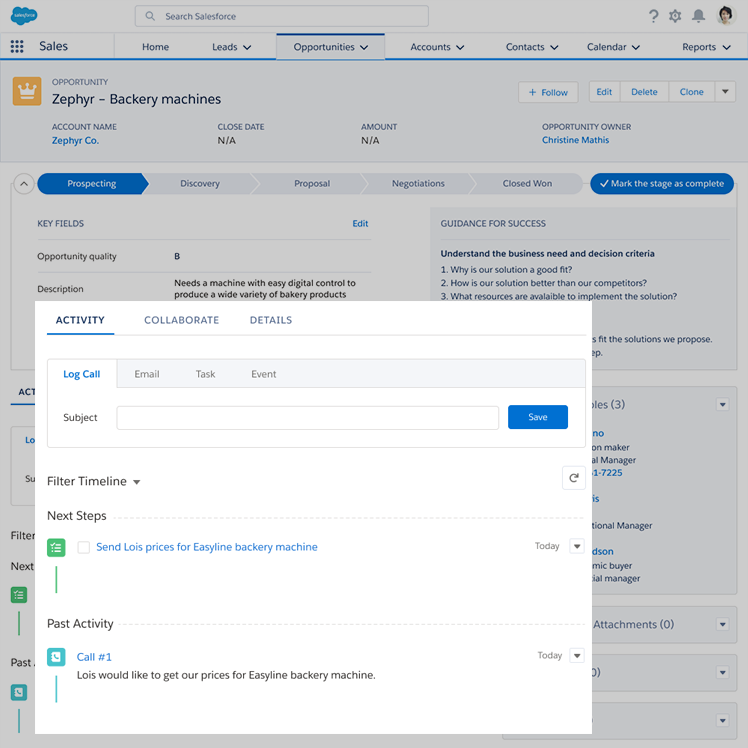 Activity Block
Staff changes should not undermine sales activities. Due to a long sales cycle, one sales rep may start working with a prospect and then switch to another project or even leave the company. Facing the need to take up the work in progress, a new sales rep has to quickly obtain to-the-point information about the current stage of this opportunity and participating stakeholders as well as to see the whole history of prospect-related interactions and activities. In this regard, a 360-degree customer profile in Salesforce safeguards against pieces of sales data lost because of human inadvertence or forgetfulness. As sales reps keep their customer records centralized in Salesforce, they don't even need to carve out time and transfer their knowledge to a successor – Salesforce will do it instantly and effectively.
3. Salesforce against losing at-risk prospects and for establishing a solid reputation
Given large-scale contracts at stake in complex sales, it's no wonder that potential buyers tend to perceive their risk of making a wrong decision as high. Let's add here a possibility of internal disagreement among their decision-makers and tough competition among vendors, and we will understand why sales teams should regard prospects as at-risk and build their trust from the very start.
Sales managers may rely on Sales Cloud Einstein, an AI tool that traces trends based on the company's historical data. Learning from the previous experience by means of Einstein, managers map steps in the Sales Path to keep the sales process progressing and avoid stumbling blocks. They may elaborate KPIs to identify at-risk prospects so that sales reps could reengage with them right in time. For example, according to analyzed historical data, the period between emailing a proposal and a reminder call (if there has been no response from a prospect) shouldn't exceed one week. With smart insights from Einstein, sales managers can achieve an effective sales path when their team knows when and how to interact with prospects.
Sales Path
In their turn, sales reps are responsible for making a good impression, contributing to a prospect's overall trust and building a reliable company reputation. Naturally, prospects feel a certain degree of distrust at the start of their work with a potential vendor. With Salesforce, sales reps don't forget to get in touch with them timely and always care for details. For example, making a call directly in Salesforce, reps can not only record it but make notes in the system simultaneously to emphasize key moments and not to ask for the same details again and again.
Throughout the whole process of nurturing a prospect, sales reps follow the sales path developed by their manager and see where they are with different prospects. Each stage of the sales path contains Guidance for Success with tips for fruitful communication, which allow reps to mitigate risks of losing potential buyers.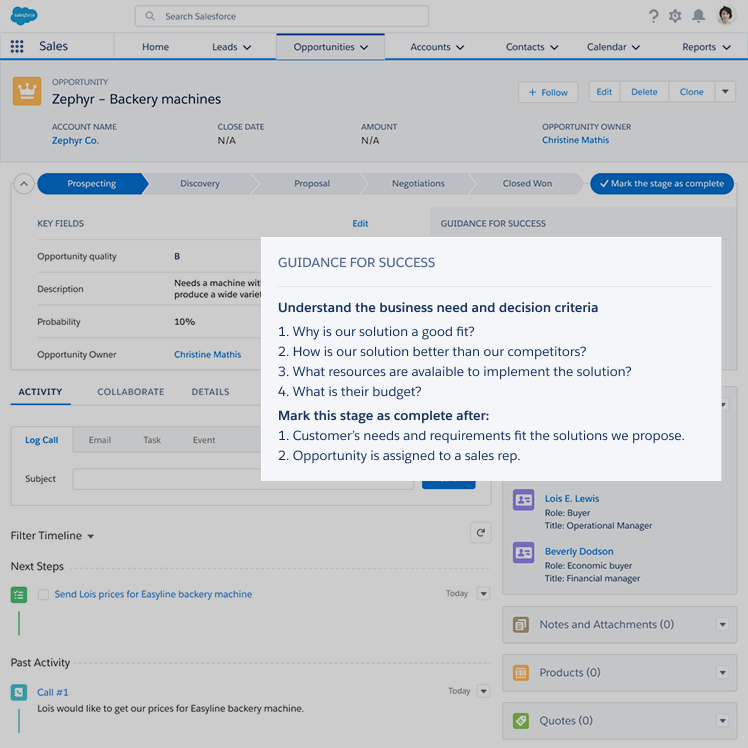 Guidance for Success
With Opportunity Insights, sales reps get smart predictions concerning open opportunities and timely follow-up reminders when a prospect has been inactive for a certain time.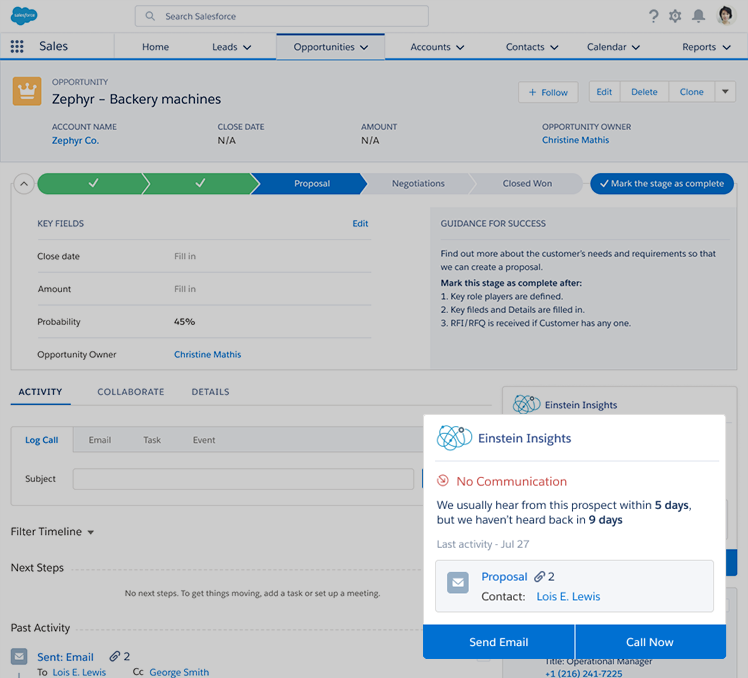 Opportunity Insights
Give Salesforce a chance in complex sales
As you see, Salesforce has proved to be useful in complex sales. Backed up with this CRM system, sales reps develop personalized communication with multiple stakeholders within a long sales cycle. Meanwhile, sales managers ensure continuity of sales processes despite any staff changes and reduce chances of losing at-risk prospects by making AI-powered strategic decisions. Altogether, sales teams empowered with Salesforce may achieve more closed deals.
Do you need to get an expert opinion on your Salesforce solution? Our consultants will analyze your current Salesforce capabilities and offer an optimal solution to meet your business needs.