If your tea kettle stopped working or your tap kept leaking, and you had no idea what to do, it would be quite a relief to apply ServiceNow and get your household incidents solved. Alas, this platform is business only. But there, you can use this Swiss Army tool across the entire enterprise, be it about computers, kettles or taps.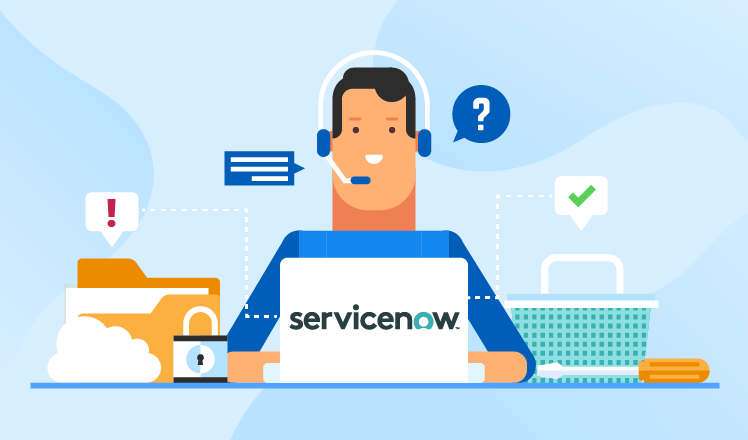 What ServiceNow is and what departments can use it
ServiceNow ticketing system offers reporting, managing and resolving internal issues, which helps mid-size and large orgs optimize business workflows and increase productivity. Being the top software for ITSM, ServiceNow tool is getting popular in other domains, too. And our ServiceNow consulting practice shows that it can be used not only by your IT guys but also by any other unit you want to optimize, such as:
Sales, Marketing and Customer Service
Human Resources
Accounting
Finance
Legal
Research and Development
Procurement
Production
Logistics
Naturally, all these departments may use ServiceNow to a different extent. And ticketing isn't the only player in this game: the supporting functionality ranges from reporting, audits and risk management to self-service portals, chatbots and surveys. Nevertheless, don't be intimidated by all those possibilities: if you're only beginning your process optimization journey with ServiceNow, IT ticketing is the perfect spot to start.
Live ServiceNow Ticketing Demo
Company sizes and industries ServiceNow fits best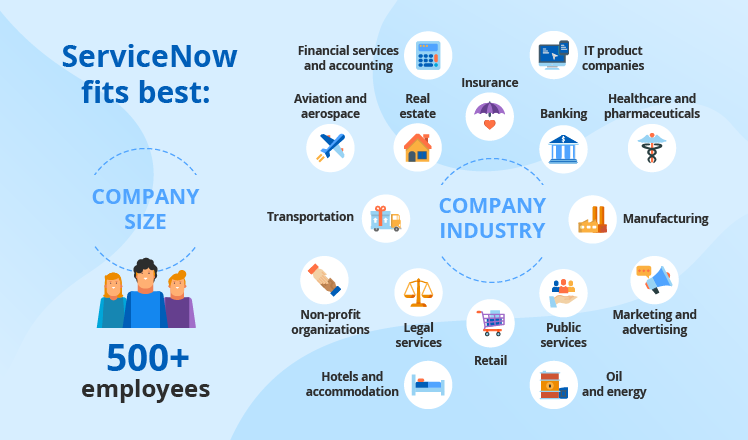 Given the rich ServiceNow functionality and its complex process hierarchy, you should know upfront that the pool of companies that can benefit from the platform is limited to mid-sized and large organizations. ServiceNow value calculator has 500 as the smallest number of employees in an organization that can gain conceivable savings with the platform's help. And the reason is simple: if a company is smaller than that, its inner business processes are usually not complicated and tangled enough for complex ServiceNow functionality to optimize them.
As to the industries where ServiceNow can come of use, it can be pretty much anything. Our ServiceNow implementation specialists do see that some industries tend to use it more often than others, but the application area is still impressive:
Financial services and accounting
IT product companies
Insurance
Healthcare and pharmaceuticals
Banking
Public services
Retail
Marketing and advertising

Manufacturing
Oil and energy
Legal services
Hotels and accommodation
Non-profit organizations
Aviation and aerospace
Transportation
Real estate, etc.
The results you can achieve with ServiceNow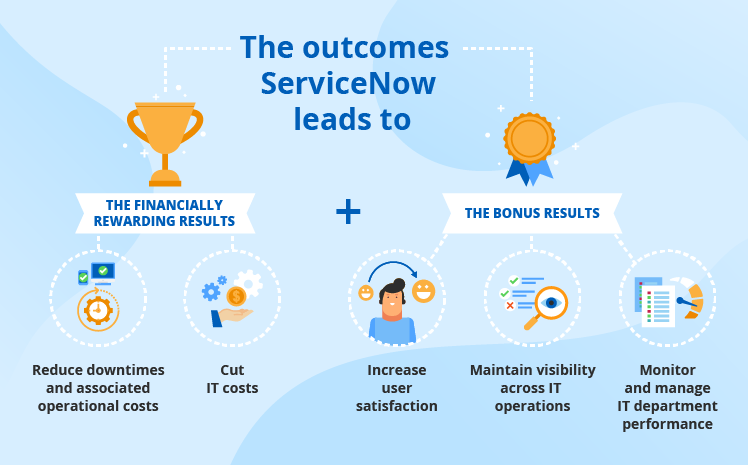 Here are some of the more tangible results that you can achieve with ServiceNow as a ticketing tool for your IT department.
The financially rewarding results
Reduce downtimes and associated operational costs. Long downtimes don't simply obstruct employee productivity – they cost ugly: if a company has an average of just 5-minute network downtime a month, it loses as much as $300,000 on business disruptions a year. Luckily, ServiceNow can curb these losses: for a company of 2,000 employees with 10K yearly tickets (a hundred of which are high priority), ServiceNow can annually save $208,000 solely by speeding up ticket resolution.
Cut IT costs. Continuing the example of the 2,000-employee company, its IT department can save even more due to a productivity increase. They will be able to differentiate ticket types, prioritize them, adequately allocate required resources for their resolution and have IT service provision under control. Additionally, ServiceNow will help them to automate numerous repetitive tasks, such as password resets and access rights requests. According to ServiceNow value calculator, the result means saving not less than $450,000 a year. However, ServiceNow doesn't exactly show how, so we won't suggest expecting these figures, at least because it's the result of implementing more advanced ServiceNow functionality than ticketing.
The bonus results
Increase user satisfaction. Since your average ticket resolution times decreases considerably, you can expect user satisfaction rates to rise proportionally. Well-organized ServiceNow processes may ignite a change in your IT unit's culture and attitude towards providing support to users, which has to trigger positive user feedback as well. Your users will also find it helpful that ServiceNow keeps them informed about their tickets in a wide variety of ways (from phone calls and emails to web forms) but without bombarding them with emails on every breath the support team takes.
Maintain visibility across IT operations. ServiceNow can provide a solid backbone for your IT department's processes, which will inevitably lead to visibility across IT operations. It will become easier for IT specialists to navigate in a clear and visible process hierarchy and train IT unit newcomers.
Monitor and manage IT department performance. To measure the performance of your IT department, ServiceNow provides visual and intuitive reporting functionality. Operational analytics will help your IT service managers to identify service provision problem areas and find ways to improve them. And besides your IT teams, such IT operations reports can be used on a higher administrative level, say, in your enterprise-wide BI solution to assess the performance of the entire organization more comprehensively.
The technical ABCs of ServiceNow ticketing
Since ServiceNow is considered #1 ITSM platform by none other than Gartner, we'll look at the technical specifics of ticketing using IT examples.
The ticket life cycle
In its classical sense, ServiceNow's basic equivalent of a ticket is an incident. And to dive into the technical detail of how ServiceNow ticketing works, let's invent a sample incident of a broken phone in an office and look at its life cycle within ServiceNow.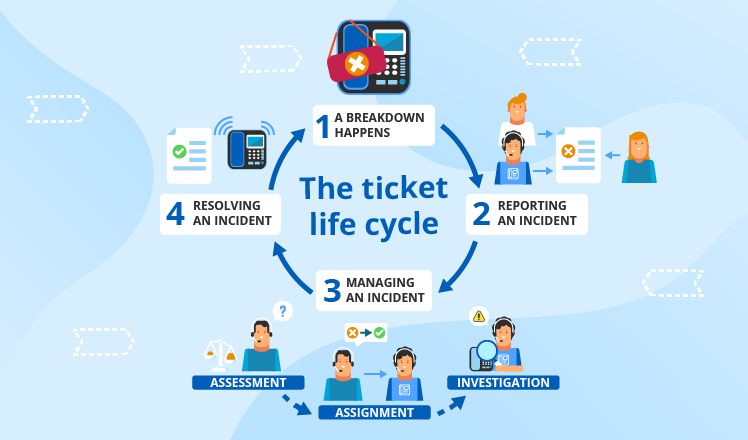 Reporting an incident
Employees of different roles can report incidents in different ways:
An IT staff member can create an incident right in ServiceNow if they spot that some phone doesn't have a dial tone.
A user has more ways to do it: email, a phone call (obviously using another working phone) and a web form on the company's Service Portal.
A third-party phone supplier (or a partner) can also participate in reporting incidents if arranged so. For example, if they note the tendency of a certain phone model to lose dial tone, they can report this in the same ways as a user.
Also, ServiceNow can create incidents automatically. For example, via regular automated analysis of phone system logs: if ServiceNow finds any malfunctions, it can trigger the creation of an incident.
Here's how a customer or an employee can report an incident to the IT department through the corporate ServiceNow Service Portal:
Managing an incident
ServiceNow works with incidents by following these steps:
Assessment. When the incident is created in ServiceNow, admins analyze its impact (how badly it can affect the business) and its urgency (how promptly it should be resolved). Based on these two criteria, ServiceNow automatically prioritizes the incident. And this means that SLA-based resolution countdown clock starts ticking.
Assignment. Using the description of the incident, ServiceNow can automatically assign the incident to an IT specialist that has the relevant expertise to resolve it. Then, the platform notifies the assignee via email. IT employees can, of course, assign incidents manually but automated assignment lets them focus on the more difficult tasks.
Investigation. The assignee analyzes the incident and tries to find a way to restore the undisturbed flow of everyday business processes.
As for the user whose phone stopped working, they can always monitor the incident management process. ServiceNow notifies them of any important support activities. Besides, if the phone starts working again with no IT assistance needed, the user can cancel the incident not to waste IT support time.
Below, you can take a look at the ServiceNow Agent Workspace feature. In this short clip, you will see how an agent gets notified of a newly assigned incident and how conveniently the incident's details are lined up and loaded into the record from the Service Portal issue opened by a user in the previous video.
Resolving an incident
As a solid ticketing system, ServiceNow doesn't let the tech team hit the 'Resolve' button and put the matter to an end. It makes them specify in the incident record a particular type of resolution used (permanently solved, solved through a workaround, not solved, etc.), who resolved it and when.
If the incident is resolved, the associated user needs to close it. In case they don't, ServiceNow does it automatically within a set period.
If the incident isn't resolved, escalation rules come into play. As time passes, the system uses measurements of inactivity monitors and, if needed, reminds the support team to take new incident resolution actions. Or, if the incident is close to breaching its related SLA, ServiceNow can escalate its priority. This helps IT teams to stay within allowed resolution times and provide a high-quality service.
In the video below, you can see one more option of how ServiceNow helps agents to stay on top of SLA-related things. Agent Workspace can notify the agent that the time is running out on one of their incidents and enable them to search the Knowledge Base, find the needed incident resolution article, send it to the user in need and resolve the matter.
The types of tickets and why we need them
Differentiating tickets allows IT departments to work more efficiently. IT specialists need to know what exactly they are dealing with to settle things, which is why ServiceNow has the following types of tickets:
Incident (something that is unplanned and causes interruption to an IT service or reduces its quality).
Problem (a severe malfunction, a cause behind a number of incidents).
Request (something that users want to get from IT support or other involved departments).
Change (a proposal to add, modify or remove something concerning IT services).
The crucial difference between an incident and a problem is that incident management is primarily aimed at restoring the normal flow of business processes as quickly as possible. And problem management aims to find the root cause behind a number of similar incidents to prevent such from happening again. If a ticketing system does not differentiate between these two essential concepts, this may pose a serious threat to IT operations. Ignoring the root cause of similar incidents and coming up with workarounds instead can lead to a substantial decrease in IT services' efficiency.
Ticket types shown in a single process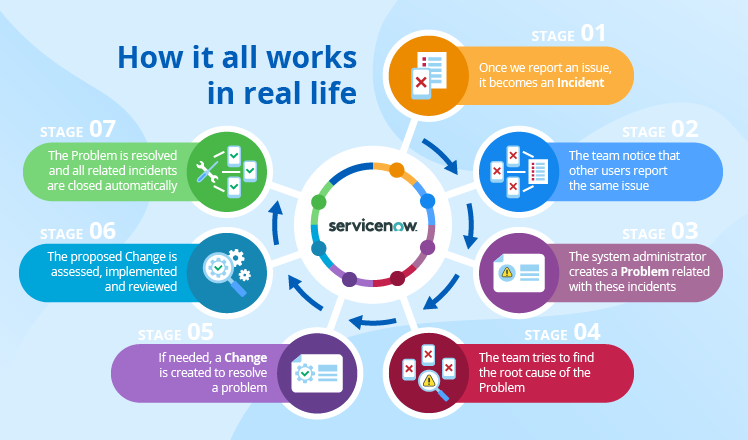 In real life, these ticket types may look like this:
Stage 1: Let's return to the phone issue. Once it is reported to the tech team, it becomes an Incident and gets an assignee.
Stage 2: The assignee goes out of the way to resolve the incident, but then they notice that other users report the same issue with their phones too.
Stage 3: The system administrator notes this tendency and creates a Problem in ServiceNow.
Stage 4: Another IT support team member is assigned responsible and tries to find the root cause behind this problem. Let it be an IP phone server malfunction.
Stage 5: If needed, a Change is created to resolve a problem. In our case, an IT infrastructure element needs to be changed, so the problem's assignee proposes a change to choose and install new firmware.
Stage 6: The proposed change is assessed, implemented and reviewed. If the IT specialist responsible for this change plans and carries it out properly, the problem's root cause will be eliminated.
Stage 7: When the problem is resolved, all related incidents are closed automatically.
Concerning Requests, the reason why users contact IT support is different: they seek not a solution but an IT asset. If a user needs, say, a new laptop, email account, software license, etc., they open their company's Service Portal, select the needed item and wait to get what they need.
In non-IT departments, ServiceNow ticketing can be used to remove process bottlenecks. For example, there are a lot of incidents in the marketing department that concern presentation content delay. One of the managers notes it, investigates the matter and creates a problem saying that the presentation creation process is no longer efficient. As a result, a change is proposed and managers discuss the new way to organize presentation creation. And as soon as they agree on one solution, the change is implemented and the problem is resolved. From now on, presentation content is always ready on time.
ServiceNow's soft spots
As ServiceNow projects rarely use the platform's functionality not configured or customized, the limitations and disadvantages of each ServiceNow solution may be unique. Still, there are some things to keep in mind about ServiceNow:
The price is rather high. Although ServiceNow pricing policy is anything but clear, there is one thing everyone knows for sure – ServiceNow licenses are not cheap. But that's not all: you also need to be ready to pay for ServiceNow implementation and support. However, if you look at estimated savings, the price will not be an issue.
Reporting is not a very strong side. ServiceNow reporting is more than capable when it comes to low-level operational needs, say, to see how many tickets a particular employee is working on or what priority they are. But if you need some thorough high-level performance dynamics analysis (to see IT unit performance trends and uncover their root causes), you will need to either do it outside of ServiceNow or buy a ServiceNow app called Performance Analytics.
Customizations may require ongoing maintenance. If your solution is heavily customized, there may be difficulties with making these customizations compatible with future ServiceNow releases. And this will lead to the need for constant customization maintenance. However, if specific development recommendations are respected in the course of ServiceNow customization, you will be able to do with support.
Possible alternatives
There are numerous alternatives to ServiceNow when it comes to ticketing. To be 100% sure about your ticketing system choice, let's briefly look at some of them.
Small and mid-sized organizations with relatively simple IT processes can try:
+ : A free tool that provides ticketing functionality supported with a network scanning feature for keeping track of inventory. There are possibilities to use Service Level Agreements (SLAs) and reporting and build a branded user portal.
- : There are built-in ads. The application doesn't always provide reliable performance and is sometimes slow due to the inventory feature. Customization possibilities are limited, plugins are not always compatible with the newer app versions and device failure recognition doesn't work well enough.
+ : The tool is reasonably customizable. It provides ITIL-based functionality (incidents, problems, changes) as well as reporting, SLAs and automation rules. With the help of Confluence, you can create a self-service user portal.
- : Reported defects are not fixed and missing features are not added promptly, so the price-value ratio turns out unfavorable. There is no built-in knowledge base, one can only be created with Confluence. Notifications are misconfigured and SLA calculation sometimes works unexpectedly.
Mid-sized organizations with relatively simple IT processes may opt for:
+ : The application provides solid ITSM functionality covering incidents, problems, changes, configurations, assets, etc. It also provides a possibility to create a self-service portal, use real-time chats and set up automated ticket routing.
- : So far, there is no feature for SLAs. Notifications to all involved users and customers are misconfigured. Outages are not a rarity.
Mid-sized and large organizations with IT processes of moderate and high complexity have the following option:
+ : The platform is highly customizable and provides a rich and innovative ITSM functionality (both on-premises and cloud) covering incidents, changes, assets, knowledge management, etc.
- : The platform is rather expensive. Users report UI not to be intuitive enough. Performance issues are frequent. Integrations with other systems are problematic.
Choice complete?
The main judging points to see whether ServiceNow ticketing is something you need are:
Your company's size.
The complexity of your current (or planned) IT processes.
The preferred ticketing process.
Your budget.
Your plans for future enterprise-wide process optimization.
If your answers fit ServiceNow's characteristics and requirements, and you choose it as your ticketing tool, you will achieve substantial savings by optimizing your IT unit's daily routine (or that of any other department that you want to make over).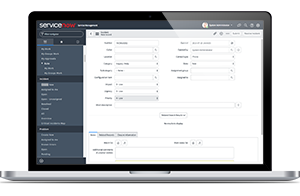 Get your project up and running! Our ServiceNow implementation specialists handle everything: custom apps, migration, integration – you name it.