Editor's note: If you have already decided to try Salesforce out but do not know whether you need Sales Cloud or Service Cloud, check out some fundamental differences between these Salesforce products we outline in the article. If you need further guidance on how your company can benefit from Salesforce products, you are welcome to explore our Salesforce consulting services.
Many sales and customer service managers we at ScienceSoft talk to are in doubt about which Salesforce product would satisfy their business needs best. The fact that both Sales Cloud and Customer Service Cloud have five similar objects: Leads, Accounts, Contacts, Opportunities, and Cases seems confusing to many customers. Having worked with both clouds for 11 years, we present this comparison for you to get a general understanding of what cloud your company likely needs. This overview is by no means your guide to choosing the right Salesforce product. For that purpose, we recommend having your needs analyzed and ROI estimated by professional Salesforce consultants.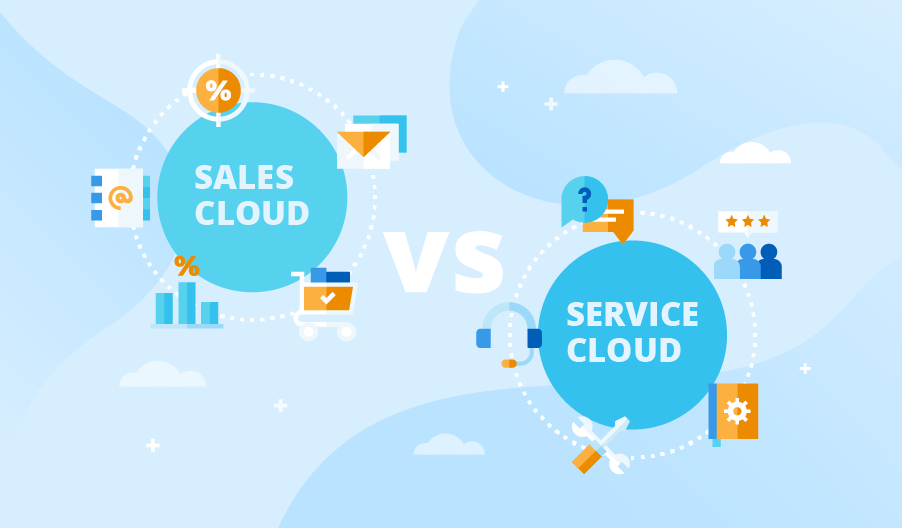 Sales Cloud is one of the core Salesforce products designed for the management, automation, and analysis of sales processes. Both sales reps and sales managers can use Salesforce Sales Cloud functionality to complete the tasks of different priorities with high efficiency.
For sales reps, Salesforce Sales Cloud provides efficient and convenient customer communication via numerous channels (a customer service portal, social media, email, etc.) right within Sales Cloud UI. Advanced integration with a customer's website and social media (Facebook, Twitter, LinkedIn, etc.) allows collecting copious information about contacts or accounts to target their needs more accurately, as you may find in one of our Salesforce-website integration projects. Extensive automation capabilities help sales reps with numerous routine tasks (such as maintaining customer records, managing pricing data, drafting contracts, etc.), thus freeing up their time for nurturing leads and closing deals.
For sales managers, Sales Cloud provides the ability to construct the sales strategy and manage it within a single system. Sales Cloud also helps sales managers control and assess sales reps. Using performance data, sales managers can identify sales reps' strengths and weaknesses to improve their skills, which allows increasing the performance of the entire sales department. With Sales Cloud, sales managers can additionally deal with such challenges as disjointed sales processes and process alignment with marketing.
To give you an idea of how Sales Cloud functionality can be further enhanced according to a customer's particular needs, I'd like to share an example of the Sales Cloud customization project that our team completed.
Our customers claim that using Salesforce Service Cloud helped them make the customer service process faster and more efficient. Since it is much cheaper to retain a customer than to gain a new one, Service Cloud can be a strategically important tool for your enterprise. Customer service managers say it positively affects customer retention rates and ensures that your company is recognized for truly caring about customers.
For customer service agents, Salesforce Service Cloud provides integration with numerous channels of communication with customers. As communication via each channel is available within Service Cloud UI, customer service agents can serve customers much faster. Also, Service Cloud allows creating and managing knowledge bases, which can be a useful source of information that customers frequently request. The knowledge bases help significantly reduce agents' response times and train new customer service agents faster. As Service Cloud provides customer service process automation, service agents solve cases quicker and customers receive answers to their questions with no delay.
For customer service managers, Service Cloud provides the possibility to organize customer service processes and manage them within Service Cloud UI. Service Cloud allows customer service managers to control the performance of customer service reps, which helps, for example, identify the employees' areas of growth and organize training.
You can have a look at how Salesforce Service Cloud helps improve customer service in our interactive demo.
Although Service Cloud overlaps with Sales Cloud a lot, as you saw above, it does not mean that the two Salesforce products are similar.
As Sales Cloud offers features designed to reflect the process of turning a lead into an account, we recommend it to the customers from sales-centric businesses. Among unique Sales Cloud features are:
Territory Management

Quotes

Sales Contracts

Opportunity Splits

Sales Forecasting
Useful Sales Cloud add-ons, for example, CPQ providing accurate pricing and quoting with any given product in compliance with a regulated set of rules, are also unavailable with a Service Cloud license.
Service Cloud provides features for advanced customer service management and agent productivity improvement. That is why we recommend implementing this Salesforce tool to customer service-centric businesses. Salesforce Service Cloud has such unique features as:
Service Console (agents' unified digital workspace).

Service Analytics (complex analytics of agent performance).

Field Service (a tool for organizing on-site customer visits).
For customers who have full-fledged sales and customer service departments, we recommend opting for the Sales + Service package. The main advantage of this option is that the two departments can share a common customer base, although the Sales + Service package costs $25 more for each user (as compared to buying Sales Cloud and Service Cloud separately).
Sometimes, if a company runs both sales and customer support, executives may be tempted to buy Service Cloud for both teams because it overlaps with Sales Cloud a lot. In most cases, we do not recommend our customers to choose Service Cloud as an option for the sales department, because this might be reasonable only in rare cases when a business is more customer service-oriented and the sales team doesn't need extra features and add-ons available in Sales Cloud.
Before making a decision, you may want to look at the prices for the clouds' editions. We have summarized the prices for your convenience, so below you can find a short description of four Salesforce editions designed for the needs of businesses of various sizes and goals. The editions differ in available functionality and cost: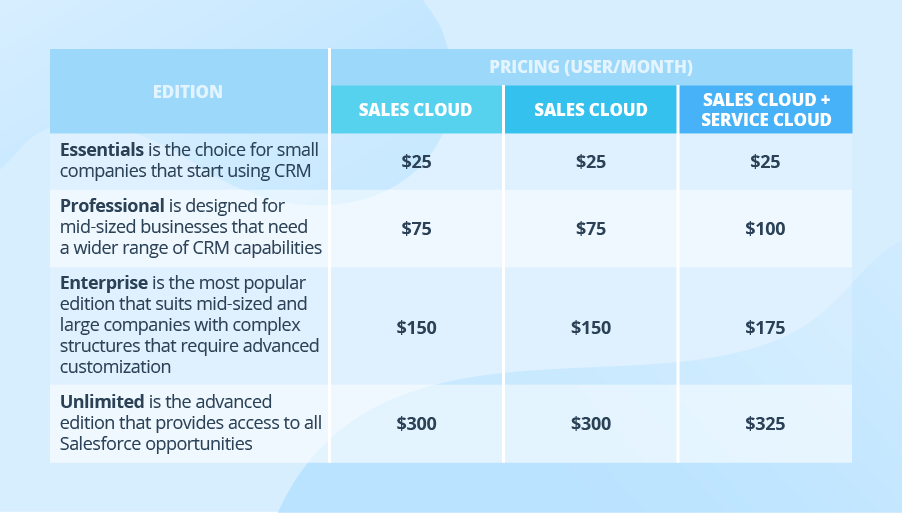 Read also: Salesforce Edition Comparison: Differences, Limitations and Pricing
Is there an alternative to Salesforce?
The Dynamics 365 platform offers similar products – Dynamics 365 Sales and Dynamics 365 Customer Service. They also provide a comprehensive set of work tools, have paid add-ons and flexible pricing plans. Dynamics 365 Sales and Customer Service subscriptions are cheaper than Salesforce subscriptions, especially if you already use some other Dynamics 365 products. Also, Dynamics 365 can be a better option if you need an on-premise deployment since Salesforce offers only cloud-based products. If you need more details about Dynamics 365, you are welcome to check our Dynamics 365 consulting services.
Besides well-known Sales Cloud and Service Cloud, there's a long list of Salesforce products to boost up your processes: Marketing Cloud, Community Cloud, Commerce Cloud, Government Cloud, etc. Still, in addition to choosing the product, you'll also need to choose the edition that suits your purposes best and the vendor who will implement and customize the chosen Salesforce product so that it becomes a real driver for your business, not an expensive burden.
ScienceSoft's team can help you with all those tasks to increase your lead flow, CSAT rates, and revenue. Reach out to ScienceSoft, and may Salesforce be with you!
See what we can do
Salesforce Sales Cloud Solutions by ScienceSoft
Do you want to digitize your sales process?
Our team delivers a full range of Sales Cloud services, such as consulting, customization, integration, migration, tuning and support.