Editor's Note: Do you wonder whether your sales department needs Salesforce Sales Cloud to achieve the consistency of the sales process and improve lead conversion rates? Read on to learn what major pros and cons Sales Cloud has and turn to ScienceSoft's consultants to evaluate its feasibility in your specific case.
The most reliable way to find out whether Salesforce Sales Cloud is as good as it's commonly believed to be is to analyze customers' feedback. Based on the 15 years of experience with CRM systems, ScienceSoft prepared an overview of top 3 Sales Cloud advantages and disadvantages that our customers vouched. This opinion is in line with third-party user reviews, which we refer to further in the article.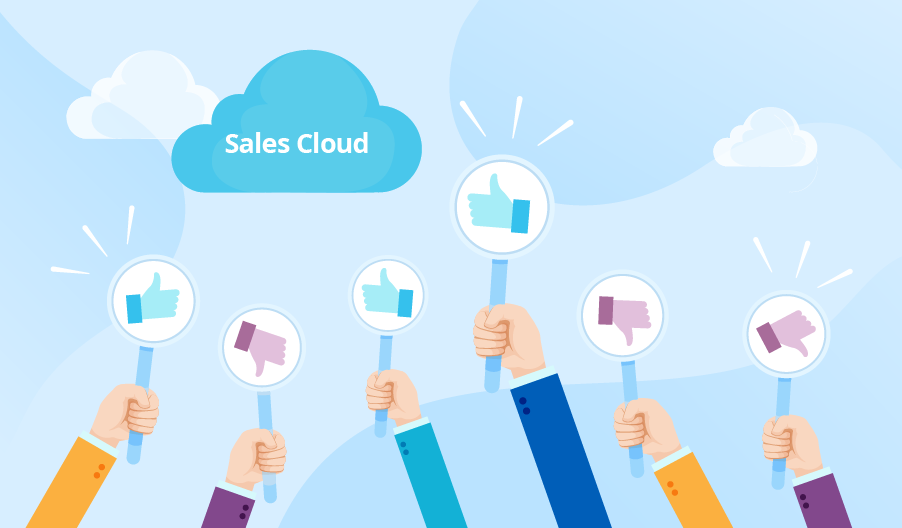 What is good?
1. Customizability
The out-of-the-box functionality of Sales Cloud is robust but cannot suit each organization. Luckily, Sales Cloud provides powerful configuration and customization capabilities (see our detailed analysis of Salesforce). While configuration allows adding and changing objects, fields, tabs, and more without any coding skills required, customization enables bigger system changes that can be done through code such as creating custom processes and email templates, enabling operations with a large amount of data.
"HIGHLY customizable. All data fields can be pulled into reporting/dashboards. To implement properly, you have to reverse-engineer what metrics are important to your business. Once you have a comprehensive understanding of the reporting that you want to see then you can build fields, pick-lists, radio buttons, etc. so you capture all relevant data. The beauty is that you are not at all limited to the out-of-the-box configuration (which is good, but generic)," – Scott from Nerds Xpress.
2. User interface
Most of ScienceSoft's customers note the intuitively comprehensible user interface of Sales Cloud. Despite the fact that there are a large number of functions, the interface is still user-friendly and gives a positive impression, because such elements as Sales Path, SLA's Milestones, Activity Timeline, etc., provide helpful guidance for users.
"Salesforce's deep functionality crossed with a fairly intuitive and modern UI make it clear why it's such a dominant competitor in the CRM field," – Nate Wilson.
3. Integration capabilities
One of Sales Cloud's benefits is its rich integration capabilities. To run your business processes without unnecessary tool-switching, ScienceSoft's team can help you integrate Sales Cloud with virtually any other software your organization uses: an ERP system, an ecommerce platform, ITSM, an accounting system, etc. One of the most popular types of Sales Cloud integration our team implements is with document and content management systems, as in this Salesforce-SharePoint integration project.
"The integrations are truly outstanding. Simple integrations with almost every piece of software you can imagine," – Blake Baron.
What is bad?
1. Poor customer service
Poor customer support provided by Salesforce is one of the crucial problems according to users' opinions, and the reasons are clear: in many situations, fast support is vital because long-awaited answers can cost big money. Many users complain about the inability to contact Salesforce's customer service agent and that their questions on Trailblazer Community (a self-service Salesforce user portal) remain ignored. Some users note that they can get decent support only when paying extra for premium service.
"Customer support at the lower levels. Unless you have their premium support, their customer service is not quick to act," – Scott Shy.
2. Steep learning curve
With the lack of comprehensive learning materials, users find it difficult to grasp the rich functionality of Sales Cloud and use it properly. Thus, some people may learn a bit of mandatory functionality and fail to use the cooler features, although they bring more value. That is why ScienceSoft provides user training and detailed user guidelines for its customers.
"Salesforce has a steep learning curve. I've been using it for a couple of years, and I know that I still have barely scratched the surface of what I could be able to do," – Elena Perez.
3. High cost
Salesforce Sales Cloud is quite expensive, like any other Salesforce product. Before going for it, you should be completely sure Sales Cloud is exactly what you need and realize the costs of implementing the solution. However, many users note that if you choose a reliable vendor and use Sales Cloud rationally, all expenses pay off quickly.
"The price is high for some who are not going to use it all. There are a lot of extras that would need to get bought for you to get everything you want from the system," – Bruce from CCC.
Sales Cloud without Drawbacks – Is It Possible?
Taking into account the cons listed above, you may consider using another tool instead, for example, Dynamics 365 Sales. It also provides a comprehensive set of work tools, has paid add-ons and flexible pricing plans. Dynamics 365 Sales subscription is cheaper than Salesforce Sales Cloud subscription, especially if you already use some other Dynamics 365 products. Also, Dynamics 365 Sales can be a better option if you need an on-premise deployment since Salesforce offers only cloud-based products. If you need further guidance on how your company can benefit from Dynamics 365 Sales, you are welcome to explore our Dynamics 365 consulting services.
However, there are opportunities to neutralize the shortcomings of Salesforce Sales Cloud. That's why Sales Cloud is ranked as the number one choice despite a rich variety of alternatives.
ScienceSoft's Salesforce team can implement Sales Cloud solutions with cost-effectiveness in mind to meet your budget limits. Also, we provide high-quality Salesforce support services, including conducting user training to minimize the effects of the steep learning curve of Sales Cloud.
See what we can do
Salesforce Sales Cloud Solutions by ScienceSoft
Do you want to digitize your sales process?
Our team delivers a full range of Sales Cloud services, such as consulting, customization, integration, migration, tuning and support.