Managing a partner portal is not only a matter of technology and investments. Designed to create opportunities to streamline sales, empower partners, and achieve competitive advantages, 80% of partner portals (according to Channelpartnersonline.com) still end up unpopular with channel partners.
This brings about a number of rational concerns about portals' capacity to engage partners, as well as reveals the need for the right approach and the appropriate partner portal software to develop a cost-effective partner portal. Based on our 18 year-experience of web portal development, we put forward our approach to enhancing the partners' engagement in the partner portal.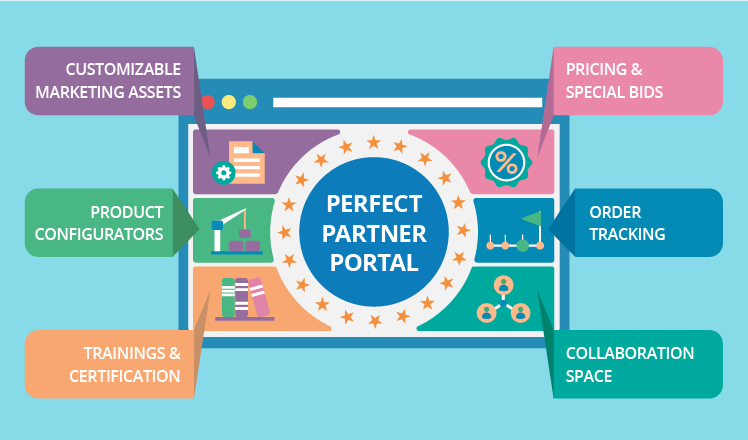 The more portal users, the stronger your partner relations
It is common that partners are frequently reluctant to generate more end customers for vendors above the specified sales quota. It thus becomes a challenge for a vendor to increase its sales through existing partners, which can result in the never-ending search for new partners or dealers. The question is, can we encourage the existing partners to sell more by means of a partner portal?
Yes, we can, providing your partner portal not only shows up information but also engages. Such portal should become a handy tool willingly used by your partners' staff every day. Definitely, for a vendor it is better if the engaged staff includes those who can influence an end customer's purchase decision. Then, the contact group at the partner's side should also include more than just a vendor manager.
Create multi-personal links with the partner to strengthen your business relationship.
If your partners' vendor managers are your only points of contact, you lose control of the information scope that in reality reaches their sales people or technical specialists. However competent vendor managers are, they won't create a positive bias towards your products. Targeting partners' salespeople directly, you can stimulate them to offer your products more often in the moment of truth (as they will know them better than others).
Small tip: To ensure transparent participation of your partner's every employee in terms of the portal use, consider providing each of them with a personal login.
The positive attitude of your partner's employees (including their vendor managers, sales people, support technicians, etc.) to the portal will result in their reluctance to switch from you to a competing vendor. And this inner reluctance will work for you, in case the partner's CEO decides to expand business with your competitor.
So, now the issue of partner engagement turns into the obvious question: how can you encourage more employees of your partners to exploit your portal? Here're 3 steps to achieve it.
Turning a partner portal into partners' everyday tool
Focus on features that are valuable across the work cycle. If a partner portal is your tool to enhance partnership, then for your partners it should be a valuable tool as well. Let's imagine a real situation when your partner's salesperson is about to choose one of the two similar products of different vendors and offer it to the customer. How can you influence their choice in your favor?
Sales people definitely opt for: (a) the product they know better and (b) the product that is easier and faster to sell.
So, a partner portal should provide: (a) informative resources and (b) technical tools that the salesperson can instantly use to support sales (as configurators to generate a customized proposal, or calculators to calculate ROI). Of course, there can be no one-for-all tool kits, but let's consider a few possible options.
Informative resources available to your partners can include:
all types of marketing and sales assets (e.g. sales guides, industry-specific kits, catalogues, brochures, etc.)
trainings and certification materials, etc.
Technical tools and resources for your partners to:
customize marketing assets with their own logos, prices, contacts. Customization tools bring value as time-efficient during the pre-sales period.
support sales and raise production efficiency. Configurators and calculators will help partners' salespeople to quickly customize products and demonstrate their value in detail. Enabling partners to do it within a partner portal, you raise its usefulness and hence your partners' engagement level.
track orders
deal with pricing and special bids (with a distributor discount deducted)
report on sales
search among other partners to collaborate (via a Partner Finder, see how to design one in our previous blog post)
In brief, a partner portal that can be used by sales people as a sales tool will naturally increase partners' engagement and reduce their need to implement extra tools. Moreover, this additional value prevents the partner drain to competitors with no need to reduce your prices.
Engaging partners through communication and help
Encourage a dialog. Looking for some help, partners may need not only technical support, but also your expertise and advice on business-related issues. Make sure your partners can ask questions, and be ready to come up with quick and comprehensive answers.
Create a space for inter-partner communication to enable partners to learn from each other and share their insights. For this, consider designing and managing a partner blog or community.
Bring in your experts to support partners. Even informative and logical partner portals quite often lack a human touch. To personify your portal, introduce experts and make them closer to your partners (e.g. enable Q&As with your experts).
Making a partner portal convenient to spare partners' effort
Make sure to structure content logically into sections and categories, so that partners can easily navigate your portal and access the needed information, be it tools, resources or news. Consider developing a home page that will provide quick access to the tools and sections your partners need most. It should be their dashboard with relevant information at their fingertips.
Ensure smooth performance without long page loadings or bugs. For the sake of partners' convenience, you can make the portal compatible with different browsers and devices. It is no good limiting partners to some particular browser or device to interact with your portal.
Keep in touch with a live chat, e-mails and phone on every page. If you come up with quite sophisticated tools, then a help section, FAQ, tips and tutorials should assist your partners on the way. Whatever help your partner may need, the portal should be there to give it.
Add value to convenience through an attractive design. Once a partner portal is useful and convenient, eye-catching design will be an icing on the cake to improve the partner portal experience.
Finally, give a number-one priority to smart search. This will ensure partners can find relevant content easily. Otherwise, even the most helpful resources will remain undiscovered.
Summary
Partner engagement can boost your sales and facilitate partners' activity with no extra incentives from your side. Striving for partners' engagement in the partner portal, you need to consider two questions: what does it give to your partners? And how does the portal do it? For vendors, a partner portal is a way to communicate with their partners, while for partners it should also become their everyday tool that is handy and useful. Thus, it should bring together both rational benefits and subconscious ones by being convenient, user-friendly, functional and helpful.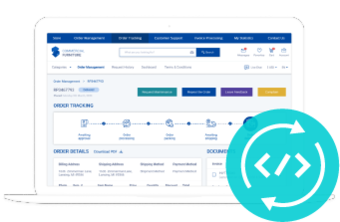 In web portal development since 2005, ScienceSoft's team will deliver a tailored portal solution fully in line with your business needs.