Editor's note: Sergey defines a digital workplace, describes the tools and functionality of a successful digital workplace, and explains its value to businesses. If you want to bring the digital workplace to your organization or opt for upgrading your digital workplace, you are welcome to consider ScienceSoft's digital transformation offer.
With many organizations switching to telework now, the digital workplace has become the focus of attention. Still, having an effective digital workspace seems to be a challenging task for companies as they have no universal definition of what they try to obtain. Some think the digital workplace is a concept that means leveraging digital transformation to improve the way we work. Others believe it's a collection of all the tools an organization uses. In this article, I reveal the essence of the digital workplace, recommend tools you need to build a truly efficient digital workplace, and show its key advantages.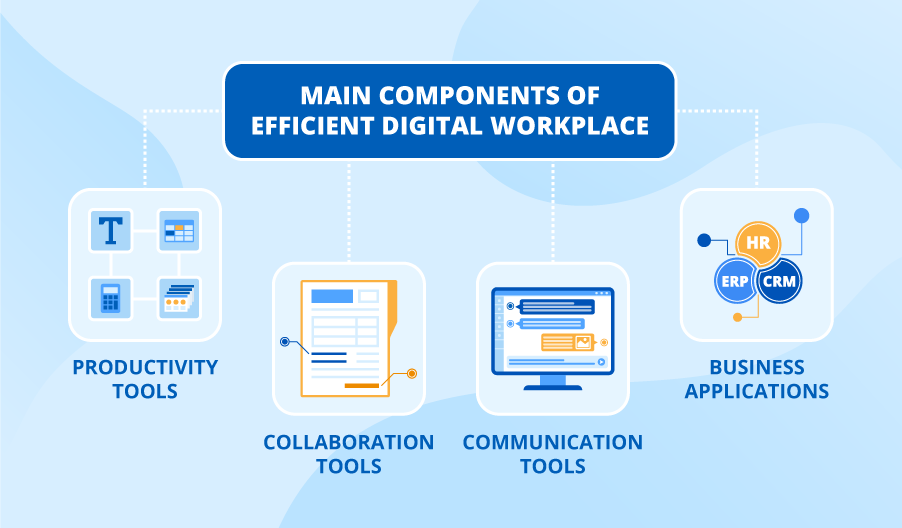 A digital workplace is an integrated platform that offers employees all the necessary tools that help them fulfill working tasks effectively. A digital workplace allows digitizing workflows that reflect the organization's internal business processes. The workflows enable automating mundane and repetitive tasks, getting necessary approvals fast, creating a seamless communication channel between employees, and more. As you see, this definition focuses mostly not on the tools but on how employees can use them to stay productive and accomplish their goals. For example, in my other article, you can check how the digital workplace can maintain the productivity of employees working from home.
Enterprises that opt for the digital workplace should focus on full-fledged digital platforms (e.g., Office 365, Citrix Workspace, Unily, Zoho Creator, and eXo Platform) that can become the backbone of their collaborative environment. Thus, during my work at ScienceSoft, I've helped multiple companies create robust digital workplaces by leveraging the capabilities of Office 365 and SharePoint.
So, when making a choice of your digital workplace platform, make sure it offers the following functionality:
Productivity tools. These are office tools that help employees fulfill their job tasks, for example, word processors, spreadsheet software, presentation and calculator software.
Collaboration tools. These tools enable employees to work with each other, which is equally important both for in-office and remote employees. SharePoint is a good example of this category, as it offers real-time collaboration on documents when several people can edit one document simultaneously. However, to be effective, online collaboration on documents should be properly organized.
Communication tools. These tools serve for information sharing and include instant messaging and emailing, tools for internal publishing like intranets, portals, wikis and blogs as well as full-fledged enterprise social networks. Besides, this category contains such popular communication functionality as polls, surveys, forums, and discussion boards that help a company collect employee feedback, ideas and insights. From my practice, I can say that the digital workplace is more efficient if it supports multichannel communication. For example, Microsoft Teams offers instant messaging, audio and videoconferencing. Besides, it allows recording and transcribing video and audio conversations so that users can come back to them later if needed.
Business applications. This group includes process-specific tools like HR systems, ERP, CRM, and more. For greater efficiency, these tools should be smoothly integrated with your collaboration software. Let me provide you with an example that explains the value of the interoperability of your digital workplace tools. In one of our projects, my team integrated the SharePoint collaboration platform with CRM, which helped users streamline sharing sales documents and marketing content due to working in one system instead of switching between the two.
A robust digital workplace platform will bring several important benefits to your business:
Increased business productivity. The digital workplace contributes to business productivity due to streamlining business operations and removing communication roadblocks. To illustrate the first point, I'd like to refer to one of our projects. My team integrated Office 365 with DocuSign software as part of the company's transition to remote work. This enabled full automation of a document lifecycle and accelerated document finalization. And according to Signaturit, it takes just 37 minutes to request and receive an e-signed document, which essentially accelerates transactions. As regards communication, organizations with powerful instant messaging apps are usually more productive as instant messaging helps accelerate decision-making.
Costs reduction. Empowering employees digitally can help save time on business operations and reduce operational costs. And ScienceSoft's practice can prove this point. In one of our projects, my colleagues connected the customer's retail chains across 9 countries into a unified collaboration environment with the help of an enterprise communication solution. This solution consolidated and automated processing of over 1 million documents per month, which helped the customer reduce labor costs by eliminating the previously required manual effort.
Increased employee satisfaction and retention. Workplace technology is a deciding factor when taking a new job for 82% of millennials and 67% of employees older than 35 years. Also, organizations with digital workplaces report an 87% increase in employee retention.
Build your solid digital workplace
To create an effective digital workplace and avoid implementing your toolbox in silos, you need to elaborate on a holistic digital workplace strategy. You should start by analyzing your business needs and defining an optimal toolset. Then you should make your digital workplace operate as an integrated entity to bring your business enhanced collaboration and increased productivity. If you need help with any of these steps or during upgrading your digital workplace, you are welcome to reach out to my team.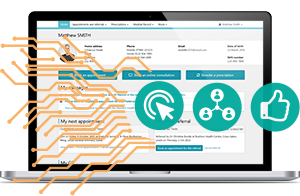 We help businesses go beyond pure IT-enabled automation of daily operations. We offer digital workspace and collaboration, digital HR, digital customer experience and more for your company to build a new digital mind and uncover IT potential to the fullest.