Editor's note: In this guide, Andrew shares his CRM experience covering the steps to take and pitfalls to avoid to implement CRM successfully. If you are looking for a CRM implementation services, we are here to help.
CRM (customer relationship management) implementation is the process of deploying CRM software for the company to track and manage its communication with current and potential customers. Businesses go for CRM implementation to get higher sales, more leads and increased customer satisfaction. Implementing platform-based as well as custom CRMs for more than 6 years, I know how many challenges the process entails. And the fact that about 70% of CRM implementation projects fail to achieve their goals is hardly a surprise for me. The good news is, you can manage implementation challenges successfully and ensure the implementation ROI from $2.50 to $5.60 for every dollar invested, making the following CRM implementation steps.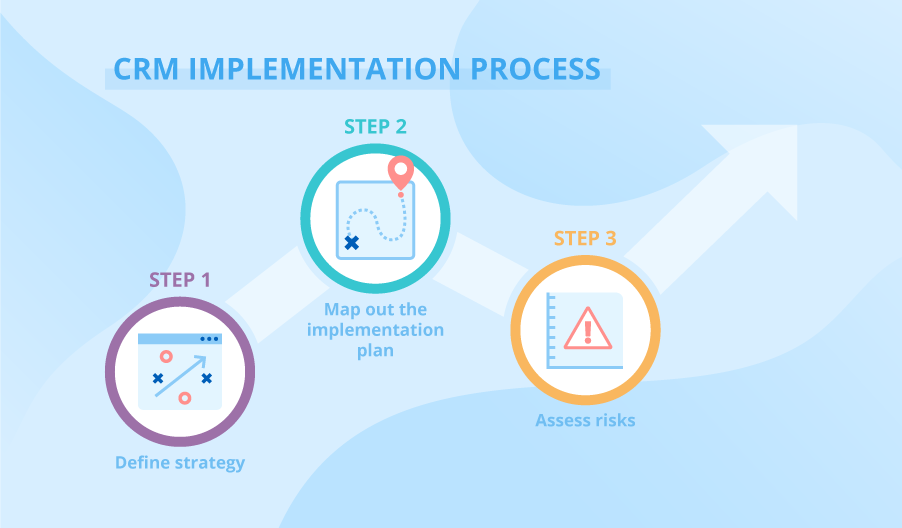 CRM implementation steps
Every successful implementation example in ScienceSoft's CRM project portfolio started with building a solid strategy. It includes goals to achieve with CRM, business areas it is to cover (sales, marketing, customer service), processes it is to support.
For instance, you may start with sales CRM implementation, if getting streamlined and automated sales processes and improving sales results is your high-priority task. Later on, when the desired sales KPIs are achieved, you may complement your sales CRM with a marketing or a customer service solution.
Alternatively, if you're ready for massive digital transformation and building all-new business processes in sales, customer service and marketing, you may opt for the at-once implementation of CRM solutions for all 3 business areas. Still, to maximize your implementation value, get increased visibility of customers' data, and enable better interdepartmental collaboration, you will need to integrate these solutions and set up joint workflows. This is hardly a task to manage with your own IT department, so involving a CRM development team is a must.
Creating a project plan implies breaking down the CRM project into manageable stages with clearly set timelines. Here is a generalized outline of CRM implementation project phases:
CRM consulting

implies analyzing your existing business needs and defining CRM solutions that have the functionality to get these needs addressed. Mapping out necessary customizations and integrations also takes place during this phase.

Data cleansing and migration

mean checking your business data for accuracy and completeness and transferring it from legacy CRM or another system (e.g., spreadsheets) into a new CRM solution.

Customization and custom CRM development

include tailoring your CRM solution with point-and-click tools or code means. Customization examples include automated workflows, custom reports and dashboards, automated mass record updates, custom apps for internal needs, CRM integration with other systems (e.g., ERP, an ecommerce site, DMS).

Testing

is inspecting the CRM system for deficiencies and checking that its functionality works according to the requirements specification.

Deployment

is rolling out the ready CRM solution to the production environment.

User training

is aimed to increase user adoption through teaching users about CRM functionality and the ways of its efficient use.

Post-implementation support

may include monitoring CRM's performance, addressing system issues, and further tuning of CRM features and processes to comply with changing business or user needs.
It's not always possible to envisage every CRM implementation obstacle, but based on my experience, I can name the most common issues, like:
Going beyond the time and budget
Even if you know the CRM features you need to introduce and clearly understand what business processes require automation, it's hard to get an accurate estimation of the project's duration without a technical team's help. And if your requirements are changing rapidly, and you have a lot of enhancements to introduce to each build, the project may easily get off track. Thus, I strongly recommend determining the project's scope and timeline with CRM consultants' help. They will elicit your business requirements, help map them into CRM features, and provide accurate estimations of each project phase in terms of working hours.
Budget estimations can also be rather tricky since there are a lot of hidden costs you may miss when calculating your overall spending. Since the average cost of advanced CRMs is rather impressive (e.g., around $250,000 for Salesforce implementation), you need to be especially careful with budget estimates. Remember to include the cost of products (for sales, customer service, and marketing) and their editions, the number of CRM users, the cost of each implementation activity (e.g., consulting, customization, etc.) into your estimation.
Inconvenient CRM that users don't want to use
No matter how rich and useful CRM's functionality is, if it's inconvenient for your employees, they won't leverage its capabilities to the full. To make CRM user-friendly and widely adopted, it's necessary to carry out a survey on the issues employees had with a previous CRM solution and design a new one with this info in mind.
Delivering feature-rich CRM is always a challenge for users who should master all these features in one go. Since the implementation success largely depends on user adoption, it's essential to involve users into the project from the stage of creating a UI prototype and train them iteratively on every piece of CRM's functionality as soon as it's rolled out. Besides, hiring a dedicated CRM admin, whom users may come to in case they encounter any technical issue, is a best practice.
Transform your business with CRM implementation
Successful CRM implementation will likely help your business get:
65% increased sales quota.

74% better customer relationships.

27% enhanced customer retention.
However, getting such impressive implementation benefits requires much effort and investment. So, if you want to apply proven implementation practices to your project and get professional assistance from CRM experts, just let us know.
ScienceSoft's team is ready to apply its 12-year CRM experience to provide you with a platform-based or a custom CRM solution to optimize sales, marketing, and customer service processes.