Database Development Services
Since 2005, ScienceSoft creates custom database solutions that keep data clean, organized, secure, and easily accessible for authorized users from multiple devices.
Database development services imply building a database for data organization and a web & mobile app for data access.
What You Get
That carefully shelves your data in a secure and reliable environment and can be optionally integrated with other data sources to avoid manual input.
That allows you to use this data in a fast and convenient way (with basic Create, Read, Update and Delete operations, as well as with rich search, filter, and reporting functionality).
A mobile application (optionally)
That allows you to access the database and leverage its features wherever you are, reflecting the demands of today's on-the-go life.
We commissioned ScienceSoft to build a flexible database with user interfaces for uploading and exporting data to access and manage our test data stored as time-based CVS files. The database solution created by ScienceSoft allows inputting all our raw and processed test data through the user interface, accessing data within the database, processing and presenting database data in user-defined formats.
Donat Gaudreau, Electrochemical Cell Design and Test Engineer, Unilia Fuel Cells, Inc.
Database Software We Deliver
We develop database software for a wide range of purposes. The examples include:
Database Software Consulting and Development
Database software consulting
Our consultants:
Define database functionality and tech stack.
Develop a business case.
Estimate solution ROI.
Design database architecture for high performance, security and scalability.
Deliver UX/UI mock-ups.
Provide a project management and implementation scenario, project cost & time estimates.
Request consulting
Full-cycle database software development
Our team takes responsibility for:
Solution consulting and planning.
Database, web and mobile app development.
Integration with third-party systems.
User training.
After-launch support.
Continuous software management.
Request development
What We're Guided By
We assure:
| | |
| --- | --- |
| | Fast development – using Microsoft Power Apps, low-code development software, to create robust database solutions quickly. |
| | Full data consistency and safety – building solid foundations for clean and secure data storage already at the database level, which is the most reliable approach. |
| | Swift response time – accurately optimizing your future database for your most frequent requests (whether they are writes or reads). |
| | Sleek UX – keeping your database application intuitive and logical to ensure quick and easy user adoption and proved use effectiveness. |
| | Spotless integration – seamlessly integrating your database software with other information sources. |
| | Profound support – we ensure profound technical help to the end-users and the quickest response to any problem with your software. |
What Our Customers Say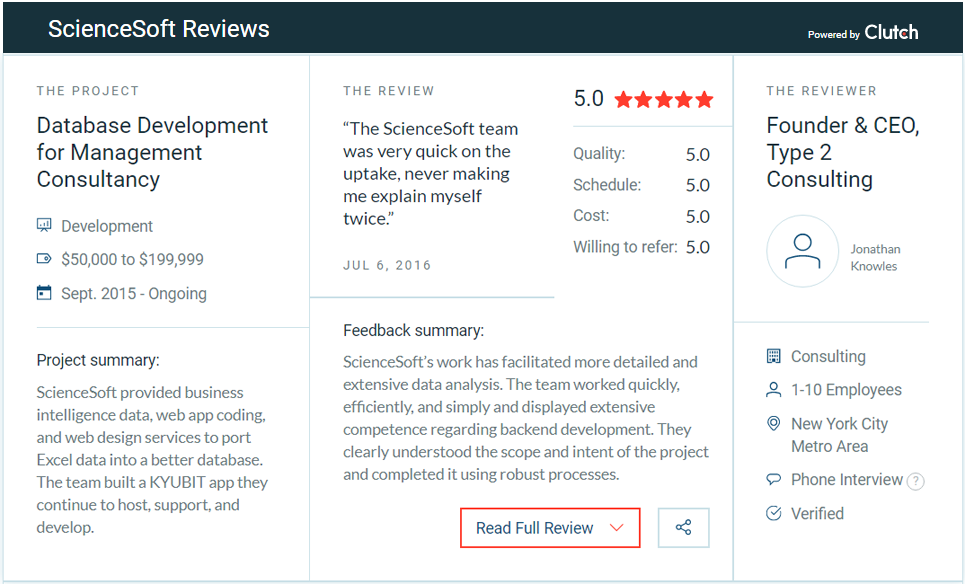 Our Technology Stack

We choose only credible and trusted technologies to ensure the most professional storage of your data.

<![endif]-->