Editor's note: Veranika explains how ticketing automation can help customer service teams create positive customer experiences. If you're eager to start using ticketing automation, ScienceSoft offers extensive customer service consulting services.
It is hard to understate the importance of customer service in today's service-driven economy. According to Microsoft's State of Global Customer Service Report, 95% of respondents claim that customer service plays a significant role in determining their loyalty to a brand. And Forrester's study discovered that 73% of customers prefer companies that value their time while providing customer service.
The rising demand for timely customer service is putting customer service teams under increasing pressure. One way to alleviate the pressure is to equip customer service agents with software that can help them stay organized, productive, and capable of handling any volume of customer service cases. And an automated ticketing system is one such tool. Below, I'll talk more about how automated ticketing systems can improve your customer service workflows, as well as give my suggestions on which software to use.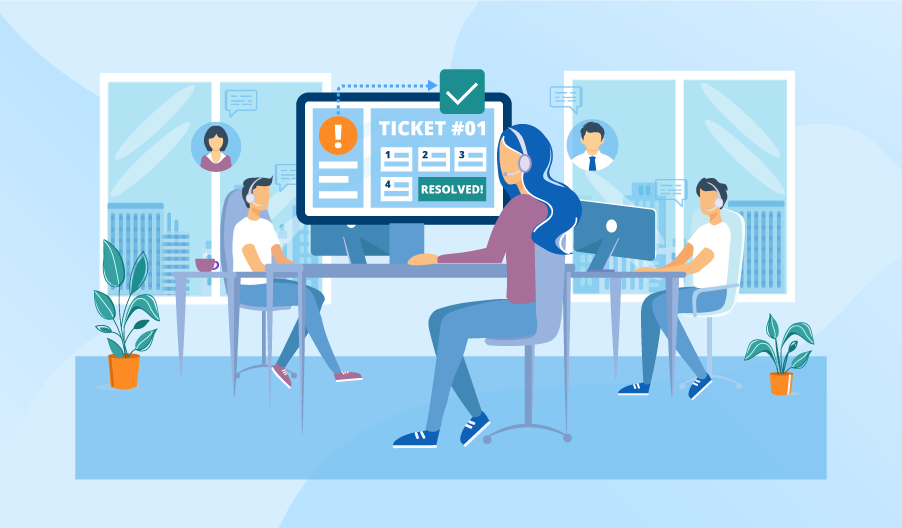 A ticketing system helps customer service teams manage service requests and incidents. Each service case gets a ticket assigned, and the system manages its life cycle further. Below I provide several common use cases of ticketing automation.
Automated ticketing systems make it possible to route service tickets to an appropriate agent based on predefined rules. The rules can base on variables such as a channel of origin (email, website form, social media, etc.), customer query keywords, previous interaction history, and others, depending on the ticketing app. And besides a live service agent, a ticket can be routed to a knowledge base for customers or a customer service chatbot.
Most service tickets get closed once they're resolved within a defined deadline by a service agent, or when they get terminated by the customer. There are also edge cases when service tickets stay open for extended periods. An automated ticketing system can help keep your ticket database clean by closing tickets according to predefined rules.
The life cycle of a typical service ticket consists of a series of events, including the initial submission, back-and-forth communication between an agent and a customer, ticket status updates, and others. Some of these events require more attention than others, which makes it imperative for service agents to get notified on time. Most automated ticketing systems come with an alert feature of some sort to keep service agents up-to-date regarding important service ticket milestones and events. These alerts can be customized according to urgency and other criteria.
Each customer service ticket leaves behind a trail in the form of email chains, chat logs, status updates, reports, and other data. This data can be a valuable source of insights for customer service optimization, and a ticketing system helps you gather and analyze it systematically.
Ticketing automation systems come in the form of standalone solutions, or as built-in features within larger apps such as CRM software. If you want to get started with ticketing automation, give these platforms a try.
Dynamics 365 Customer Service is a comprehensive solution for customer service by Microsoft. It offers case management according to SLA (service level agreement), and such basic features as case queuing and routing, case management dashboard, multi-channel communication management.
Additional features include creating forms for collecting customer feedback, workflow gamification, and next-step recommendations for service reps.
Pricing: The basic subscription (Professional) starts at $50 user/month, and the Enterprise edition – at $95 user/month for businesses not having a Dynamics 365 instance.
Learn more about Microsoft Dynamics 365 Customer Service.
Salesforce Service Cloud is customizable customer service software with extensive automation features. It provides basic features such as case management, knowledge bases for agents and customers, and customer service analytics.
More advanced features include omnichannel ticket routing, cloud telephony, and AI-powered customer service insights.
Pricing: The basic edition, Essentials, is $25 user/month, while the most advanced edition – Unlimited – is $300 user/month.
Learn more about Salesforce Service Cloud.
ServiceNow offers a suite of customer service management tools to cater to the needs of every business. This solution comes equipped with common features such as customer service agent workspaces, task automation, knowledge management, and more.
It also comes with unique features such as workflow visualization, virtual service agents, and predictive intelligence via AI and machine learning.
Pricing: Prices for ServiceNow Customer Service Management are only available upon a request to ServiceNow.
Learn more about ServiceNow ticketing capabilities or view our interactive demo to see ServiceNow ticketing in action.
Achieve better business outcomes with ticketing automation
Customers expect a high level of service from the businesses they interact with, and ticketing automating is essential for providing it. If you need help with ticketing automation, ScienceSoft is ready to provide both consulting and implementation assistance.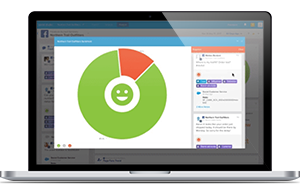 Looking for a way to improve your customer service? Our specialists in customer service management provide a full cycle of consulting and optimization.