Editor's note: In the article, Natallia describes how telehealth nursing software can help you reduce nurses' overload and burnout rate. And if you are planning to develop a telenursing solution, consider ScienceSoft's telemedicine app development offering.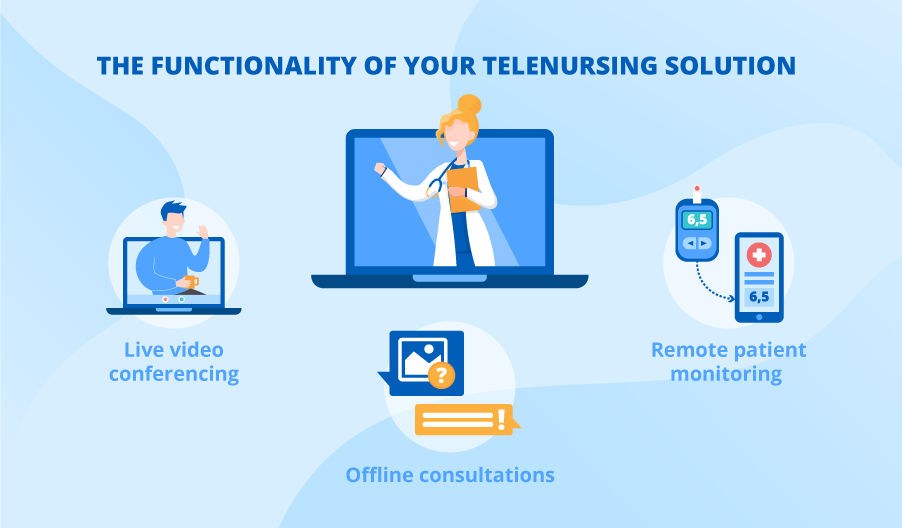 Currently, we witness the growth of telemedicine usage with the COVID-19 pandemic adding to the demand on the telemedicine market. Along with standard telehealth applications, the popularity of telenursing apps is also growing, especially in view of the acute shortage of nurses and the nursing staff's overload. What adds to the popularity of telenursing solutions is that the American Association of Critical-Care Nurses (AACN) and the American Academy of Ambulatory Care Nursing (AAACN) do not recognize telehealth nursing as a separate nursing practice or subspecialty. Thus, nurses do not need to have additional certifications to use such apps in their practice.
Based on ScienceSoft's 15 years of experience in healthcare IT, I'd like to talk about technical aspects of telehealth nursing solutions and show how they can help with delivering quality care and telehealth services.
A ready-made telenursing app
Subscribing to a ready-made solution is a cost-effective option as you can start using the app quickly and get ROI fast. However, there's an essential drawback of ready-made telenursing solutions – their out-of-the-box functionality can fail to fully cover your needs. Thus, you'll need to take time and effort to customize their functionality to your healthcare organization's requirements.
A custom telenursing app
Such a solution is more expensive, and its development process can take quite long, depending on the scope. However, you get a tailored solution, which functionality is created according to your vision and requirements.
Regardless of the chosen telenursing implementation option, check that your app has the following functionality for you to carry out efficient nursing practice with telemedicine.
Live video conferencing
This feature allows patients to get primary care outside the clinic facilities using their smartphones, tablets, or laptops. Patients can start two-way interaction with nurses after scheduling a visit right in the telemedicine nursing app or ask for immediate connection in case of an emergency. For example, we at ScienceSoft added similar functionality to an Android application for Chiron Health, a popular telemedicine platform.
With live video conferencing, a nurse can walk a patient through pre-surgical preparation, examine a chronically ill patient, perform diagnostic procedures, and forward patients to doctors if necessary.
Offline consultations
With offline consultations, patients can get nursing care without scheduling appointments and do not have to be available in the app at the same time as nurses. For example, with a telehealth nursing solution, a patient can send images of their rash to a nurse to get consulted. Nurses get notifications of all incoming messages and process them within specified timeframes.
Remote patient monitoring
Being connected to medical devices (e.g., a glucometer or a stethoscope) or wearable biosensors, a telemedicine nursing solution can monitor patient vitals and send real-time patient health data to a nurse. I believe that this feature is a must-have for telenursing solutions since accurate patient examination cannot be done only with video or photo consultations.
HIPAA compliance
A telenursing solution should be HIPAA-compliant for you to avoid data leakages or patient data security risks. A ready-made solution is HIPAA-compliant out of the box, but you need to make sure that it meets HIPAA compliance after configuration and customization. And if you go for a custom telenursing app, you should ensure that it is built HIPAA-compliant.
For both ready-made app customization and custom telenursing development, I recommend signing a Business Associate Agreement (BAA) with your vendor in addition to the contract. BAA makes the vendor accountable for patient data security and any disclosure of PHI (protected health information) that they access. What is more, you should resort to third-party testing of a telehealth nursing solution to ensure HIPAA compliance and patient data security.
Connectivity to the cloud
Relying on my experience in healthcare IT, I'm sure that a telenursing solution should support cloud connectivity, as it brings several significant benefits. For example, connectivity to the cloud allows healthcare organizations that decide to start nursing practice with telemedicine to avoid investing resources in the on-premises infrastructure. Also, a cloud solution has autoscaling capabilities to handle huge workloads in times of high healthcare demand (a natural disaster, a pandemic, a technological disaster, etc.)
Integrations
It's important to integrate your internal healthcare applications, such as EHR/EMR, HIS (hospital information system), and billing software with a telenursing solution. Thus, you'll ensure the automatic flow of patient data from the telehealth nursing application to your internal systems, where it can be securely stored, accessed, and managed.
User training
To ensure quality nursing practice via telemedicine, I recommend making user training a part of the telenursing solution implementation strategy. This may cover such measures as issuing learning materials and conducting training sessions with nurses. User feedback gathered after such activities will facilitate further solution improvement.
Telehealth technology opens up new opportunities for nursing, like, for example, more efficient workforce allocation, while giving patients better access to medical care. Thus, telenursing helps you deliver high-quality patient care even in the times of strain, such as the COVID-19 pandemic. If you are interested in trying the benefits of a telehealth nursing solution for yourself, just let me know.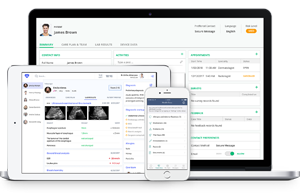 Looking for a solution to your healthcare IT challenge? Our experienced healthcare consultants are here to help.