According to Nuance Enterprise, 67% of customers prefer to use self-service system than speak with a representative. For those customer-oriented companies who already enjoy Salesforce services and want to get more, the launch of a customer portal on its basis may seem to be an ideal solution to extend the native Salesforce Sales Cloud functionality. However, it's not that simple. Officially, Salesforce stopped its portals for new organizations in the distant 2013 and introduced a new offer instead – Communities (or Chatter Communities).
At first sight, it seems that everything is clear and understandable: there were portals and now there are communities. But yet a lot of questions arise and people often get confused about the new concept. Let's try to drill a little deeper to discover the essence of this transition and figure out why 'Salesforce Customer Portal' still remains a popular Google search.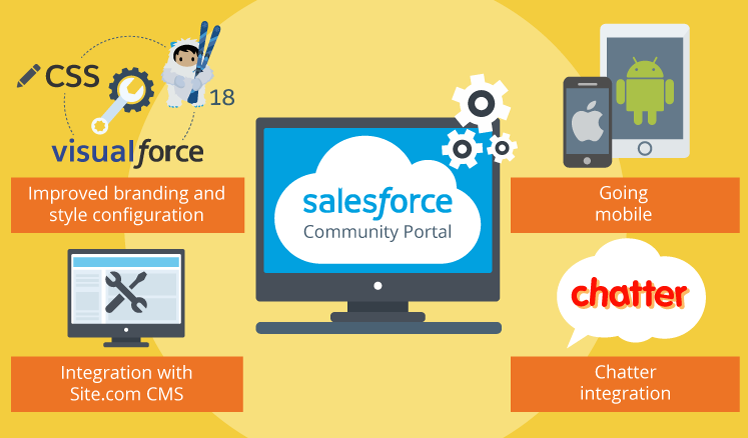 "Antique" Salesforce Portals
Long time ago, Salesforce presented Customer Portals as a pre-configured option (together with two other alternatives – Self-service Portal and Partner Portal), that was intended, as well as Self-service Portal, to provide «an online support channel for the customers allowing them to resolve their inquiries without contacting a customer service representative», but with a richer functionality than the Self-service one. Its mission was to expose Salesforce functionality and CRM data to the customers, to improve customer experience and to become a new channel for communication between a business and a customer.
Primarily, the Customer Portal lets the customers into your company's internal processes (providing role-based access) and gave them access to knowledge articles, case studies and other similar data. The Portal brought together all the info about the company and its products/services and granted visibility of all company-customer interactions reflected in tickets, orders, bills. It also supported reporting features and displaying other website content.
And let's not forget:
Cloud-based solution (allowed to work from anywhere).
Pre-packaged format (stood for reduced costs and ease of deployment).
Trusted Salesforce platform.
Leverage of Salesforce CRM data.
Easy integration with third party systems.
How the Communities appeared
In 2013, Salesforce decided to switch to Communities as more collaborative and social working environment. And however confusing might the name «Community» seem, it is not only about chat groups exposed to customers. Community is literally a next-generation portal that combines the functionality of the former Salesforce Customer and Partner Portals and provides some new features in addition. Salesforce Community Cloud offers a variety of options: you can build a portal, a help forum, a support site, HR central, intranet, etc.
The process of transition to Communities
Everything is flexible: you can either move fully to Communities, or let the Community co-exist with the Portal in order not to shock your customers with sudden changes, or stick to your old tested solution if you're fully satisfied with its features and don't need anything more.
Salesforce Communities Pricing
The price of Salesforce Community Cloud is based on its type, needs of your business and volume of usage.
Self-Service portals
Partner Relationship Management
External Apps

Customer Community

$2/login or $5/member

USD/month

Customer Community Plus

$6/login or $15/member

USD/month

$10/login or $25/member

USD/month

$15/login or $35/member

USD/month
Self-Service Portal and Customer Communities are also available in most editions of Service Cloud.
What is great in a new product
The key changes:
Improved branding and style configuration. Now the user won't be confused leaving the website and appearing in a completely different environment. You can do much more than just basic customization available in Portals (colors, fonts, header, and footer). Visualforce framework gives you full control over the look and feel of your Community. For example, you can create a completely new system pages (Login, Self-registration, etc.) or override CSS files for user, account, etc. Moreover, with Winter 18 release, it is possible to make Communities look different for each audience (e.g. for customers from different states);
Integration with Site.com CMS for web content management;
Going mobile (iOS and Android natives);
Chatter integration for all kinds of social interactions (though communication is also said to be possible in Portals through Chatter and Service Cloud). It allows multiple groups with limited access, ability to attach and share media materials and to post polls to get quick feedback.
Chatter makes posting messages, sharing files and keeping track of recently discussed topics a no-brainer.
But these are not the only reasons Salesforce communities thrive. Requirements for the modern portals are high and also the following improvements make it a well-loved tool:
Enhanced case management (the agent can track unanswered cases in the community, can provide an answer for all members or privately);
Controlled customer access to the data;
Social sign in (e.g. Facebook, LinkedIn);
Enhanced security with data encryption (files, attachments, etc.);
Personalized content display (with Salesforce Einstein);
Public pages;
Both reports and dashboards sharing with your customers and partners;
Storage of all incoming data in Salesforce;
Lightning Templates for quick and easy deployment.
Share info and get expert opinion in real time.
Is it really a dream?
There is always room for improvement. Let's consider some of the weaknesses not to sound «over-excited» and give you an accurate picture. Mostly, users point out the following pitfalls:
Such trending portal tools as e-commerce, live chat, blog, real-time user content monitoring (TW, Instagram, YouTube, FB), renewals and subscriptions don't go by default and should be implemented separately;
There is still need for professional Salesforce consultants' help in set-up and some training and practice are required as it's not really intuitive.
The final note
The main message is that the world hasn't turned upside down and Communities are portals. It is most likely that the creators just wanted to make emphasis on collaboration and communication in a new product when decided to change its name. However, Communities are the new Portals. They support all the functions of the former ones and some new features in addition.
If you have the Portal, most likely you're quite aware of its pros and cons for your company and you just decide whether you want to stick to it or move to Communities. If you don't have the Portal – there won't be any. Salesforce Customer Portal isn't available for new organizations since Summer 13. Communities is your only option. And it's quite a good one.
Contact us
Salesforce Customer Portal by ScienceSoft
If you need any guidance or hands-on help with setting up your Community, get in touch! We're pretty good at that kind of thing.