Editor's note: Daria explains what a web portal is and share a list of 5 outstanding web portal examples. And if your business needs expert assistance implementing a web portal, feel free to consider ScienceSoft's web portal development services.
Organizations use web portals to provide a selected target audience (customers, business partners, employees, etc.) with access to relevant content and functionality. Enabling a company's external (with partners and customers) and internal (between employees) remote communication and collaboration, web portals become especially relevant during the COVID-19 pandemic. And the relevancy of portals will not decrease in the near future, as, for example, almost two-thirds of US employees who have been working remotely during the pandemic would like to continue to do so.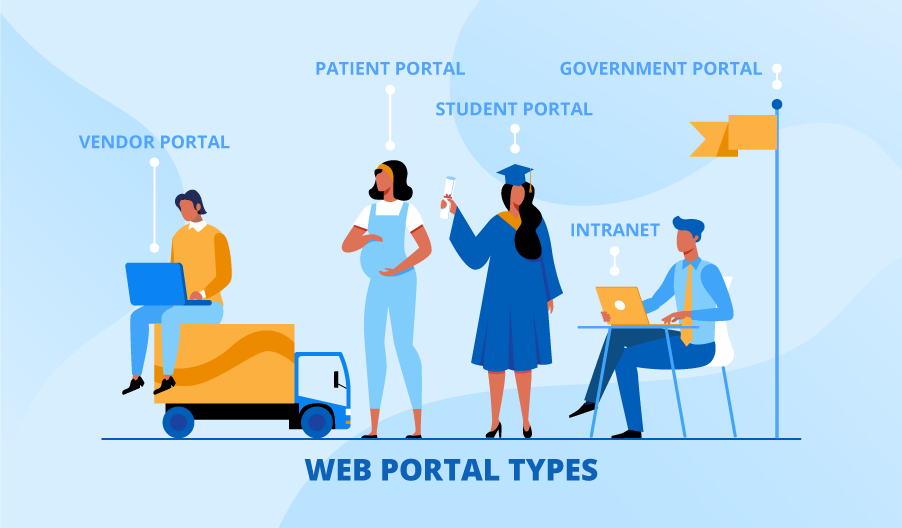 Modern web portals are high-traffic websites with content management, collaboration, and content search personalization features. Some web portals (e.g., a patient portal) deal with sensitive data, so attention should be paid to the portal's security features, such as multi-factor authentication, content retention and deletion policies, and data encryption. A common website, by contrast, is built mainly for informational purposes and has much fewer collaboration and personalization capabilities, targeting a wider, often unspecified internet audience.
Depending on the business goals you pursue and your target audience, you can choose among several web portal types:
Also known as supplier portals, vendor portals represent a secure online environment for collaborating with a company's suppliers and streamlining procurement processes. Such portals facilitate vendor onboarding and communication, order placement and tracking, and more. Take a look at Daimler's supplier portal to get a better understanding of vendor portals' functionality.
Patient portals serve as a communication hub for medical staff and patients. For example, patients can book appointments and see test results via a portal. To check a sleek and efficient patient portal in practice, visit Capital Women's Care portal.
Intranets provide a company's employees with an opportunity to stay current on the latest company updates without having to use external sources, take part in learning and professional development processes online, and support the working process with document and project management features and collaboration tools. Intranets can contain some social media characteristics (e.g., posting pictures, collecting likes and sharing news, joining communities and contests). You can see our interactive demo to get an illustrative intranet example.
Kansas City, Missouri, makes it easy for the citizens to use popular services, such as paying bills and parking tickets, and visitors can enter their address to see personalized service information.
Stanford University built an online platform for accessing various information on academic advising, teaching and grading, enrollment and employment, training and financials, and more. The portal is also used to record transactions related to everything mentioned above.
Build a user-centric web portal
Web portals' content search and management and collaboration features can support your digital presence and enable remote work. Implementing a web portal starts with the detailed analysis of your business situation and involves choosing a web portal type, elaborating on a portal's functionality and deciding on a technology stack. If you are looking for professional help in building a web portal, don't hesitate to contact ScienceSoft's team.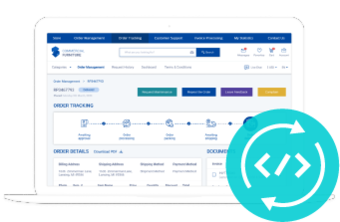 In web portal development since 2005, ScienceSoft's team will deliver a tailored portal solution fully in line with your business needs.