Editor's note: In this article, Andrew overviews key capabilities of telemarketing software and shares the list of top 5 telemarketing platforms. And if you consider implementing telemarketing software in your organization, feel free to check ScienceSoft's marketing automation services.
Today, telemarketing stays among the most popular forms of digital marketing. For example, 68% of B2B companies involve human interactions, e.g., telemarketing, in their marketing activities, as prospects tend to respond better to a human-based outreach. Almost 60% of Fortune 500 marketing managers say that telemarketing is "a very effective" way to get leads, while 90% consider it "effective". Not to miss out on this lead generation channel and increase its ROI, I suggest implementing proper software to enable automated telemarketing. Read on to learn its capabilities and popular options.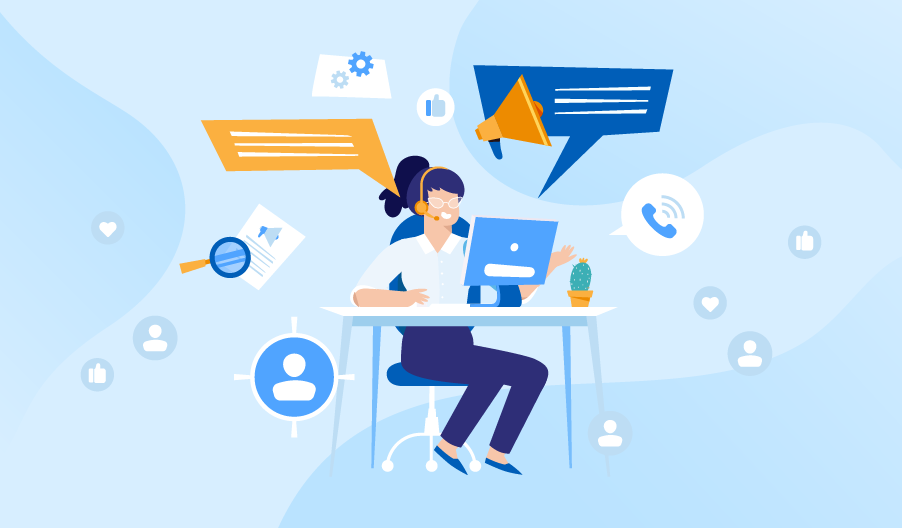 Telemarketing software is designed to help telemarketing specialists conduct outbound calls to find prospective customers, convert them, and encourage them to buy a company's products or services. Properly chosen and implemented telemarketing software helps increase call volume, decrease time spent on a call, and increase a telemarketing conversion rate. Key features that should be present in telemarketing software are:
Lead management.
Auto dialers.
Telemarketing script management.
Callback management, etc.
Overview
Dynamics 365 Marketing is a CRM platform that can be used for telemarketing. It has lead scoring capabilities supporting lead generation, 360-degree prospect view, and prospect segmentation.
Key features:
Lead scoring – leads ranking based on demographic details, company information, interactions with your brand, etc. to identify how likely they are to buy your product or service.
Prospect segmentation – creating segments based on certain features like demographics, territory, previous interactions with the brand to tailor a communication program accordingly.
360° prospect view – recording and storing all the data acquired during phone conversations in one place.
Phone calls management – scheduling a call and recording the relevant data about it.
Limitations: Limited number of integrations with third-party services.
Pricing:
As a standalone app: from $1,500 tenant/month
As an add-on to your suite of Dynamics 365 apps: from $750 tenant/month
More about Dynamics 365 Marketing
Overview
Salesforce Marketing Cloud provides tools like automated lead management and prospect management for successful telemarketing calls. It has a B2B tool – Pardot – combining marketing and sales features for tracking and nurturing the best leads and closing more deals.
Key features:
Data Studio – providing access to new leads lists for telemarketers.
Email, Mobile, and Web Marketing suite:
Lightning Dialer – enabling one-click calling and automated call logging.
Lead management – tracking leads, routing and assigning them to the right agent, etc.
Pardot – B2B tool providing the following features:
Lead management – prioritizing the leads with the help of AI-powered lead scoring and grading, creating lead segments for better targeting, etc.
Prospect management – tracking prospects, performing prospect audits, automatically assigning a prospect based on their information and actions, etc.
Einstein Behavior Scoring – AI-powered tool sending your agents alerts when prospects are ready to buy based on their behavior so that your telemarketing specialists know the right time to call them.
Limitations: Separate pricing packages for tools.
Pricing:
Data Studio: $20,000 org/month
Email, Mobile, and Web Marketing suite starts at $400 org/month for the Basic edition (billed annually)
Pardot starts at $1,250/month for the Growth edition for up to 10,000 contacts (billed annually)
More about Salesforce Marketing Cloud
Overview
Bitrix24 can be used as a CRM for telemarketing as it automates both outbound and inbound telecalling processes with the help of such features as an automatic dialer system and an interactive voice response. Moreover, it provides a large number of real time communication tools for video calling, video conferencing, etc.
Key features:
Lead management – automatically creating new leads during a phone call or from a missed call; employing lead scoring.
Prospect assignment – automatically assigning a prospect to an appropriate telemarketing specialist (e.g., based on geographical factors or a product/service type).
Automatic dialer – calling your selected customers from a CRM contact list.
Click-to-call – calling directly from a platform in a click.
Script management - creating scripts for working with both incoming and outgoing calls.
Call scheduling - automatically scheduling a call and sending your telemarketing specialists a notification to call the prospect.
Limitations: Limited reporting capabilities.
Pricing:
Start+ Edition: $24 user/month for 2 users
CRM+ Edition: $69 user/month for 6 users
Project + Edition: $69 user/month for 24 users
Standard Edition: $99 user/month for 50 users
Professional Edition: $199 user/month for unlimited number of users
Overview
PhoneBurner is telemarketing automation software providing your agents with such telemarketing tools as a power dialer, automated lead distribution, etc.
Key features:
Power dialer – for calling up to 80 leads per hour.
Automated lead distribution – using LeadStream to automatically distribute leads to the right telemarketing agent.
Automatic Local ID – automatically identifying which country your customer's phone number belongs to and dialing them using a local telephone number.
Zoom integration – initiating a Zoom meeting to have a conversation with your potential clients.
Limitations:
Suitable for small business only.
No mobile app.
Pricing:
Annual pricing: $126 user/month
Monthly pricing: $149 user/month
All plans include unlimited dialing with no per minute fees.
Overview
Myphoner is cold calling software that comes with multiple features to organize leads, automatically create lead lists, schedule callbacks, etc. so that your agents can easily connect with leads and focus on converting them into customers.
Key features:
Power dialer – dialing through a list of leads, calling the next lead in the queue.
Lead management – capturing and organizing leads in lists, carrying out advanced lead segmentation, etc.
Intelligent queuing – selecting the most relevant leads, choosing which ones to dial next, ensuring not dialing the leads that are currently being called by other agents.
Callback management – scheduling a callback.
Limitations: Limited number of CRM integrations.
Pricing:
Lead Plan - $11.67 user/month
Prospect Plan - $17.5 user/month
Opportunity Plan - $23.33 user/month
It's high time to make the next step to telemarketing software implementation
Telemarketing software will allow your marketing department or a call center to move away from time-consuming manual cold calling to auto-dialing and tailored communication with prospects, so that your agents will increase the number of calls and improve productivity.
If you want to reap the benefits of telemarketing software or have challenges you need help with, Sciencesoft's team is ready to help.
As a marketing automation provider, ScienceSoft will help you optimize marketing processes with platform-based or custom marketing automation software.