There are many specialized contract management solutions for healthcare providers, for example, PolicyManager, IntelliContract, Concord, nThrive, etc. Such systems are required to support compliance, as patient contracts, contracts between payers, hospitals, laboratories and other healthcare organizations must be in conformity with numerous federal and state regulations. For example, the Health Insurance Portability and Accountability Act (HIPAA) that prioritizes privacy and requires security of protected health information (PHI).
While being compliant, however, most of the specific contract management solutions are not scalable, flexible and can't be customized to meet the needs of a healthcare organization when it gets bigger or requires integration with other digital systems and tools. But this doesn't apply to general-purpose solutions, for example, the ones built on SharePoint.
So, can SharePoint-based contract management solutions kill two birds with one stone – establish effective contract management and provide features specialized software lacks?
SharePoint offers rich set of out-of-the-box features functionality, customizability and a reasonable price and in addition, the platform is HIPAA-compliant. Potentially, SharePoint contract management can be suitable for healthcare and even become a better choice for this industry than the specialized software. To check this assumption, let's analyze 5 reasons that can make SharePoint contract management system a strong competitor in the healthcare domain.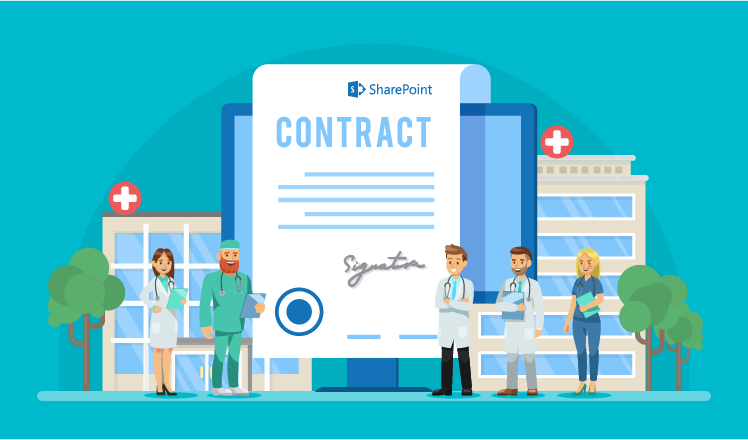 #1 SharePoint can support specific healthcare contracts
Hospitals, clinics, long-term care facilities and other healthcare providers use both general-type contracts (non-physician employment contracts, supply contracts, lease contracts, NDA agreements, etc.) and industry-specific contracts. Though used for general contract types by default, SharePoint won't shy from specific healthcare contracts, such as:
Payer contracts
Patient contracts
Physician employment contracts
Patient transfer agreements
Emergency services contracts
Laboratory services agreements
Clinical trial agreements
#2 SharePoint basic contract management features are suitable for healthcare
SharePoint has a rich set of basic features that are easily applicable to healthcare contract management:
Contract creation workflow. Users can create contracts right in SharePoint due to integration with Word, fill in metadata, for example, a patient's name, which allows for contracts' accurate storing in a centralized repository and easy retrieval when needed. Also, such SharePoint tools as online discussion boards improve employee communication during the contract authoring.
Templates. Users can store contract templates in SharePoint libraries. These templates can be reused when creating standard contracts, for example, NDA agreements. Thus, drafting a standard contract becomes a matter of a few minutes.
Approval workflow. SharePoint supports rule-based automated workflows, including approval workflows that route contracts to responsible persons for approval. After the final participant, such as CEO, approves the contract, a workflow initiator will receive an automatic notification about it.
E-signature integration. SharePoint allows digitizing the signing process via integration with e-signature software (for example, DocuSign) that makes finalizing contracts much faster. To see such integration in action, you can check our SharePoint DMS demo.
Search. SharePoint offers advanced contract search by its name, metadata or parts of content. Besides, SharePoint can enable search through multiple resources (EHR/EMR, CRM, ERP, portals, etc.) simultaneously and supports search results ranking.
Automatic alerts. SharePoint provides scheduling alerts that will automatically notify users, about, for example, upcoming expiration of a contract.
Restricted access. SharePoint enforces access control based on a wide range of individual and group permission levels, bringing down to a minimum the possibility of unauthorized viewing, editing, sharing or deleting sensitive contract information.
Reporting. SharePoint provides ad hoc or scheduled reports on contract-related user activities such as approval, access, etc.
#3 SharePoint advanced contract management features are easily adaptable to healthcare
To make contract management in healthcare more effective, SharePoint can also be configured to support advanced contract management features:
Clause & field libraries. SharePoint allows creating libraries of standard contract clauses (e.g., arbitration, force-majeure) and fields (for example, name of a healthcare provider, legal addresses, diseases, injuries, diagnoses, etc.) that can be reused in new contracts. It's a crucial feature for a highly regulated healthcare industry as it helps to maintain the consistency of legal and medical terminology in healthcare contracts. The preapproved legal language improves risk management, while uniform medical terminology facilitates understanding and exchange of medical data across healthcare organizations.
Integration. SharePoint is an integration-friendly platform. SharePoint contract management solution can easily integrate with many systems such as EHR/EMR, CRM, ERP, HR, etc. For example, integration with EHR/EMR allows the automated adding of patients' information into contract templates.
Compliance check. SharePoint-based contract management software provides tracking compliance in real time: the software automatically generates reports and creates the audit trail of all contract-related user activities, such as data access or modification. This helps to automate or partially automate contract compliance check.
#4 SharePoint is HIPAA-compliant
To support HIPAA compliance, SharePoint uses the following mechanisms:
Access restrictions. SharePoint allows restricting access to PHI by granting various user permission levels. Thus, only authorized users can view, edit or share healthcare contracts and related documents. SharePoint also provides assigning access rights for individual files. For example, a hospital billing department will have access to insurance and payment information but not to health care details. Besides, SharePoint offers restricted access by network location, which will prevent access to PHI from untrusted networks. However, there is an exception. As required by HIPAA, SharePoint allows obtaining PHI during an emergency, for example, in case of imminent danger to a person's health and safety.
User identification & authentication. SharePoint provides assigning a unique number to identify and track user identity, as well as offers out-of-the-box support of strong user passwords. In addition to passwords, users should acknowledge a phone call, a text message or a mobile app notification to complete the verification process (two-factor authentication).
Automatic logoff. SharePoint supports automatic logoff after a certain period of inactivity, which prevents PHI from unauthorized access in case a user forgets to log out of the system. Even if a user chooses Keep me signed in, the session will automatically terminate after a predetermined time of inactivity.
Encryption & decryption. To secure PHI at rest, on disk encryption level, SharePoint utilizes BitLocker, and on the file encryption level, every file is secured with the key that uses Advanced Encryption Standard (AES) with 256-bit keys. To allow for the security of data in transit, SharePoint provides data encryption through SSL/TLS connections that are established using 2048-bit keys.
Audit trail. SharePoint allows recording and examining all contract-related activities (opening, downloading, emailing, printing, etc.) and provides a complete audit trail.
Integrity. Due to its access control capabilities, SharePoint rules out any unauthorized alteration or destruction of PHI. Besides, the data loss prevention feature of SharePoint allows identifying sensitive information and prevents its accidental leakage.
#5 SharePoint is easy to adopt and affordable
Although SharePoint may seem not an obvious choice for a healthcare contract management solution given the abundance of specific software, it may be worth considering. As shown above, the platform provides equal contract management possibilities with specialized solutions. However, it may offer even more to healthcare providers:
All-in-one solution. If healthcare providers already use SharePoint, for example, as a portal solution, they can proceed with a contract management solution based on SharePoint. Thus, there will be no need for introducing a new system and providers can save money on user adoption, administration and subscription fees.
User-friendliness. SharePoint has an intuitive and easy-to-use interface. SharePoint-based solutions require minimum training and healthcare organizations can quickly adopt them.
Flexibility. SharePoint is a highly customizable platform and can provide a contract management solution tailored to the needs and organizational structure of a healthcare provider. In contrast, the majority of specialized healthcare contract management software can't be customized.
Out-of-the-box integration. SharePoint out-of-the-box functionality includes a capability to integrate with Office 365 services and document processor software (Word, Excel), which makes managing and collaborating on healthcare contracts and related documents much easier.
Affordability. SharePoint subscription costs just $5.00 – $10.00 user/month. In comparison, ASC's specialized healthcare solutions, for example, start at $25 user/month for 5 users and $65 user/month for up to 25 users.
SharePoint healthcare contract management in practice
Now that we have given an overview of SharePoint contract management features, let's see the system in action by the example of 3 types of healthcare-specific contracts: payer contracts, patient contracts, and physician employment contracts.
Payer contracts
Healthcare organizations may lose a lot of revenue due to claim denials, underpayments, missed payments, etc. SharePoint contract management can help to meet these challenges. For example, the system can generate automatic alerts in case of a contract's violation such as a missed payment. Also, integration of a SharePoint contract management solution with claims or reimbursement processing systems can facilitate medical billing, as there will be no need in entering contract details in multiple places. Besides, automated workflows and ad hoc reporting provide transparency of a payer contract's lifecycle, which enables providers to assess the profitability of contracts and partnerships.
Patient contracts
Patient contracts and consent forms (e.g., for anesthesia, surgery, biopsy, etc.) are standardized in most cases. SharePoint allows creating templates for such contracts and related documents that can be used to create new documents. These templates usually require only minor changes, so it's quite easy and fast to create new contracts. Also, HIPAA requires high-level protection of patient information and SharePoint multi-layer security system ensures meeting these requirements in patient contracts.
Physician employment contracts
One of the main differences between healthcare employment contracts for physicians and non-physicians is that the former contain restrictive covenants. Restrictive covenants serve to limit a physician's post-employment activities to reduce competition. For example, such a covenant can restrain a physician from working in a certain geographical area for a certain period after the termination of the employment contract. SharePoint allows saving restrictive covenants in clause libraries, reusing them, as well as supports the tracking of obligation fulfillment.
On a final note
It seems to be a good decision to consider SharePoint when choosing a contract management solution for healthcare. This platform offers the same features as specialized contract management solutions, including high-level security and ability to adhere to key compliance initiatives. What's more, SharePoint is affordable and easy to adopt and integrate due to its high flexibility. All this makes contract management based on SharePoint a robust solution for streamlining a contract's lifecycle management even in such a highly regulated industry as healthcare and turns it into a strong competitor to the specialized software.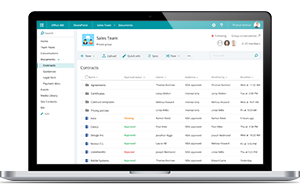 Overwhelmed by documents scattered randomly through your enterprise? We will show you the way to productive document management!