SharePoint Learning Portal Development for a UK Social Care Services Provider
Technologies
SharePoint, Office 365
Customer
With their headquarters in the UK, the Customer provides a wide range of social services, including supported living, homecare, residential care and reablement for people in need of everyday assistance due to physical health problems, mental health conditions or learning disabilities.
Challenge
The Customer selected ScienceSoft as an expert in SharePoint to create a custom corporate intranet using the Microsoft Office 365 suite. The Customer planned to use their intranet as a central hub of their corporate life, a platform supporting users' everyday working activities and as a learning portal to carry out dedicated trainings, to follow employees' personal development and to assess the staff's performance and competencies.
Solution
Helping their customers leverage their SharePoint deployments for more than 9 years, ScienceSoft's SharePoint consultants gained a deep expertise in tailoring SharePoint solutions both on-premises and in the cloud. As the Customer preferred to develop their intranet in the cloud, ScienceSoft turned to Microsoft Office 365, particularly to SharePoint Online, to create a solution according to the Customer's requirements. The solution was designed according to the Customer's corporate style.
Since the Customer prioritized specifically learning capabilities of the future portal, ScienceSoft put their efforts into creating the following features:
Training center
Employees access the training center to study materials necessary to successfully fulfill everyday duties, as well as to get professional assistance from their mentors. This part of an intranet includes files and videos that cover different aspects of employees' activities. Each group of trainings represents a separate subsite and provides knowledge on:
particular diseases or conditions (autism, diabetes, epilepsy, sensory impairment, etc.);
general medical knowledge (basic life support, first aid, food hygiene, stress management and wellbeing, etc.);
specific care services (diet and menu planning, enablement and reablement, COSHH, etc.);
HR management (supervision skills, recruitment, employee retention, training methodologies, etc.), and more.
Personal development center
To enable personal development features, the SharePoint team used Office 365 Planner. By entering their personal development site, employees can see their advance throughout the learning program, including all the accomplished trainings, courses to be learnt, as well as those in progress. Relying on the personal results, managers and supervisors can assess their employees' progress and decide on activities to be fulfilled by a particular employee.
Spot checks
Available for supervisors and managers, this function enables checking and controlling employees' performance. Using spot check forms, a manager can submit the information on how well specialists fulfill their duties and how properly documentation is managed, assess their staff's engagement, mark out mistakes or incorrect behavior, as well as note if patients are satisfied with the provided services.
Policies
Corporate policies defining service standards and internal processes are put separately to enable employees to study them attentively. Additionally, ScienceSoft's team developed a custom feature enabling managers and supervisors to control the time spent by each employee on studying a policy in order to understand if the staff learns the provided materials responsibly.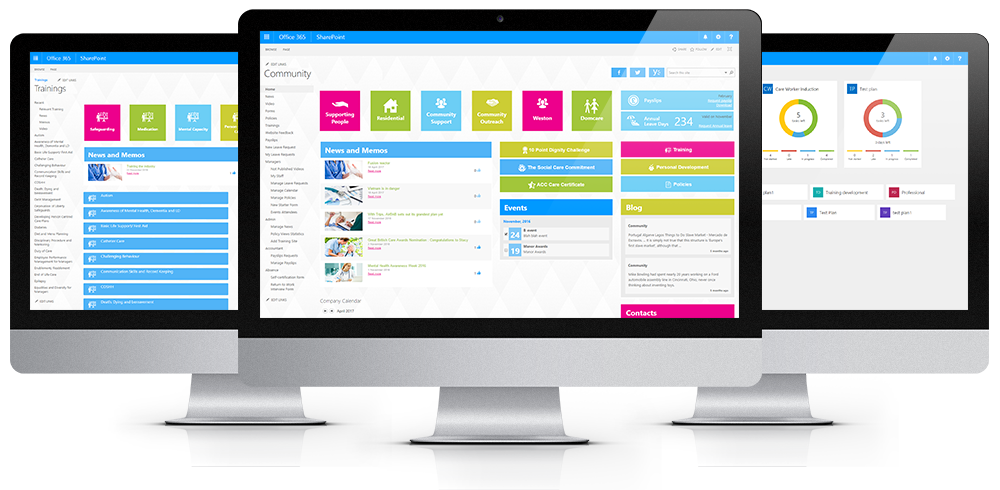 To support employees' everyday activities and needs, the SharePoint developers also delivered such features as:
Corporate news and memos to share valuable achievements and spread important news among all the community members.
Events to announce upcoming events and allow the employees to register for a particular meeting, workshop or contest instantly.
Corporate calendar to keep employees informed about all the events and meetings so that they could schedule their timetables accordingly.
Corporate blog to publish expert opinions, industry overviews and success stories.
Pay slips to enable employees to send automated requests to the accounting department and get their pay slips, thus controlling their personal budget.
Vacations to provide the staff with the possibility to send automatic notifications to the HR department about their vacations, as well as see the number of available vacation days on the intranet's home page.
Lateness and sickness to provide employees with custom forms to fill in when they are late in the office or sick, so that their managers can get timely notifications and plan employees' schedules accordingly.
User profiles in Office Delve to provide employees with a personalized working space, connect and collaborate with colleagues, access personal blogs.
Mobile portal
To enable employees to use the portal on their mobile devices, the SharePoint team collaborated with the designers' team and developed a mobile and a tablet version of the learning portal. Both versions provide a full set of features available on the desktop.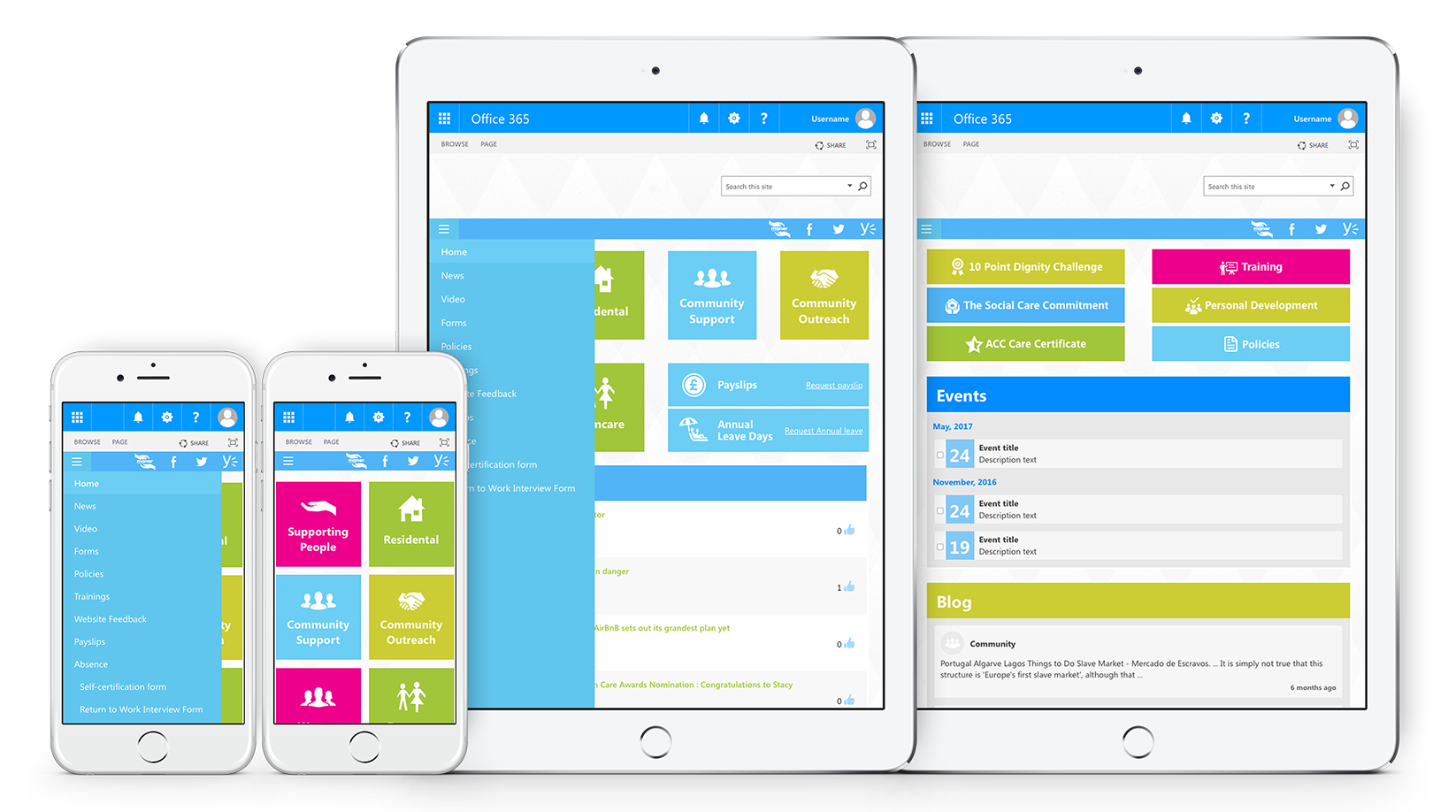 Results
ScienceSoft delivered a tailored SharePoint-based corporate intranet that provides the Customer's staff with the whole range of features facilitating the learning process and assisting employees in solving their day-to-day challenges. The intranet also enables line managers and supervisors to better control their employees' personal development, follow their working process and assess their performance objectively, hence the possibility to timely improve the working process.
Technologies and Tools
Microsoft Office 365 (SharePoint Online, Planner, Delve), SharePoint Workflows, JavaScript, REST queries, SharePoint Designer, Bootstrap 3.

Need help with a similar project?

Drop us a line, and our rep will contact you within 30 minutes to arrange an initial discussion.

<![endif]-->