Establishing and running effective support is a guarantee that your employees or clients won't be left alone with their software issues, and you won't make your contribution to these alarming numbers. To better allocate support resources and take into account the competency of every specialist and the complexity of the issues they can solve, companies choose the multi-tiered IT support model: build it from scratch or divide the support they already have into tiers.
With 12 years in help desk and application support, we show how to build multi-tiered IT support, offer the way to distribute responsibilities among different support tiers (also known as levels), share the ideas about which tiers to manage internally and which to outsource and highlight the specifics of supporting both enterprise applications and software products.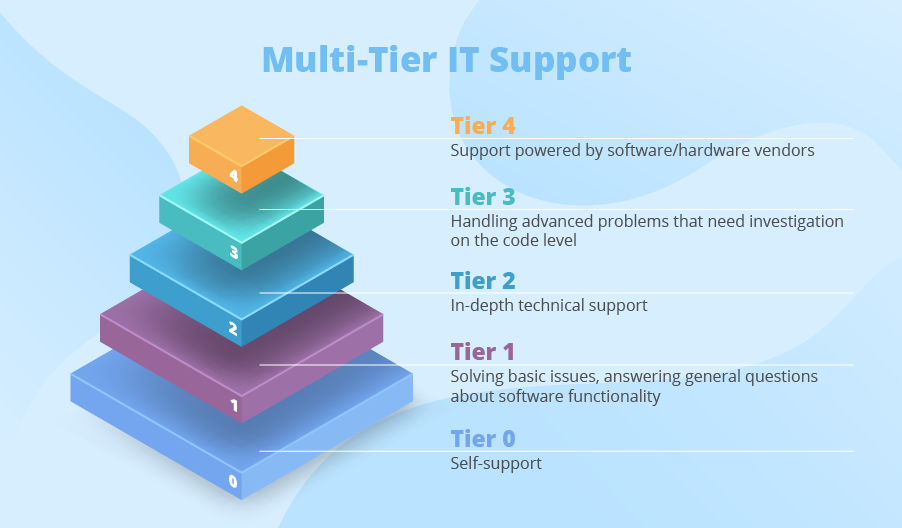 Tier 0
In brief: Self-support.
In the support structure, Tier 0 is designed to assist users in finding answers to the questions on software functionality and solving minor problems independently without contacting support agents.
How to establish this level. Prepare comprehensive self-support materials and post them on your website (if these are the documents on the product you offer to your clients) or in a corporate network (for internal IT support). These materials include user guides, FAQs, articles on solving software problems, introductory and advanced trainings on the effective use of software and can be written and maintained by technical and marketing specialists. Revise self-support documentation after each update of supported solutions and add new info when needed.
As soon as end users have access to the materials for self-support, the number of simple repetitive tickets L1 agents receive is reduced, and, consequently, their load declines. However, even if you've prepared comprehensive self-support materials, be ready that some users may still prefer contacting a support team instead of solving issues independently.
Enterprise IT support specifics. This level of the enterprise IT support can be additionally enhanced with the so-called peer-support powered by superusers. Superusers are your employees experienced in working with supported software and given a number of business hours to help their peers with the questions about software functionality.
Also, if you buy your internal software from a vendor, you can ask them to prepare necessary documentation for self-support.
Software product support specifics. Self-support components can be implemented right in the software product and not only boost self-support but also improve user adoption as users don't have to browse through numerous pages of self-support materials. The most common examples of such components are pop-up tips explaining what separate interface elements mean and how to perform operations (including step-by-step guides).
Tier 1
In brief: Solving basic issues, answering general questions about software functionality.
At this IT support level also known as help desk, agents answer general questions on software use and tackle simple issues, such as solving login problems, reinstalling basic applications, checking proper software and hardware configurations.
How to establish this level. Prepare the scripts for support agents to enable them to address L1 issues step by step. Specialists with basic technical knowledge who are trained to follow the problem-solving scripts can handle tickets at this level. If help desk cannot solve a problem with the scripts they have, they escalate it to L2 with all the available info on the case: description of the problem and the environment (computer model and name, the software a supported solution cooperates with), an error message displayed on the screen, screenshots, user steps preceding the issue, the scope of the work done to resolve the problem.
L1 support is a good candidate for outsourcing: when the majority of the questions can be solved remotely and with scripts, you can easily entrust such support to a third party who will provide the service on a 24/7 basis.
Read more: Tier 1 Help Desk - Launch Plan
Enterprise IT support specifics. If you decide to outsource this level independently from other support levels, you need a vendor who'll be competent in communicating with other support levels involved in final case resolution. Otherwise, delays in communication, lack of details on software problems and other factors will play a bad trick on resolving service requests, while long resolution time may negatively influence your business operations.
Software product support specifics. As your clients reach out to your support team, L1 is what makes the first impression of the customer service you offer. Thus, you need agents with good communication skills.
Additionally, help desk can be enhanced with chatbots (e.g., launched on the support page of your website). As visitors come to your support page, they are asked to describe their service issues, and chatbots will redirect them to relevant L1 agents. It will reduce L1 agents' load and general ticket resolution time.
If you outsource this IT support level, it's important to ensure effective knowledge transfer to a vendor's team and consult them on the questions about your product. As for the cases beyond L1 team's scope, they will go back to your team or to outsourced L2.
Tier 2
In brief: In-depth technical support.
Level 2 is more in-depth tech support working with the issues L1 personnel cannot resolve. To resolve these problems, agents should often investigate logs and understand software a supported solution is integrated with. If L2 support specialists cannot fix the issue, it passes to the next support tier for more detailed research on the code level.
How to establish this level. In software product and enterprise IT support, you should appoint specialists with a deep understanding of supported software capable of investigating logs for solving software problems.
To boost the efficiency of this level, you can give specializations to support engineers (website issues, database issues, etc.). Thus, when L1 agents escalate a ticket they cannot resolve, they decide which specialization better suits the issue, and a corresponding L2 engineer is appointed to proceed with it.
If you don't have in-house agents with the expertise to solve L2 tasks and are not ready to hire new personnel for that, this level can be outsourced to a third party with needed expertise.
Read more: Tier 2 Help Desk - Launch Plan
Enterprise IT support specifics. If you are not ready to hire an extensive L1 and L2 teams, it's possible to combine them into one level and staff it with the agents capable of solving L2 issues.
Software product specifics. In some cases (for example, when you deliver specialized software for a narrow group of end users such as software for chemical analysis, and a big number of L1 requests is not expected), it's possible to combine L1 and L2. With this approach, you will speed up a ticket's journey to the right agent and thus reduce final ticket resolution time.
Tier 3
In brief: Handling advanced problems that need investigation on the code level.
L3 support includes researching and preparing solutions for the issues that require fixes in code, as well as performing minor enhancements in the supported software.
How to establish this level. To perform L3 tasks, the agents need an understanding of software on the code level. Thus, Tier 3 support team should comprise the developers who can tackle the issues at the product's back end, in the best case – original developers.
Read more: Tier 3 Help Desk - Launch Plan
Outsourcing this support level will be reasonable only if you outsource the entire development of your product and then agree that the vendor's development team conducts L3 support.
Enterprise IT support specifics. It's better to entrust L3 support to the original software developers. Thus, if you develop your enterprise software internally, it's better to keep this support level in-house too. If you outsource your internal solutions development, outsource L3 to the development vendor.
Tier 4
In brief: Support powered by software/hardware vendors
It's a level which includes escalating a problem to software or hardware vendors beyond the organization. For example, a supported solution is platform-based (say, on Salesforce or SharePoint). Imagine that there is a new platform release that causes an issue which is reported to the support team. Being a deep technical malfunction, it comes to tier 3. Support engineers investigate the issue and realize that they cannot fix it because the problem is not connected with the solution's configurations or customizations. Rather, it stems from a defect in the platform's release itself. In this case, L3 specialists can either pass the problem directly to L4 engineers (platform provider's representatives responsible for tackling issues) or submit a bug report on a user forum launched by a platform provider.
A few last words
There are 5 universally recognized support levels: from self-support at L0 to problem escalation to third-party software and hardware vendors at L4. There is a shared vision of what each support level comprises, but it doesn't mean that companies need to strictly follow it. Establishing effective multi-tier support is an ongoing effort, and running support for your case may have its specifics for better efficiency. As you analyze the activities and performance of your already functioning multi-tier support team, there may arise new needs for reestablishing support levels (e.g., dividing L1 and L2 if you've initially chosen a combined level) or hiring new agents to a certain level to speed up issue resolution.
With 14 years in application support, we offer multi-tiered IT support for your enterprise applications or your software products and their users with minimum involvement from your side.