At ScienceSoft, we shape a comprehensive offer for companies in need of Magento-related services, embracing consulting, solution implementation and ongoing support. Fueled by our 8-year story in this technology and being open to new ecommerce trends, we can go creative and meet the most challenging and ambitious goals of online retailers with top-class Magento-based solutions. We see that their goals are centered around the core idea of creating high-converting customer experiences. As it can't be achieved by playing with the default Magento functionality or relying on commercial extensions only, we advise turning to custom Magento development.
Our Magento Customization Scope
We could talk much about how Magento customization power knows no limits and how we are superheroes to bring all that power to your business. But we won't. For you to have a clear-eyed vision of both Magento customization capabilities and our services, we explain what exactly we can do and how our input can help your conversions. We are competent and resourced for large-scale projects where multiple custom features must be implemented. Still, our experience is valuable in smaller ones too where a single business aspect needs tailoring to your goals.
Custom Magento theme development
A fundamental component in the Magento world, a theme is responsible for the visual output and front-end functionality of your store. With a custom theme, you truly own the website look and feel rather than build on the default capabilities of a purchased theme. Knowing how shoppers are sophisticated in their perception of brands and companies, we can put appealing visual design and seamless digital experience at the forefront.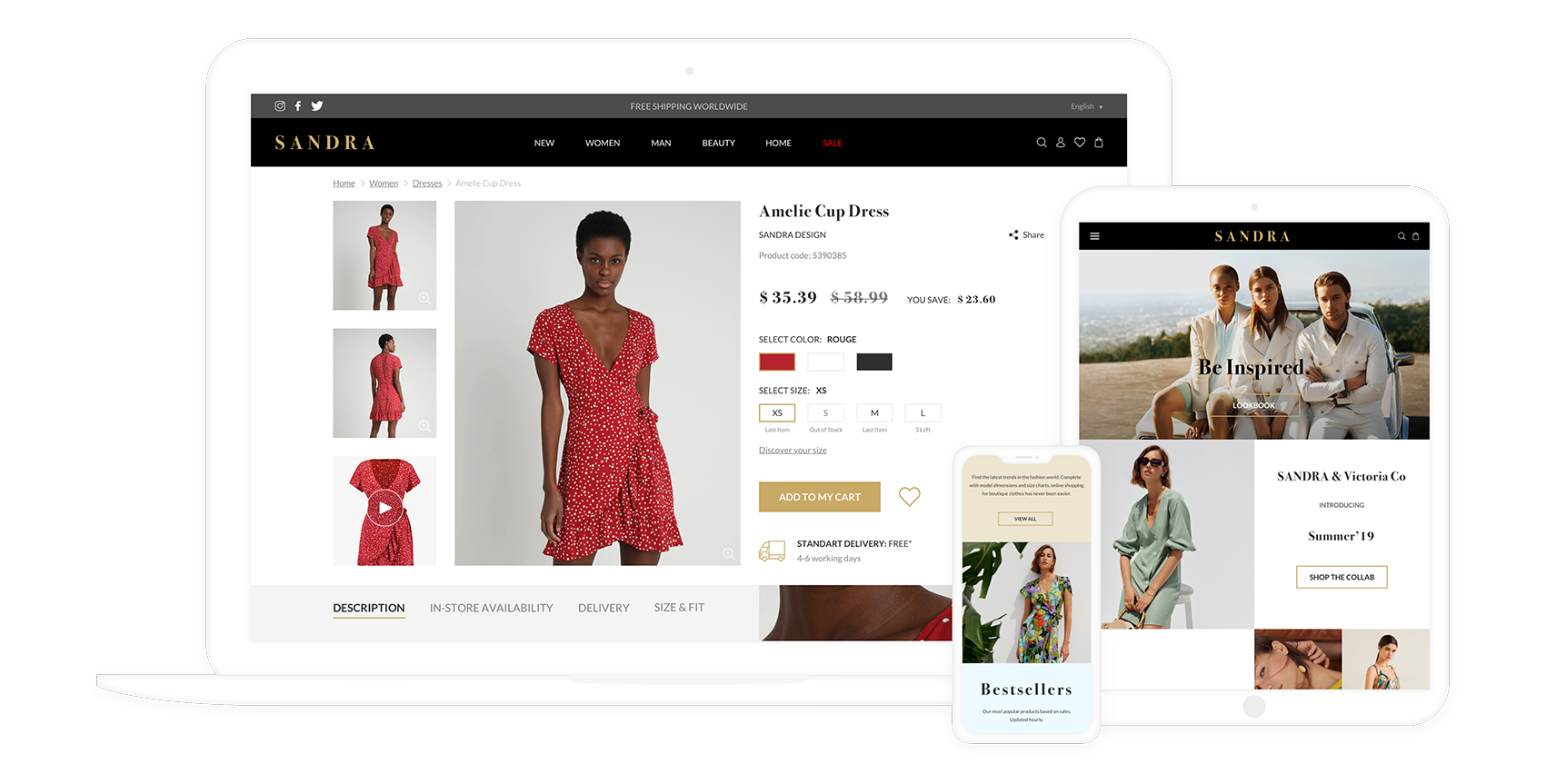 We start with forging a solid brand vision and eliciting your design expectations to make custom theme development a worthy investment. By doing so, we raise the odds to hit the spot with your website visual and user experience. Our team of business analysts, UI/UX designers and Magento front-end developers will:
Research your brand book to further translate your brand identity into UI design.
Analyze websites competing in your business niche.
Analyze your target audience by general criteria (age, gender, income level) and add deeper layers to personas (health behavior, family values, social life).
Map out customer journeys to illustrate all possible customer interactions within a website.
Create a sitemap and wireframes of web pages.
Create a visual on-brand concept.
Form a UI kit with critical UI components for us to agree on fonts, buttons, icons and more visual elements.
Trigger custom Magento theme development.
Test and launch the theme.
For your mobile presence, we extend the options of creating native mobile apps and mobile responsive websites with PWA (Progressive Web Applications) development.
We position PWA as a form of a custom Magento theme that inherits the best features of native apps but wins with lower development costs and faster deployment. For your company to support mobile interactions in a new way, we offer to take on the development of a PWA-enabled storefront on top of your Magento application staging from proof-of-concept design to actual deployment and support.
Custom Magento functionality
We can optimize, expand and enrich your Magento application with custom-built features. A clear taste of possible results always beats the theory, so we offer here three examples of how businesses can benefit from our customization services. The customization potential itself is certainly not limited to the described functionality and you can always come with your business ideas – we will consult you on their viability and implement feasible ones competently.
Custom Magento integrations
There are three fundamental reasons to go for custom Magento integrations with third-party systems: business expansion via new sales channels, effective automation of back-office workflows and drive for improved customer experience. When detailing the whole array of integration possibilities, we get the following landscape:
With hands-on experience in building complex ecommerce ecosystems, our team can both consult you on the ecosystem components and implement the required integrations. For enterprise-level ecommerce businesses, a winning ecosystem is likely to encompass all or most of the aspects described. Working with smaller companies, we focus on the functionality critical for business performance at the moment and support business evolution down the road.
Custom Magento extensions
When you come with a specific business need in mind, we offer to cover it with a targeted Magento extension. We make sure to vary our approach depending on your primary goal.
How Our Approach to Magento Customization Stands Out
Despite the bright side of custom Magento-based solutions, which are flexible, scalable and can be built in full accordance with your business requirements, you may shun away from deep customization due to seemingly substantial financial and time investments required. At ScienceSoft, we manage to deliver custom solutions to different budgets via the Research & Development approach.
One Step Away from Your Custom Magento Solution
What business idea do you have in mind? Let us know and get your custom solution delivered right on cue!