<![endif]-->
<![endif]-->
Magento Development Services
Developing results-driven solutions has been the ground rule for ScienceSoft's ecommerce team since 2003 when we started in the domain. Our experience with diverse ecommerce platforms and the primary technology focus on Magento has ultimately shaped our philosophy – technical capabilities for creating winning ecommerce solutions are essential, and still a business strategy, either for a business' launch, optimization or growth, is where any development efforts should start.
With our approach to Magento development services, our customers acquire a reliable partner to capture and articulate business goals and elaborate optimal technical solutions to achieve those goals, from building an online presence to the entire digital transformation of their retail business.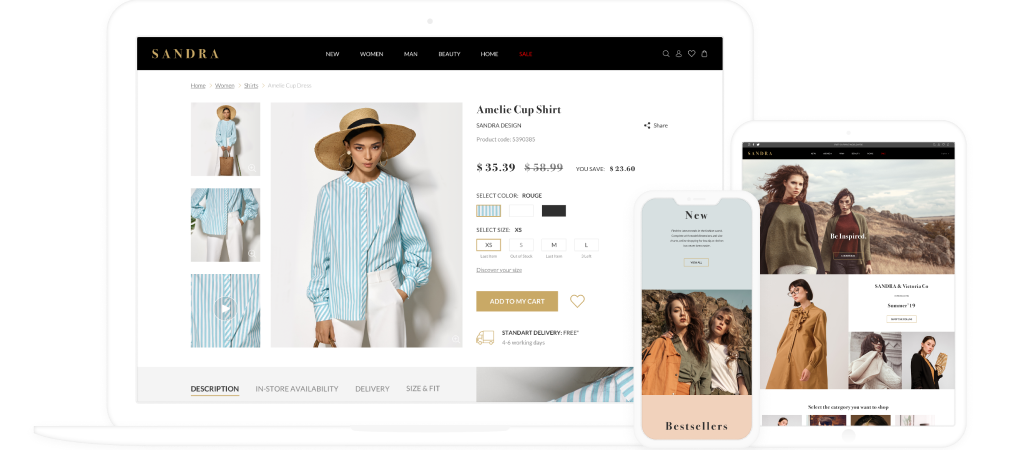 Our Customers Say:
"We've been working with ScienceSoft since June 2017 and their programmers have developed for us a number of quality plugins for Magento 1, Magento 2 and Shopware marketplaces. ScienceSoft is not just a staff leasing company, they are an outsourcing partner who cares for our business and helps us to be successful."

Anna Bacher, CTO, Smart Engine GmbH
From Strategy to Solution: Services We Offer
Business analysis
We assist in aligning your business needs with effective Magento-powered solutions. You may be at the very start of your ecommerce journey now or have already 'welcomed' its first hardships. We vary our consulting approach according to the challenges to overcome.
Launch strategy
With constantly growing competition in the ecommerce arena, customers are not impressed with a plain website and a possibility of online payment transactions anymore. Understandably, ecommerce startups are bursting with ambitious ideas of how to stand out – from catchy design to branded customer experience. Drawing on our consulting experience we advise entrepreneurs on the technical viability of their business ideas and translate those actionable ones into implementation solutions for them to start brightly. Furthermore, we can call our creativity into play to inspire new brave ideas that can become true competitive strengths.
Optimization strategy
Here, we shift focus to upgrading the solution that you already have and that, apparently, doesn't bring you the desired results. We have summarized the frequent retailers' concerns that call for our optimization efforts.
| | |
| --- | --- |
| | The low influx of new customers. We make diverse channels of acquiring visitors work for you – we set effective technical SEO for better website visibility in search engines and offer marketing automation for diversity and flexibility in marketing activities. |
| | A low conversion rate. We rely on analytics tools to define and prioritize the root causes of this problem. Thus, we can track where your visitors drop off and elaborate optimization ideas. We take into account general technical issues, like slow website performance or old-fashioned design and strategic ones, like product range, delivery options and return policy. |
| | A low repeat purchase rate. You should give your customers a reason to return – an ultimate shopping experience worth repeating. We fully support this goal and are ready to help with building up customer loyalty. UX-wise analysis and redesign for your website come as the first step. Furthermore, we go deeper and get to back-office processes – though hidden from customers, they may impact your business functioning and need proper structuring and effective automation. As an example, we can mention supply planning and order management that can result in low inventory and ruined customer experience respectively if organized poorly. |
Growth strategy
Setting long-term goals is important for a clear vision of where you are going with your business. We can't plan your business roadmap for you but we can outline possible growth points empowered by Magento functionality.
| | |
| --- | --- |
| | Migration to Magento. We have witnessed how migration (both upgrading to the latest version of Magento and replatforming) becomes an opportunity for businesses to get access to robust out-of-the-box functionality, be more flexible with customizations and have their ecommerce solution shaped in line with their requirements. Magento migration can become a possibility to reconsider your business and give it a new start. |
| | Omnichannel retailing. The key to an effective omnichannel retailing strategy is fully integrated customer experience across all sales channels and well-organized workflows across the entire company. For that, we design a complex ecommerce solution for your business involving establishing marketplace presence, streamlining mobile sales via a native or Progressive Web App (PWA) and integrating your ecommerce component smoothly with a POS system. Thus, we go for an environment where required business operations are effectively automated, information flows are orchestrated and all the parts of your business, as well as the big picture of its performance, are visible to your company's key players. |
| | Multistore setup. Magento allows for running multiple websites via a single Magento installation. We can assist in setting a multistore and building tailored websites for your different products or audiences. We don't leave you alone to deal with this power afterwards but provide for a training program for your team and further support if required. |
Technical implementation
We complement our consulting approach with technical competence to implement the designed solutions. The scope of our Magento development services embraces:
Magento migration.
Custom UI design and branding.
Magento configuration.
Magento customization (encompassing the development of commercial extensions and custom-built features).
We incorporate security practices when building a continuous delivery pipeline. At ScienceSoft, we are used to taking on complex projects so versing ourselves in the DevOps culture has been crucial to reduce the time-to-market for our software products. We go a step further and adopt a DevSecOps approach for the purpose of early detection of security gaps. The approach comes in full force when applied to building highly-customized ecommerce applications and IT ecosystems with complex integrations as it allows for the transparency of solution security throughout the production cycle.
Quality assurance (QA) starts as early as gathering business requirements to detect inconsistencies and bugs and minimize their fixing cost. Our goal is to deliver a quality ecommerce solution on time and on budget.
Support and evolution
Implementing and maintaining an effective ecommerce solution is not a one-time job. Choosing lasting cooperation with a trusted Magento support team, you guard your business against unexpected technical hurdles. Thus, we mean application administration, monitoring and troubleshooting as the first benefit of our Magento support services.
Also, when seeing ecommerce business as an ongoing evolution, you will appreciate a reliable partnering team where you can go with your new business ideas, changing requirements and planned optimizations. With a large ecommerce team in-house, we have resources to support multi-year projects and take as many steps as needed to gradually transform your business.
Our Hallmark Projects
ScienceSoft in Facts and Numbers
A US-based Magento development company founded in 1989.
A team of 700 employees.
A large ecommerce talent pool.
16 years in ecommerce and 8 years specifically in Magento.
Adobe Solution Partner.
Key Pillars of Our Approach
All-round Magento services with technology consulting, technical implementation and support.
Interest and capacity to support the long-term partnership for the continuous evolution of your business.
Excellence in achieving satisfying ROI for Magento-based solutions by leveraging out-of-the-box functionality and choosing quality commercial extensions over custom development when applicable.
Strong project management to coordinate communication within our project team, with your involved team members and third parties (business consultants, marketing agencies or software vendors). You may need solid business consulting backup and look for professional solution implementation services only – we support that kind of collaboration too.
Experience with complex ecommerce architectures.
Why Magento
True advocates of Magento as a powerful ecommerce system, we know the platform's strengths.
A possibility to build one-of-a-kind custom functionality.
A large development community offering custom solutions (extensions) at affordable price.
Magento APIs for accounting, enterprise resource planning, customer relationship management, product information management, and marketing automation systems available out-of-the-box.

Support for multistore functionality.
Support for multiple languages and currencies.
Sufficiently strong catalog, content, order and marketing management.
A secure admin section.
Solution diversity.
<![endif]-->