Development of Anti-Procrastination Application
Industry
Information Technology, Software products
Customer
The Customer, an American company, is one of the ScienceSoft's long-term clients that focuses on creating various kinds of software products mostly designed to enhance computer and mobile user experience.
Challenge
The Customer came up with an efficient way to avoid distractions caused by web surfing and commissioned ScienceSoft to develop a multiplatform desktop application which would help users to concentrate on particular tasks by blocking the Internet access or filtering time-consuming websites.
Solution
Within this project a team of two C++ developers created an application so that a user could set the amount of time he would want to stay Internet-free and then choose one of the three options:
Block the Internet whereas being able to get back online by rebooting the computer
Block the Internet with no ability to regain access to the Web until the time is up
Stay online but filter out the most disturbing websites
To give a motivational edge to the technological solution, ScienceSoft team designed the option of setting goals to achieve while offline. As writing clear goals down motivates to take further action, such a feature helps significantly to bring users closer to success. When the time is over, one can always put new goals on the list.
Studies show that self-imposed limitations are more effective. Thus, boosting self-control the application may be of great use to young students who often get distracted by social media.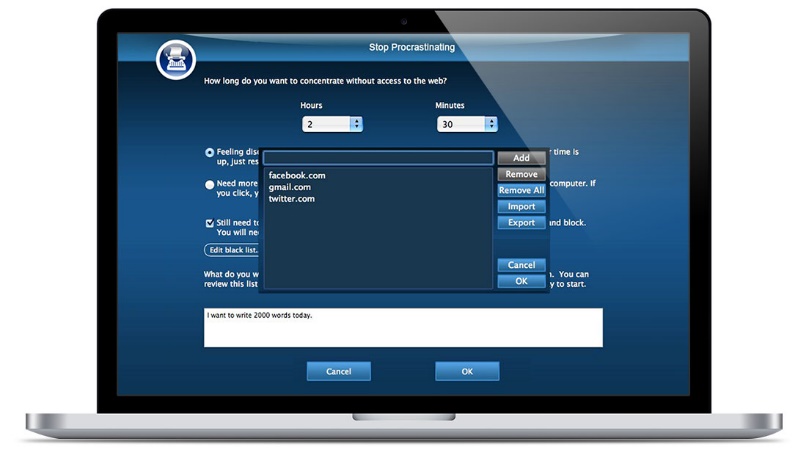 In addition to that, ScienceSoft involved a team of testers to perform a full-cycle testing of the application. According to the requirements, the app runs on Windows and Mac OS and can block any kind of online activity independently of the browser type.
Results
The Customer received a convenient application which has been acknowledged as the most effective Internet blocker and productivity tool on the market by a number of internationally recognized media, such as Le Monde, The Daily Telegraph, The Independent, the BBC and others. The app is available on the Customer's website.
Technologies and Tools
Language: C++

Frameworks & libraries: Qt 5, Windows API, COM

Installation system: NSIS

Integrated development environments: MS Visual Studio 2013, Xcode

Need help with a similar project?

Drop us a line, and our rep will contact you within 30 minutes to arrange an initial discussion.

<![endif]--> <![endif]--> <![endif]-->