Owners of Microsoft SharePoint 2007 solutions can mark October 10, 2017 in their calendars as the day when this version will reach its end of support. Since the SharePoint 2007 share is pretty moderate, it may seem that the support termination will affect only a minor part of the community. However, the support issue is just around the corner for companies using SharePoint's much more popular version, which is SharePoint 2010. While its mainstream support ended in 2015, the extended support period will terminate in October 2020.
So while there is still some time left, it's just the right moment to analyze what the end of support really means for companies running SharePoint 2007 or 2010 and decide on the further actions to take.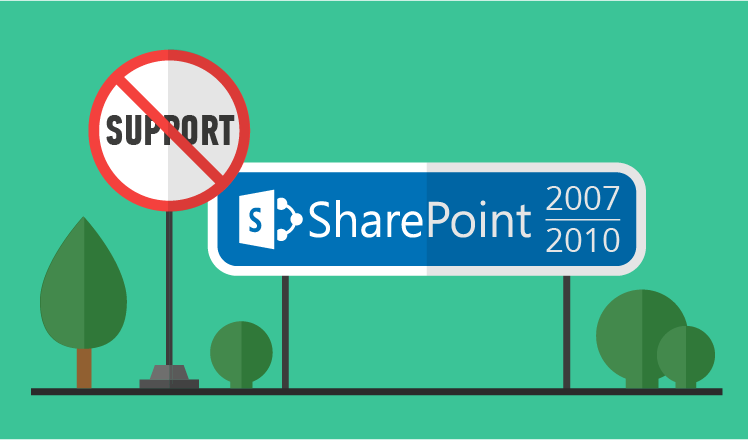 The end of support can be critical
Good news is that with both the mainstream and extended support terminated, SharePoint-based solutions will still work and fulfill all the tasks as they did before. Bad news is that companies running an unsupported SharePoint version will face a number of challenges that can affect their business processes in the long run. The end of support can be critical if:
Internal policies prohibit unsupported software. Organizations that regulate their software use with internal policies are the first to be worried about the end of support. To ensure compliant working processes in the future, they should consider upgrading their SharePoint 2007 solutions as soon as possible.
Information security is a top priority. The end of support means that no regular security updates will be available from that moment on, so companies won't be able to timely patch vulnerabilities in their SharePoint solutions. As a result, they'll get exposed to potential breaches and can't guarantee the required level of data protection.
Regular support services are required. First, the end of free and then paid assisted support options can become a substantial hurdle for organizations that address their SharePoint-related issues to the Microsoft support team regularly. After termination, they will have to deal with all maintenance and support issues on their own.
Companies plan to improve their SharePoint environment. Obviously, organizations can hardly bring any substantial changes to unsupported SharePoint solutions. Since solutions' future development and growth becomes problematic, there will be no visible improvements in employees' collaboration and productivity either when it comes to SharePoint-aided processes in these areas.
4 scenarios to face the end of support gracefully
Companies that still use solutions on top of SharePoint 2007 or 2010 have several options to handle the end of support. The final decision will depend on how intensively organizations use SharePoint, as well as their vision of SharePoint's future role in their business processes. In this regard, there can be 4 possible scenarios.
Scenario 1. A company uses SharePoint rarely and doesn't plan further development.
Albeit sad, this situation would mean that SharePoint hasn't become an integral part of organizational activities and doesn't contribute to employees' overall performance. If the platform stays idle through years, it is an alarming sign. In this case, it can be reasonable for a company to say goodbye to SharePoint and look for an alternative solution, be it a stand-alone collaboration tool or a document management system.
Scenario 2. A company uses SharePoint 2007 or 2010 actively and is completely satisfied with their solutions.
If current SharePoint solutions work well and an organization doesn't see any reasons to dismiss them, it's possible to leave solutions as they are. Acting according to this scenario, however, companies should remember about possible pitfalls described above.
Scenario 3. A company uses SharePoint 2007 or 2010 actively and considers further growth of their solutions, but doesn't plan to change the SharePoint environment.
If a company plans to support their on-premises environment, migration to a later SharePoint version (2013 or 2016) is the right way to go. The two latest versions of SharePoint could not only extend a current solution's life but also offer better SharePoint development capabilities, a wider feature set and improved user experience. However, organizations should consider these promising opportunities rationally. The migration process requires a thorough planning and budgeting so that the upgrade be smooth. Major aspects to keep in mind - infrastructure conformity, two-step migration process (2007'2010'2013/2016), as well as migration of custom features, if any.
Scenario 4. A company uses SharePoint 2007 or 2010 actively and considers using their solutions in the cloud.
This scenario suggests that a company is ready to start a 'cloud page' in their SharePoint story. The cloud version of the platform evolves quickly and constantly gets new updates, which is a huge plus of migrating to SharePoint Online. In this case, companies can either shift to the cloud gradually through the hybrid environment or just move directly to SharePoint Online once and for all. Although cloud migration will still require substantial investments, it can greatly relieve IT infrastructure (read, reduce infrastructure costs), as well as become a solid groundwork for the future where cloud-based SharePoint solutions will most likely dominate.
Consider it your new business opportunity
Let's admit, the end of support is rather disturbing for business adopters since it puts them out of their comfort zones, makes them plan extra investments and look for the ways to keep their solutions viable. But as they say, every cloud has a silver lining. Allowing that SharePoint 2007 and even 2010 are outdated, it becomes obvious that they just can't provide users and developers with important features and capabilities available in the platform's latest or cloud versions. So with the end of support, companies get an opportunity to improve their solutions, make them more convenient and powerful along with establishing more dynamic and efficient business processes.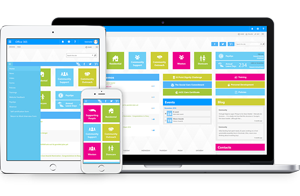 Do you face any SharePoint or Office 365 challenges? We are always ready to help and share our hands-on expertise with you.