SharePoint migration is gaining momentum. While some companies hurry to upgrade their solutions due to the upcoming end of support for SharePoint 2007 and 2010, the others head to the cloud and adopt SharePoint Online and Office 365 suite. In both cases, organizations have to decide on the optimal method of moving their solution to a new environment. By and large, they have to either opt for a traditional upgrade and migration techniques or choose a third-party migration tool. But what's behind each of these options?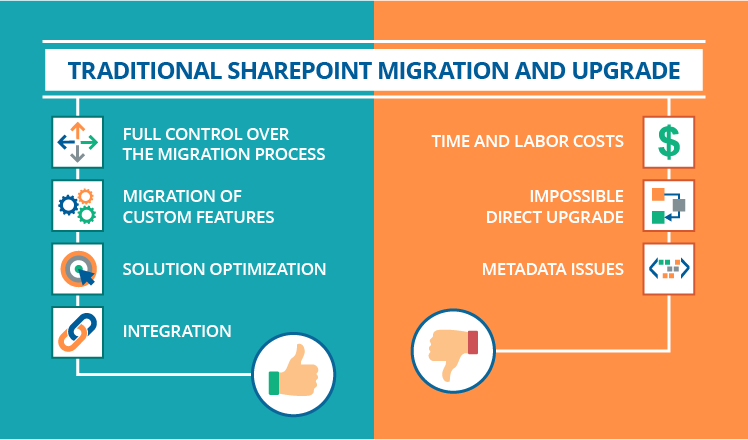 While SharePoint upgrade, in the true sense of the word, implies using Microsoft's recommended tools and techniques (for example, in-place upgrade or the database attach method), the traditional SharePoint migration is about applying custom tools to automate the migration process, as well as performing manual migration when each of SharePoint's components is either copied and pasted or recreated in the new environment.
While traditional upgrade and migration methods are different by their nature, they bring common advantages:
Full control over the migration process. You can manage every action within a SharePoint environment(s), step back if any mistake occurs, detect issues with the current solution or its features, and fix them before migrating.
Migration of custom features. Custom solutions and features can only be migrated by a SharePoint developer who will adapt and tune them, or will develop them from scratch if they are incompatible with the new environment (which is a standard scenario for cloud migrations).
Solution optimization. Carrying out a traditional SharePoint upgrade or migration, you can improve the current solution by getting rid of unneeded features and content and adding new valuable functionality. In this case, a closer collaboration with end users will be a plus.
Integration. As SharePoint solutions traditionally work in tight connection with other enterprise solutions, such as CRM or ERP systems, it's crucial to keep their integrity, which can only be made manually.
At the same time, even these proven techniques have several downsides:
Time and labor costs. Usually, migration or upgrade projects are time-consuming, especially when you deal with large SharePoint deployments. Obviously, each particular migration and upgrade is unique and so are the project timeframes, but a typical migration can take a few months at least. What's more, both SharePoint upgrade and migration require involvement from SharePoint developers, administrators and even end users, which takes most of the project costs.
Direct upgrade is impossible. One more inconvenience is that once you decide to shift to the latest versions of the platform, you have to carry out a two-step upgrade, for example, from SharePoint 2007 to SharePoint 2010 and only then to 2013.
Metadata issues. Metadata can cause trouble during a manual migration. It gets lost while content creation and modification history gets replaced with a person who migrated the content and the date he/she made it. Among optimal ways to preserve metadata as it is, it's possible to apply the database attach method for on-premises solutions or custom tools that will allow moving the content to the new environment.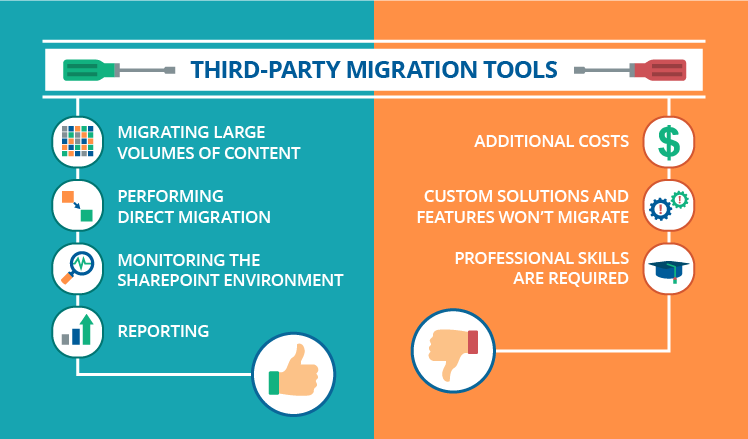 The market is loaded with specialized migration solutions that promise to make migration seamless, easy and quick. Such tools can attract SharePoint owners' attention as they allow:
Migrating and restructuring large volumes of content. This is the biggest plus of migration tools that opens up the possibility to move various types of content (including large site collections), as well as workflows, which saves developers' time and efforts substantially. A big advantage is that third-party SharePoint migration tools preserve all content metadata unchanged.
Performing direct migration. Most of the tools enable direct migration from older to newer SharePoint versions by letting you skip a time-consuming and error-prone two-step migration or upgrade.
Monitoring the SharePoint environment. Another great thing about using migration tools is that they often perform preliminary monitoring of a SharePoint environment (sometimes even code review), which allows identifying and eliminating critical mistakes before you start the migration process.
Rich reporting. Finally, SharePoint migration tools generate a bunch of reports that help you to assess a SharePoint deployment's 'health', as well as to get sure that the migration was successful.
However, there are several downfalls of using a third-party migration tool, so let's reveal some of them.
Additional costs. Migration tools aren't free, so in order to get the above-mentioned benefits, organizations will have to make respective investments, which automatically adds costs to a migration project. However, the price can be much lower comparing to the potential costs of developing your own solution from scratch.
Custom solutions and features won't migrate. The only way to make custom solutions work in the new environment, as well as to keep custom branding and mobile rendering, is to move and tune them manually.
Professional skills are required. To perform well, each tool is to be set and configured by a professional SharePoint consultant who should also control the migration process and check the final result.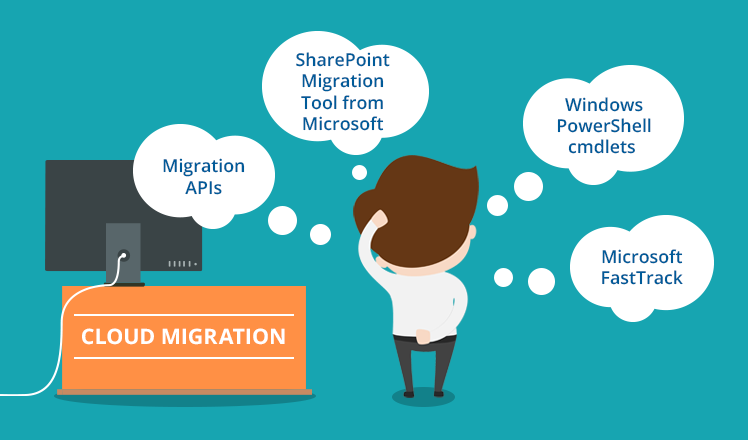 Don't worry, both of the described SharePoint migration options will work. You can either choose traditional migration or use a third-party tool to move to the cloud directly. However, since SharePoint Online and Office 365 have a different logic comparing to on-premises solutions, get ready to put a lot of SharePoint development efforts to make the refreshed solution work appropriately.
To speed up your cloud migration, you can consider a few options.
SharePoint Online or Office 365 Migration APIs
Both APIs enabled by Microsoft are to speed up migration to SharePoint Online or Office 365. Technically, SharePoint content organized into packages is sent to an Azure Storage, then added to the Azure Storage queue and after a certain time, it's automatically moved to SharePoint Online or OneDrive for Business. Although the procedure isn't easy to perform and has its limitations, migration APIs can help to send bulks of content to the cloud much quicker.
Windows PowerShell cmdlets for SharePoint Online migration
Another way to quicken the migration process is to turn to Windows PowerShell cmdlets for SharePoint Online and OneDrive migration that will help you move content to SharePoint Online or Office 365. But again, apart from a thorough work, there is a whole number of requirements to meet beforehand. This includes having an Azure subscription and a valid Azure Storage account, installing the SharePoint Online Management Shell and enabling user accounts in Office 365.
SharePoint Migration Tool from Microsoft
During Microsoft Ignite 2017, the corporation presented a brand-new SharePoint Migration Tool. The Tool helps organizations to migrate their files from SharePoint on-premises document libraries or third-party file shares directly to SharePoint Online or OneDrive in Office 365. The SharePoint Migration Tool is claimed to suit migrations of various complexity, so it's definitely worth trying. You can find a detailed guidance on how to install and use the Tool on the Office Support portal.
Apart from the SharePoint Migration Tool, SharePoint 2013 owners can use the SharePoint Migration Assessment Tool (SMAT). SMAT is a simple command line executable that scans contents of a SharePoint farm and detects issues that can hinder the migration outcomes. This is how you can evaluate your content health before starting the migration process.
Microsoft FastTrack
Finally, companies can benefit from the Microsoft FastTrack migration program that includes best practices, tools, resources, as well as the assistance of Microsoft experts who help their customers in cloud migrations. Depending on the size of your SharePoint deployment, FastTrack specialists will either assist you remotely or provide dedicated guidelines and tools for you to fulfill a successful migration. It should be noticed, though, that currently, the FastTrack services cover mail and file migration only. The rest should be done by a development team.
Microsoft announces new FastTrack offers regularly, so stay tuned to get services you need.
As you can see, there are multiple SharePoint migration methods and tools. Such a diversity is a great plus that gives companies the opportunity to choose their optimal SharePoint migration approach. For example, even with traditional migration, it can be reasonable for a SharePoint team to use a migration tool to automate migration partially and save developers' efforts or use some of Microsoft's opportunities to speed up the process.
At the same time, we should highlight that it's just impossible to carry out a complete migration using only third-party tools or services, such as Microsoft FastTrack. This means that a SharePoint migration project is to be accomplished by professional SharePoint consultants and developers who can plan and perform a quality migration of the entire solution and its custom features along with preserving the needed level of integration and security.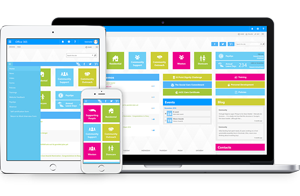 Do you face any SharePoint or Office 365 challenges? We are always ready to help and share our hands-on expertise with you.