Editor's note: If your business faces difficulties in staying in compliance with internal and external regulations, it's time to adopt robust policy management software. Below, ScienceSoft explains why SharePoint is a good choice for keeping your company compliant. Consult our SharePoint team to learn how to bring effective SharePoint-driven policy management to your business.
Today, policy management software is a must-have tool for regulated businesses as the compliance burden on them is heavier than ever with corporate and external regulations appearing and changing very often.
ScienceSoft has been developing custom DMS based on SharePoint since 2007 and ensures that this platform offers extensive document management capabilities. In one of our previous SharePoint articles, we've analyzed SharePoint extensive features suitable for enterprise document management, including those supporting compliance. And in this article, we zero in on this particular functionality of the platform and analyze what makes SharePoint a good choice for policy management.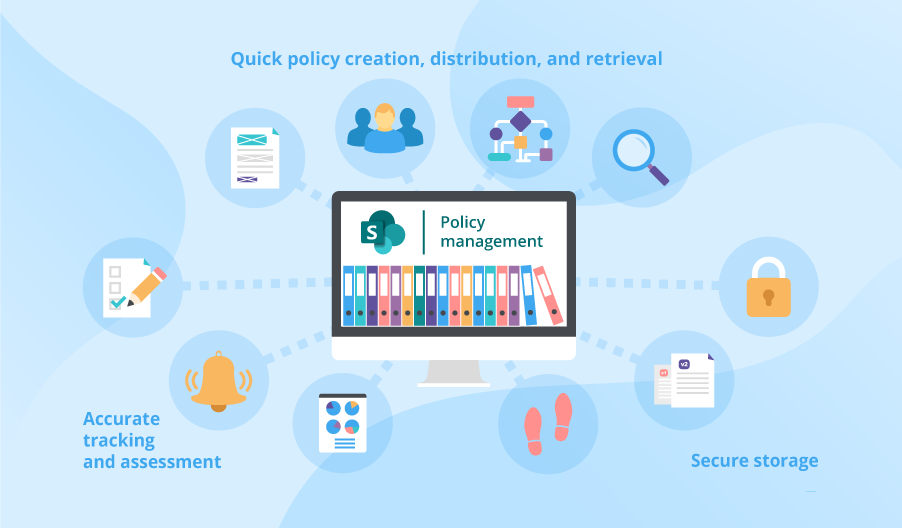 SharePoint supports creating, publishing and circulating of policies represented by various content types, including images, video and audio files. To streamline a policy life cycle, our consultants suggest leveraging such SharePoint features as:
Templates. SharePoint enables creating and storing reusable templates for making typical policies or updating the existing ones. This helps both save time and maintain consistency of wording, formatting and corporate branding.
Co-authoring. SharePoint provides real-time collaboration allowing several people to work on a policy simultaneously. This ensures fast finalization of policies.
Workflows. Automated workflows allow routing a newly created policy for approval, for example, to Chief Compliance Officer and then to relevant employees for reading and acknowledgement.
Search. SharePoint enables search by policy titles, keywords or parts of the content, which helps find a required policy in a few clicks. Companies operating hundreds of policies may also find useful SharePoint's capability to rate the search results by relevancy.
SharePoint provides centralized storage for policies and ensures their security due to:
Permission-based access. SharePoint allows assigning various permission levels to users. Thus, only relevant users can create, view, or modify policies.
Version control. SharePoint enables tracking policy and procedure versions. Thus, in case of accidental deletion or overwriting, a previous policy version can be easily restored.
Audit trail. This capability allows tracking who and when accessed policies and made changes to them.
SharePoint enables automated notifying users about any policy-related changes and evaluating policy knowledge due to the following capabilities:
Real-time dashboards. SharePoint provides a dashboard that shows a list of policies, their creation dates, approval statuses, and more. In case of any change, for example, a new policy is added or approved, it's immediately reflected on the dashboard.
Alerts and notifications. SharePoint can be configured to generate various automated notifications. For example, our project on customization of a SharePoint quality management system involved implementing automatic notifications that informed employees when a policy or a procedure was modified, or a new document was added to the system. Moreover, SharePoint can alert a policy manager when a certain policy needs renewal.
Assessment. SharePoint offers quizzes and surveys to check policy knowledge. Also, SharePoint allows locking the Read and Confirm button on a policy until an employee passes the assessment test.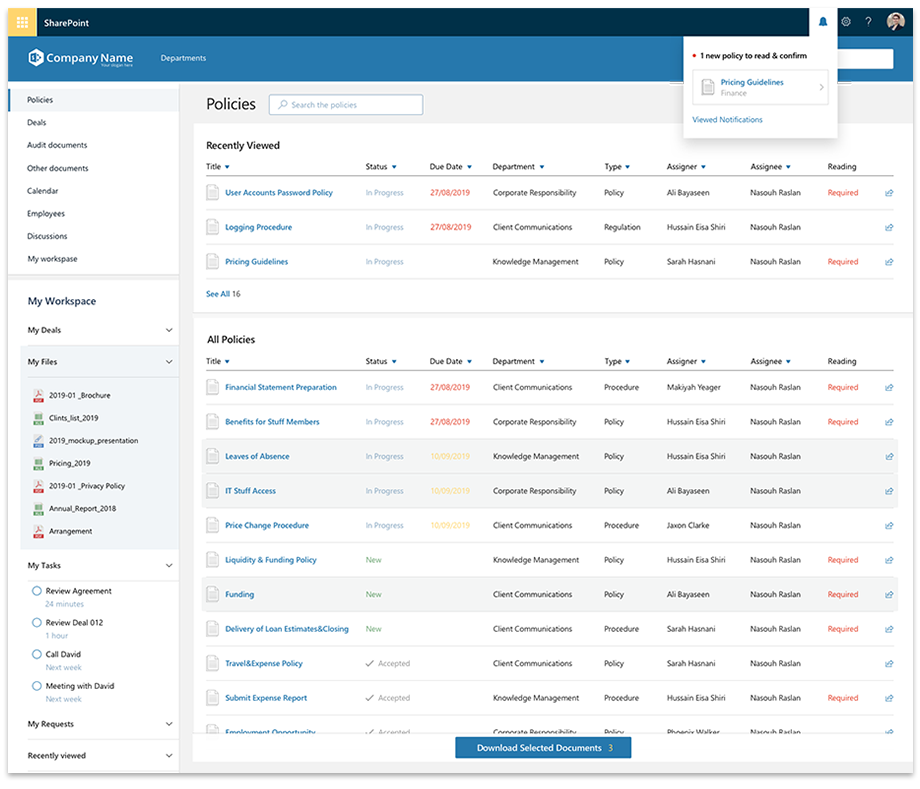 An employee receives a notification about a new policy they need to acknowledge
Leverage SharePoint for policy management
A robust SharePoint-based policy and procedure management solution can help your organization stay compliant. ScienceSoft is ready to build it so that you can keep policies structurally and safely stored and automate their life cycle from creation to archiving.
Get SharePoint To Stay Compliant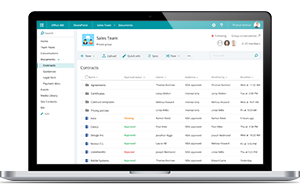 Overwhelmed by documents scattered randomly through your enterprise? We will show you the way to productive document management!