ServiceNow documentation, marketing materials and third-party YouTube demos scattered across the internet do their best to explain the specifics and value of ServiceNow Asset Management. However, you may have a hard time trying to systemize your understanding of ServiceNow Asset Management after consulting these sources. Luckily, our ServiceNow implementation consultants share everything there is to know about ServiceNow Asset Management in one place and a simple form.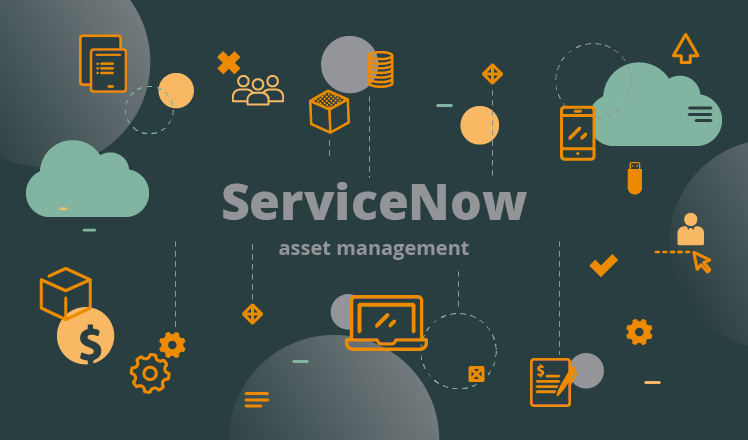 IT Asset Management (ITAM) presupposes monitoring asset usage and count, providing timely asset maintenance, tracking the total cost of ownership (TCO), managing the asset life cycle and so on. And the difference from enterprise-wide asset management is that most of ITAM procedures mirror core IT specifics of asset planning, deployment, maintenance, and support. This allows IT departments to manage IT assets on a much deeper level than enterprise asset managers ever could. It leads to cutting IT-related costs more efficiently and bringing financial visibility into IT operations.
Here's an example of how ITAM saves money. A huge logistics enterprise of 300,000 employees uses Salesforce Service Cloud as a customer service solution. Even though they pay for Service Cloud user licenses for customer service departments across the entire enterprise, 3 of its smaller branches (about 10 customer service employees in each) still use legacy customer service tools. The company's enterprise asset managers don't know that these branches need to use Salesforce instead. And when the company adopts ITAM, they realize that their customer service-related software spending needs to be cut: the old systems are to be dropped and their IT support arrangements cancelled. Annually, this saves the company over $7,000 on user licenses (at the rate of $20/user/month) and over $40,000 on support. As a bonus, transferring these 3 branches to Salesforce also ensures better visibility of customer service performance across the entire enterprise.
However, as good as it all sounds, you shouldn't forget that this benefit is only on the IT department level. To have a full view of asset management in the entire enterprise, ITAM solutions naturally need to be integrated with 'big brothers' – enterprise-wide systems for asset management.
Now that you understand what ITAM can do for a business, let's check out ServiceNow's take on it. Let's see how exactly it aims to achieve IT cost reduction and IT service quality improvement and what helps it drive your ITAM maturity level to proactive, managed and even optimized.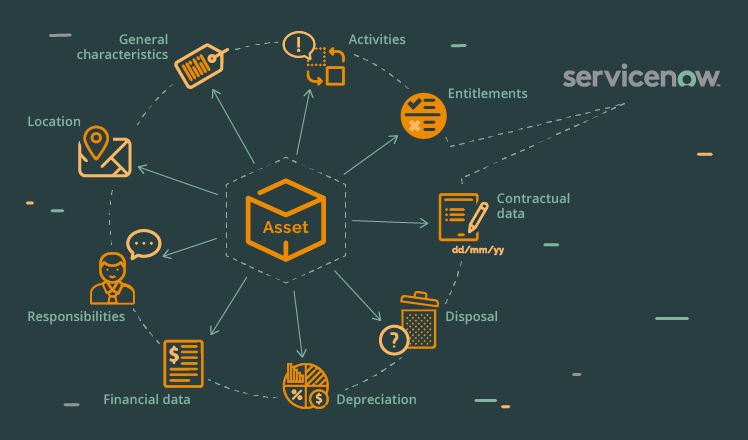 By default, ServiceNow divides assets into 3 classes: hardware, consumables (usually, low-cost hardware accessories like computer mice or keyboards) and software licenses. Depending on their class, asset records display various sets of fields but, normally, they help IT asset managers to gather info on:
General asset characteristics. Serial number (e.g., LV487513), model category (computer), model (Lenovo Yoga 2 Pro), asset state and substate (In stock – Available), etc.
Asset location. Address, company, and department (or stockroom) where the asset is used (or stored).
Associated responsibilities. The person that requested the asset or is using it as well as employees responsible for its maintenance.
Financial data. Asset's initial cost, invoice number, vendor, cost center, general ledger account, etc.
Depreciation. Depreciation method, residual value, the asset cost at the end of its useful life (salvage value), etc.
Disposal. Retirement date (planned and actual), reason, resale price, etc.
Contractual data. The contract this asset is tied to and the warranty expiration date.
Associated entitlements. Asset's hardware/software/user entitlements.
Related activities. Asset state changes and comments added.
Here are 3 most important areas of activity for Asset Management in ServiceNow.
Manage the asset life cycle
Knowing the statuses of your assets allows you to advance from merely tracking their count and serial number to guiding them through all their lifecycle stages: planning -> acquisition -> deployment -> maintenance -> retirement. You can not only ensure better IT asset visibility this way but also provide a much better IT service by preventing asset breakdowns due to scheduled maintenance and timely asset replacement.
ServiceNow Asset Management can calculate asset depreciation based on different depreciation methods to tell you how much each asset will cost in a few years and when it's best to retire or resell them. ServiceNow also calculates asset residual value, which shows how much the asset costs right now taking into account how long it has been in your company. This allows adequately evaluating your company's total assets.
Efficiently use existent asset inventory
As for software licenses, you gain visibility into what software you have already purchased, what is in use and what's still unallocated. For example, your new web content specialist requests a CorelDRAW license, and the request gets approved by their manager. Before you buy the license, ServiceNow can check whether you already have any. If it shows that you have none, you can look at the licenses of similar apps in disposal. And this is how you find an unused Adobe Illustrator license. Moreover, looking at the apps your designers are entitled to use for the same purpose as CorelDRAW, you see that according to your company's policy, your employees should use Adobe Illustrator. So, you offer the spare license to the user explaining why they can't get CorelDRAW. In this case, ServiceNow helps you not only to ensure more efficient use of your existent assets and cut costs by avoiding unwanted purchases but also to ensure company policy compliance.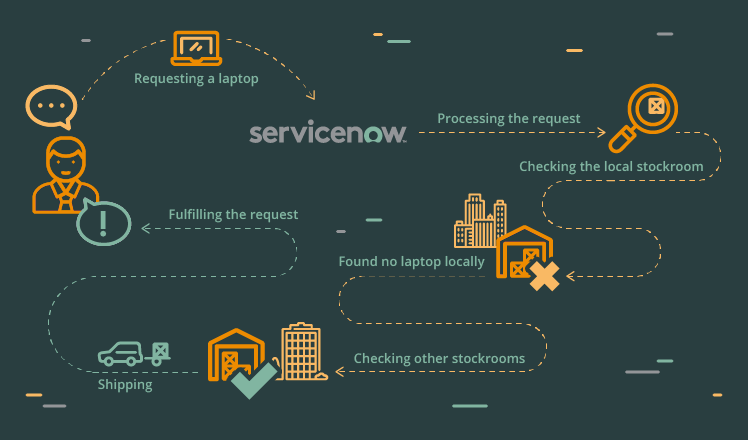 With hardware and consumables, you have the same kind of visibility, especially if you track stockrooms that show what assets you have in store at the moment. For example, there's a new user request for an Apple MacBook Pro. Looking at your local stockroom contents in ServiceNow, you can see that you don't have the requested item in your office, but there is one in the stockroom of your company's other location in a neighbor town. So, instead of buying the laptop, you simply ship it from another office. This helps to fix asset distribution blunders quicker and fulfill requests cheaper. And at the level of the entire enterprise, it leads to a more efficient distribution of assets among employees.
On top of stockroom tracking, there's also the possibility to use stock rules and automate asset replenishment. When ServiceNow sees that the number of, say, Logitech computer keyboards in a given stockroom drops to an identified threshold (let it be 30), it can create a task for a responsible employee to buy more keyboards. Or it can directly create a purchase order in ServiceNow or an external procurement system. It saves time and increases IT service quality too.
Mostly caring for the financial and contractual asset information, ServiceNow Asset Management can achieve a lot on its own but is still not a standalone process. To make more sense, it needs help from other ServiceNow processes and apps:
Configuration Management. Configuration Management works with the technical side of Asset Management and per se covers the maintenance stage of the asset life cycle. So, you should use it for tasks related to asset maintenance (for example, see incidents, problems or changes related to a particular asset).
Request Management. Request Management is used to enable users to browse Service Catalog and order new assets or fill out handover forms. Further, request-handling workflows are also tied with ServiceNow Asset Management to process them properly.
Procurement. As soon as users request an asset currently not in disposal, the Procurement module comes in handy to create purchase orders and see to the entire purchase life cycle from initiation to receipt. Thus, this module supplements Asset Management by covering the procurement stage of the asset life cycle. If needed, it can be integrated with an enterprise procurement system.
Despite all the above capabilities of ServiceNow Asset Management, we cannot say that it's flawless. Here are some weak points to watch out for.
1. No barcode or RFID tag scanning
Basically, ServiceNow Asset Management is an electronic asset registry that is very likely to rely on obsolete data. And it would be much more useful if it supported barcode and RFID tag scanning to let you know where your assets are and in what state. Using such info, you could track and manage assets in real time and even build asset location maps right in ServiceNow. Luckily, that's achievable with ServiceNow customization, ServiceNow app development or ready-made third-party apps.
2. No patch and version management
If your company frequently creates or orders software patches and new versions of existent apps, ServiceNow won't let you manage them as assets. Surely, you can track them using ServiceNow Change and Release Management, but it isn't asset-centric. This makes a specialized custom-made asset-centric app for patches and software versions a much more consistent solution.
3. No actual field for TCO
ServiceNow has no actual field in asset records to track the total cost of ownership. The simplest possible TCO formula is TCO = initial asset cost + maintenance and repair costs - resale price. You can gather all this info in ServiceNow but to see an asset's TCO, you need to go to different places and carry figures in mind. To make ServiceNow calculate and monitor TCO for you, you need to tune the way ServiceNow Asset Management tracks maintenance costs and add the formula into your asset records.
4. Strong dependency on other ServiceNow apps means higher implementation costs
We've already established that Asset Management needs other ServiceNow processes and apps to work properly, cover all necessary asset life cycle stages and bring the most value to your organization. So, besides configuring Asset Management itself, you may have to spend quite a sum on setting up all the supporting processes for Asset Management to work for you. This may be seen as the unwelcome result of one of ServiceNow's strong sides: being a multilayered solution, the connections between its inner processes are extremely strong and valuable. So that's something you'll have to deal with for the sake of the greater ServiceNow good.
Given all the peculiarities of ServiceNow Asset Management, you can decide whether it will be a good fit for you by using this simple scheme:
If you're already using basic ServiceNow functionality or on the way to implementing ServiceNow, Asset Management can be a good choice for you. It will smoothly accompany your ITSM processes and let you drive your IT to new levels of financial efficiency.
If you're not using ServiceNow yet and only consider it as an asset management tool, you may choose either ServiceNow Asset Management or a separate ITAM solution because using ServiceNow solely for Asset Management can be too costly. And perhaps, it won't be too efficient since the rest of your ITSM processes will be managed outside of ServiceNow.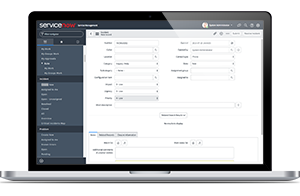 Get your project up and running! Our ServiceNow implementation specialists handle everything: custom apps, migration, integration – you name it.