Editor's note: Sergey explains the essence and benefits of LMS and LCMS, and provides feature comparison to outline the differences between these eLearning solutions. If you need assistance in choosing and implementing a robust LMS or LCMS for successful eLearning, feel free to contact our LMS consulting team.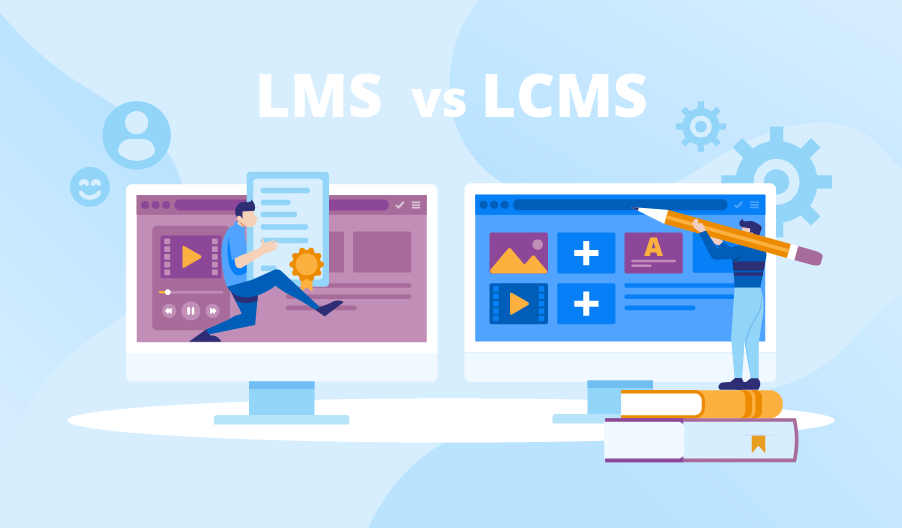 Learning management systems (LMS), currently used by 84% of organizations, represent the dominating technology on the eLearning market. As companies strive to address diverse learning needs more effectively, they tend to expand their eLearning environment beyond a traditional LMS. In 2021, 37% of businesses intend to invest in learning content authoring tools. At the same time, there is a growing demand for solutions enabling personalized content creation. Opposed to LMS that is typically not used for content authoring (you can check the key LMS capabilities in our live demo), a learning content management system (LCMS) provides extensive content authoring capabilities. Despite some shared functionality, LCMS differs from LMS in its main purpose and key features.
LMS: the essence, features, and main benefits
A learning management system is a web-based eLearning solution designed to enable scalable personalized education for corporate and academic learners. It provides organizations with a robust set of tools for automated learning administration and delivery, learning content management, and learning assessment. While LMS offers basic embedded content authoring capabilities, it is not typically used for learning content creation.
Main benefits
Learning flexibility, as LMS enables 24/7 access from desktop and mobile devices.
Role-tailored approach with a personalized learning path for each learner.
Improved learners' engagement and motivation due to social learning, interactive content, and gamification.
Reduced learning costs due to eLearning automation, learning content reusability, and no need for physical classrooms or in-person instructors.
Core features
Support of multiple learning styles, including web-based, offline, social, and blended learning.
Automated course assigning and scheduling.
Tracking learners' attendance and progress.
Learning assessment via quizzes and tests.
Collecting learners' feedback via polls and surveys.
Compliance training management.
Support of the learning content created using third-party tools.
Compliance with eLearning standards like SCORM and xAPI.
Integration with ERP, CRM, HR systems, learning content creation tools, and more.
LCMS: the essence, features, and main benefits
A learning content management system is an eLearning platform aimed to help instructional designers easily manage the learning content from authoring and publishing to in-depth content performance analysis. LCMS enables content delivery to learners via integrations with other eLearning solutions, such as LMS, LXP, or learning portals. LCMS enables reusing the eLearning content and assembling courses tailored to different audiences.
Main benefits
Rapid learning content creation via customizable content design templates.
Real-time collaboration on eLearning content.
Improved learning content searchability due to indexing and metadata.
Engaging and personalized learning experience due to supporting of multiple languages and interactive content formats.
Core features
Learning content authoring tools to create multi-format content, including text, audio, video, images, AR and VR content.
Structured learning content storage.
Single-source content publishing.
Content translation and localization support.
Compliance with eLearning technical standards like SCORM and xAPI.
Integrations with LMS, LXP, BI and HR software.
LMS vs LCMS: similarities and differences
LMS and LCMS do share some features in terms of eLearning automation, learning content management, learning performance tracking, and compliance with eLearning standards. Both solutions can improve eLearning due to delivering tailored learning experiences.
The key differences between LMS and LCMS lie in target audience, learning management capabilities, and content creation capabilities.
| | | |
| --- | --- | --- |
| | LMS | LCMS |
| Target users | Corporate and academic learners, learning managers, course designers | Learning content creators |
| Content creation capabilities | Built-in authoring tools with basic functionality | Advanced authoring tools with extended functionality for custom content creation |
| Learning management capabilities | ELearning, social learning, and blended learning support, including virtual and offline classroom-based learning, as well as course scheduling and assessment | Learning content management |
Which solution would be your best choice?
Neither LMS nor LCMS can be a one-size-fits-all solution. While LMS primarily focuses on learning management, LCMS is best suited for learning content creation. When choosing between LMS and LCMS, you should consider the specific needs of your organization. Also, you should keep in mind that these solutions are not interchangeable but serve as mutually complementary eLearning software. If you consider implementing a robust LMS or LCMS, or building an all-in-one eLearning environment based on both solutions, feel free to ask for qualified assistance of ScienceSoft's LMS consulting team.
Having experience in LMS solutions since 2015, we ensure successful implementation of LMS with optimal functionality, maximum ROI and high user adoption.