Challenges of SaaS LMS development
Editor's note: If you want to shift from self-hosted LMS to a growing market of SaaS LMS development, read on to get insights from ScienceSoft's CTO with 17-year experience in supervising the company's software development services. In this article, Boris describes challenges you may face on the way to the success of your SaaS LMS as well as ways to handle them. If you still have concerns about creating SaaS LMS products, you can leverage our consulting services on software development.
The corporate e-learning market has now gained amazing popularity – it has grown by 900% since 2001. What's more, 98% of companies plan to introduce online learning to their organizations by 2020, and the cloud e-learning market will reach a total value of $325 billion by 2025.
With 700 SaaS LMS vendors worldwide, the trend is clear and the competition is already high. Taking it into account, together with a rising number of our customers opting for SaaS learning management, I suggest you consider this domain closer. In this article, I'll explain why it's high time for you to initiate SaaS LMS development or shift to it from a self-hosted learning management system, describe what stumbling blocks you can encounter on the way to your successful cloud LMS product and how to mitigate them.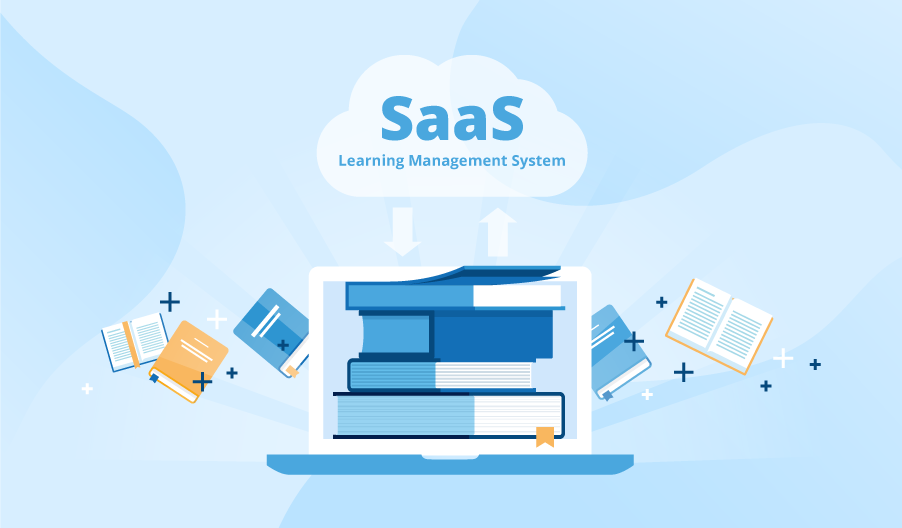 Do you think you are ready to create your SaaS LMS? Wait, not so fast
If you've got impressed by the figures above and are ready to launch your SaaS LMS development project, stop for a moment and scrutinize possible risks first. We at ScienceSoft have a history of SaaS application development and custom LMS development (see an example of a custom enterprise LMS in our live demo), particularly, LMS based on SharePoint. And we know the specifics of learning management solutions well enough to suggest that you consider a number of factors before you dive into SaaS implementation.
I've worked with a number of cloud LMS providers, both beginners and mature businesses. I've witnessed how those new to the market came across some serious challenges on the way to creating successful SaaS learning management software. Here're these challenges below with their possible solutions outlined.
SaaS LMS providers have to compete not only with other providers but also with custom LMS developers. And while SaaS LMS caters to a wide audience and isn't made to be easily customizable for different customers, cloud platforms like SharePoint, Confluence and G Suite offer extensive e-learning functionality and can be customized to meet a customer's personalized needs.
ScienceSoft's advice: To win the battle for customers, I advise SaaS LMS providers to start their product development with constant innovation in mind and adopt new technological capabilities like smart and immersive technologies from the start. For example, today customers demand more advanced learning analytics functionality and machine learning for better e-learning personalization.
LMS is a complex feature-rich system, and many companies I talk to find it difficult to choose an optimal set of features that will address the needs of the majority of end customers.
ScienceSoft's advice: Not all the ideas from the backlog may be in line with your product strategy. Involve business analysts to help you outline the optimal feature set. As an illustration, I can name one of ScienceSoft's projects on cloud development of a learning portal, which offered secure storage and access of training content as well as facilitated managing the learning programs for in-work students from the construction industry. Our BA team managed to speed up the project by reducing time for feature estimation and optimization by 3 times.
Many SaaS LMS offer free trial periods to users. On the one hand, it's a good advertisement for your product as users can get acquainted with its functionality without having to install anything. On the other hand, they may see some drawbacks at once, for example, bugs or performance issues or consider UI not intuitive enough. This can discourage users from utilizing an LMS product before they see its capabilities in full.
ScienceSoft's advice: To avoid bugs and performance issues I advise SaaS LMS vendors to leverage quality assurance services from the very start of the development project. To boost conversions from a trial version, I recommend paying special attention to thorough elaborating of user journey scenarios, which helps to achieve intuitive UI and user-friendly UX.
So, how to make a successful SaaS LMS product?
SaaS LMS implementation can be complex and lengthy as it requires the expertise of high-skilled professionals and heavy investing. If you're not sure how to start a SaaS LMS project or encounter some difficulties along the way, my colleagues and I will be glad to help you bring your SaaS LMS product to life. Just drop us a line.
Having experience in LMS solutions since 2015, we ensure successful implementation of LMS with optimal functionality, maximum ROI and high user adoption.