Editor's note: Veranika shares his experience on boosting ecommerce customer service and presents a list of top tools that will help you achieve this goal. To effectively improve the customer service of your ecommerce business, consider ScienceSoft's customer service consulting services.
If you want your ecommerce business to gain a competitive edge, customer service should be placed at the forefront of your growth strategy. 84% of customers say that customer service is one of the main factors helping them decide whether to buy or not from a company. According to another research, most of today's clients make their purchasing decisions based on customer service rather than on product price.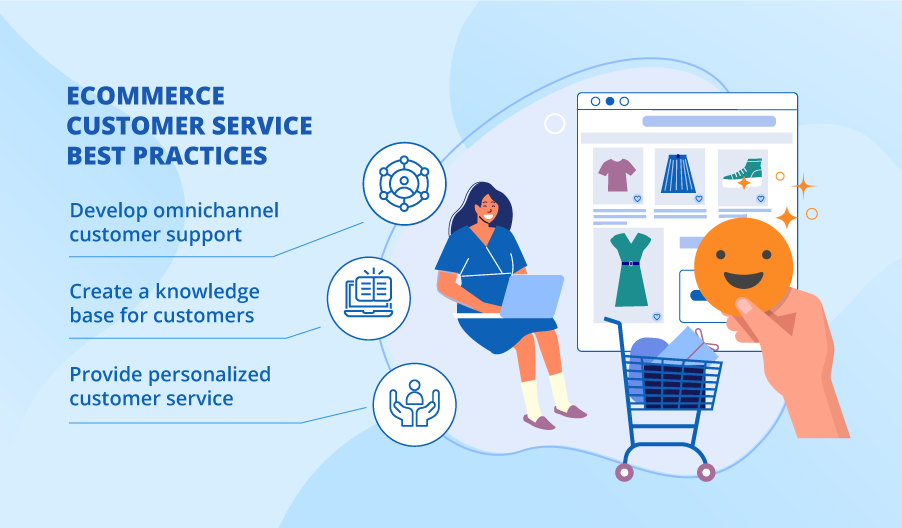 Ecommerce customer service is aimed to help online buyers with everything, from online purchasing to issue resolving. When building up your ecommerce customer service strategy, I recommend giving special attention to the following best practices.
It's necessary to measure and analyze which channels your online customers prefer. They can expect easy access to your specialists over chatbots, emails, social media, etc.
Keeping all the necessary information in the form of FAQ or discussion forums in one place is a great benefit both for customers and employees. Thus, customers can find the necessary information independently and save your agents' time for more challenging tasks. In fact, 90% of customers use self-service capabilities to get answers to their questions.
70% of customers are looking for a personalized approach. As all customer interactions with your store happen online, you can easily track customer activities. So, when a customer addresses your agent next time, the necessary customer data to provide personalized service may be already available.
Dynamics 365 Customer Service allows your agents to engage with ecommerce customers across different channels (email, social media, chatbots, etc.). You can create a virtual agent via a drag-and-drop editor or a self-service portal for customers to search for information by themselves or request assistance. Moreover, a knowledge base for customers can be integrated right into the virtual agent so that it can send a fitting link helping customers address their issues.
Limitations: Limited number of integrations with third-party services.
Pricing:
Professional Edition - $50/user/month.
Enterprise Edition - $95/user/month.
Virtual Agent - $1,100/tenant/month.
More about Dynamics 365 Customer Service
Salesforce Service Cloud offers features to automate customer service processes and connect with customers across various communication channels. With Service Cloud, you can create and manage knowledge bases for your agents and customers. A knowledge base for customers can be integrated into a self-service portal and an AI-based Einstein bot to resolve the most common questions without human-agent interaction.
Limitations: No possibility of on-premises implementation.
Pricing:
Essentials Edition – $25/user/month (billed annually).
Professional Edition – $75/user/month (billed annually).
Enterprise Edition – $150/user/month (billed annually).
Unlimited Edition – $300/user/month (billed annually).
More about Salesforce Service Cloud
Salesforce Commerce Cloud offers a comprehensive app suite for B2B and B2C ecommerce businesses to manage sales, marketing, and customer support. For example, it helps store and access all the order-related information from creation to its fulfillment in CRM. Also, with Commerce Cloud, you can create a live chat to resolve clients' order issues or route a client to the right agent.
Limitations:
Limited customization capabilities.
No possibility of on-premises implementation.
Pricing: Contact the vendor to know B2B and B2C Commerce Cloud pricing.
More about Salesforce Commerce Cloud
HubSpot CRM can be integrated with major ecommerce platforms like WooCommerce, Shopify, and Magento. Once you connect your ecommerce business to HubSpot, you can sync your customers' data, monitor and analyze your online store performance using HubSpot's pre-built dashboards. Additionally, HubSpot enables your specialist to create live chats and chatbots to give your clients immediate support and gather customer feedback using out-of-the-box feedback tools.
Limitations:
Limited customization capabilities.
For Shopify integration, no possibility to create segments based on customers' purchases.
Pricing:
Starter Edition - $50/month.
Professional Edition - $400/month.
Enterprise Edition - $1,200/month.
Shopify integration pricing:
Basic Shopify Edition – $29/month.
Shopify Edition - $79/month.
Advanced Shopify Edition – $299/month.
Magento integration pricing: $79 /month.
Turn your customer service into a competitive advantage
Providing high-quality customer service helps your online shop increase customer satisfaction, gain customer trust, and succeed in the competitive ecommerce landscape. If you want to set up a strong foundation for your ecommerce business's effective customer service, reach out to ScienceSoft's team.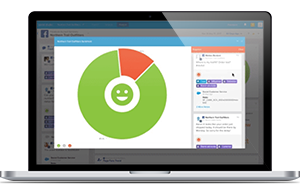 Looking for a way to improve your customer service? Our specialists in customer service management provide a full cycle of consulting and optimization.