Editor's note: Anastasia dives into how automation may improve your customer service effectiveness. If you consider implementing a viable solution, ScienceSoft's customer service consulting offer is at your disposal.
Already in 2018, 95% of US customers cited customer service as their brand loyalty factor. So, it's no wonder that today fast and efficient customer service is considered a 100% necessity for companies to nurture loyal brand followers. To satisfy such high expectations, companies search for corresponding means to provide solid customer experience 24/7. Luckily, customer service automation is ready for the task.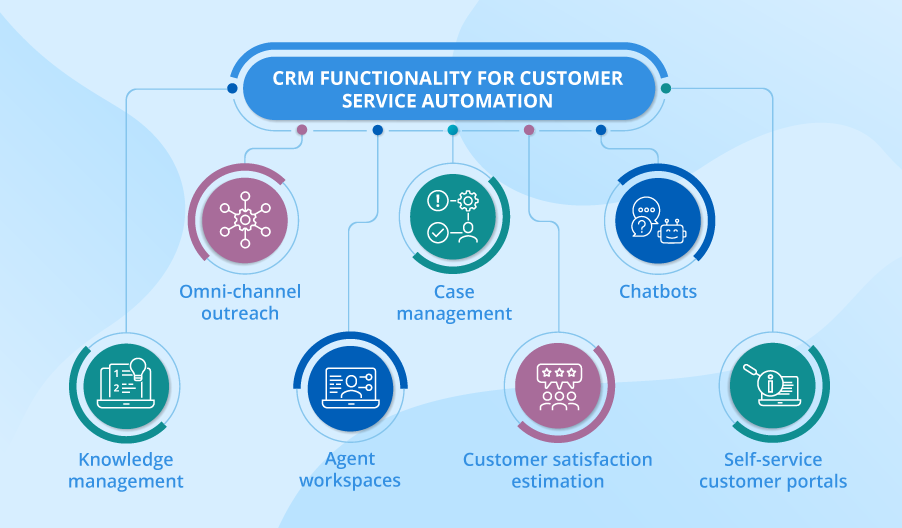 With the help of automation, you may decrease the workload of your customer service agents and help them focus on more complex or urgent queries, thus speeding up solutions to customers' problems. There are various tools for customer service automation, but I strongly believe that the best way to automate customer service is the implementation of a CRM-based solution. CRM provides a unified view of your customer data across all departments, thus allowing your customer support team to get a deep understanding of who they're working with and what are your customer's needs. Marketing and sales departments, in their turn, can use customer service-related data to adjust product/service positioning or sales reps' communication with customers.
With no further ado, let's see how a customer service process can be automated and what CRM features may aid each step of the way.
Customer service roadmap step by step
A typical customer service process comprises 5 steps:
Reaching out. Your customers should be able to address their queries via an array of channels, such as phone, web, email, social media, or SMS. To avoid management difficulties with multiple channels, you can unify them into one hub with the help of omni-channel automation.
Starting a case. Once you've received a query, you need to assign it to an agent. Case assignments may be done automatically, thus speeding up query resolution.
Searching for a solution. You can make searching for a solution easier for agents by providing them with a comprehensive knowledge base.
Escalating a case. If an agent can't resolve a case, it needs to be reassigned or escalated, for example, to the tech support team, which can be done automatically after certain conditions are met.
Closing a case. Once a query has been resolved, the case may be closed. To ensure the quality of provided services, you may use various feedback forms automatically sent within a defined period.
Core CRM functionality for customer service automation
Omni-channel outreach
Having all communication channels linked into one contact center helps provide quality service in the way most convenient for the customer. Customers can reach your support via their preferred channel and receive the same level of support. What is more, query data from all channels is unified, which allows agents to view previous queries, product/order details, etc.
Case management
Case management automation allows you to create pre-defined rules to support your case management process. Such rules may include case assignment, escalation, and resolution conditions. This feature is especially useful for an automated call center, as operators may focus on helping with queries straight away without having to fill and manage the case form manually.
Chatbots
Chatbots can deal with basic queries, such as a delivery status or transaction checks, allowing your agents to focus on more complex cases. As the experience of ScienceSoft's customers shows, chatbots can answer up to 80% of routine questions, thus decreasing customer service expenses by 30%.
Knowledge management
Smart article suggestions can speed up your case resolution time drastically. Your agents will be able to provide an answer for a customer's query within minutes when needed help articles are suggested based on case information. In addition, you may organize and navigate through the knowledge base with the help of assigned keywords.
Agent workspaces
A unified workspace helps bolster support agents' productivity and shorten case resolution time. Thus, agents can view a customer's account data, read through their case and conversations history, and browse a knowledge base to provide an answer without switching between tools or system features.
Customer satisfaction estimation
To estimate your support performance in the eyes of customers, you can automatically send personalized feedback forms, such as surveys, polls after a live chat, etc. Those surveys allow you to improve your customer support by identifying weak spots in the service.
Self-service customer portals
You can carry out proactive support with self-service customer portals providing help before your customer even has a question. Self-service is delivered by a knowledge base of help articles, presentations, and other documents on anticipated customer queries. CRM collects popular help requests and provides suggestions for self-help content to be introduced on your portal. To go beyond just help content, you may provide such self-service functionality as live chat, customer collaboration, and personalized product/service catalogs.
CRM-based solutions to provide automated customer service
As my experience shows, Dynamics 365 and Salesforce, recognized market leaders, are the best fit among popular CRM products for customer service automation. So, let's explore how Dynamics 365 and Salesforce align with customer service.
Dynamics 365 Customer Service
Dynamics 365 Customer Service provides the following core automation features across all subscription plans: Omni-Channel Communication, Case and Knowledge Management, and Dashboards and Reports with insights into your support key metrics (request volume, resolved cases by type, etc.). Additionally, you may extend Dynamics 365 Customer Service with the following features: Portals for customer self-service, Voice of the Customer, Unified Service Desk, and Embedded Intelligence providing smart recommendations for your agents. These features may be bought separately or as a part of the Enterprise pricing plan.
This is how Dynamics 365 Customer Service capabilities, namely, case management automation and customer experience automated surveys, helped a group of companies build loyalty within their customer base and improve customer support team efficiency in one of ScienceSoft's projects.
Salesforce Service Cloud
Salesforce Service Cloud provides all the needed features to automate customer service: Omni-Channel Communication, Case Management, Service Console, Knowledge Base, Service Analytics, Self-Service Communities, and Einstein Bots. Out all of the features of Salesforce Service Cloud, Service Console and Einstein AI are possibly the ones that deserve a bit more of your attention. Service Console enables agents to have a full view of the customer situation while having all the needed tools such as purchase and case history accessible, all in one tab. As for Einstein AI, based on the deep learning technology, it provides smart contextual suggestions for your agents on which steps to take next as well as continuously improves those suggestions.
A good example of Service Cloud used to improve customer satisfaction and, consequently, retention can be found in the article by ScienceSoft's CRM expert.
Read more: Customer service management dressed in Salesforce
Meet your customer service needs with CRM
Customer service automation presents multiple challenges, starting from setting up proper case management and knowledge management rules all the way to the possible loss of communication personalization when implementing chatbots. However, I am convinced that running customer service automation in a properly configured CRM is the best option to make the automation glitch-free. And if you're not sure where to start with customer service automation or need help with bringing automaton to life, let me and my team know. We are ready to help you translate your customer service specifics into a fitting solution.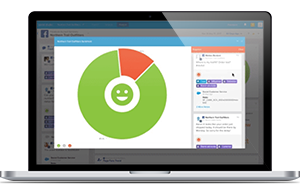 Looking for a way to improve your customer service? Our specialists in customer service management provide a full cycle of consulting and optimization.