Being in CRM consulting for more than 14 years, ScienceSoft actively researches the latest CRM statistics and market trends. To help companies that are using CRM or planning to implement one shape a better understanding of the CRM market, benefits and challenges of CRM use, we have created this insightful article seasoned with charts and graphs.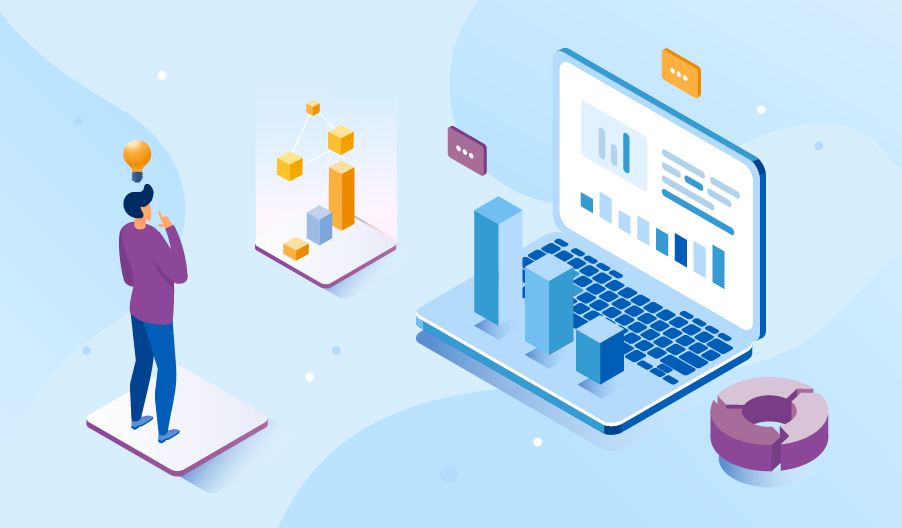 As stated by Gartner, CRM systems overtook the database management systems (DBMSs) by revenue in late 2017, when their revenue reached $39.5 billion, while database management systems had $36.8 billion. According to SelectHub, the CRM market size will reach $80 billion by 2025.
The survey on Customer Engagement Platforms by Ovum goes further and breaks down the expected growth of CRM into segments. As you see in the diagram below, the marketing automation CRM segment is forecast to grow the fastest up to 2022, followed by the customer service automation segment and the sales force automation segment.
For a CRM user, these figures mean that CRMs' functionality and ease of use are likely to improve constantly as CRM vendors will be striving to survive the competition.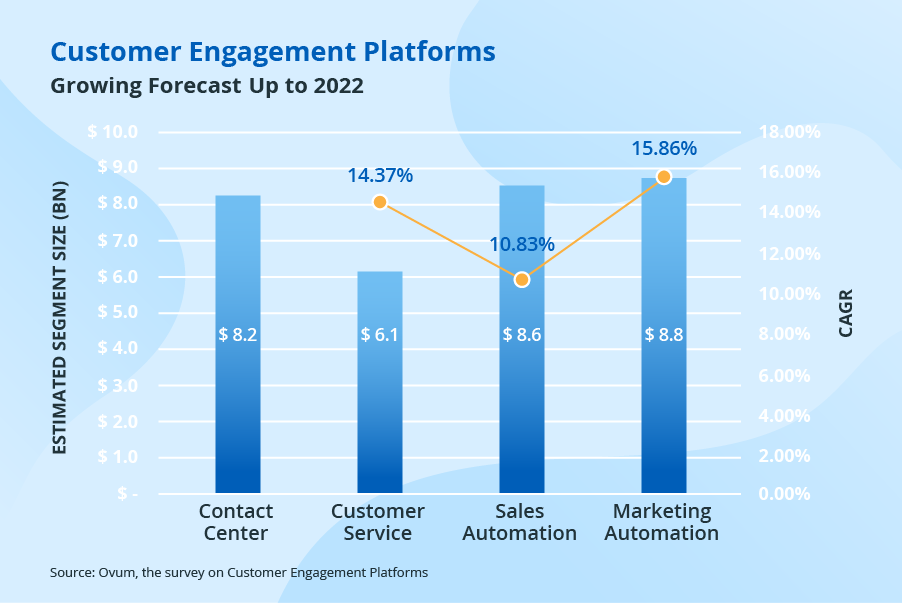 According to the Gartner's research on the CRM market conducted in 2019, Salesforce is the leading CRM vendor with 19.5% of the CRM market share. Salesforce is twice bigger by share than its nearest rival, SAP. And among all CRM vendors present in the research, only Adobe grew its share during the period under analysis.
The research shows that although the notion of CRM is synonymous with Salesforce for many CRM users, it's not the only choice as other vendors have their loyal customer base.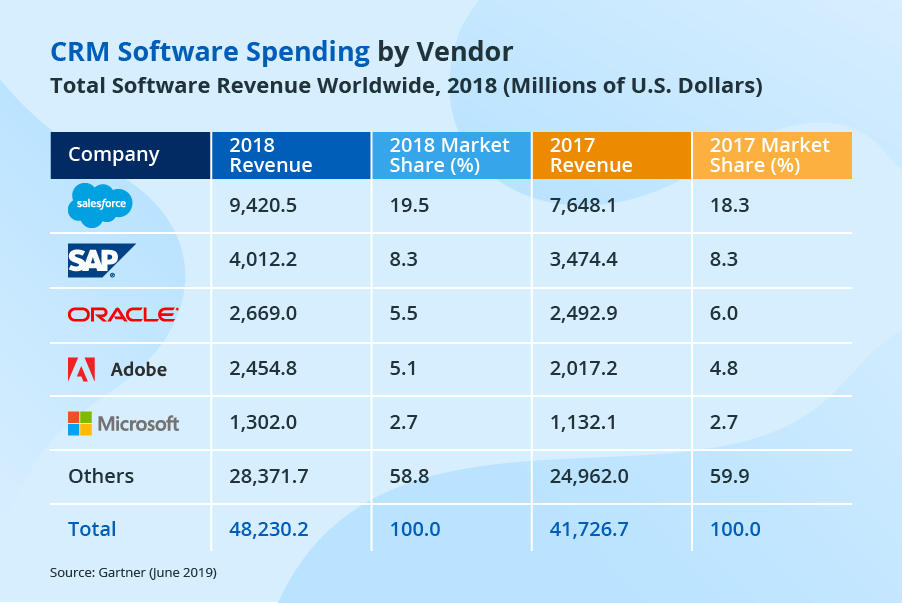 According to the CRM Cloud Survey Report by SoftClouds, 82% of companies use customer relationship management systems for sales process automation and sales reporting. According to Salesforce, CRM software helps to increase employee productivity, improve customer engagement and retention and reap other business benefits. Thus, the companies that leverage CRM's capabilities to the full are most likely to succeed, while businesses that deny a need in CRM will hardly outperform them.
According to FinancesOnline, the ROI of successful CRM implementation is from $2.50 to $5.60 for every dollar invested. As stated in the Enterprise Technology Buyer's Guide by Nucleus Research, the Quint Wellington Redwood Group, a company providing consultancy and training services for IT professionals, got the impressive ROI of 1556% during 3 years after switching to a new CRM system due to:
High employee productivity, which allowed avoiding additional hires of marketing specialists.
Increase in the number of sales-qualified leads by 300%.
Increase in the number of closed deals by 100%.
SelectHub's CRM buyer survey showed that the majority (56%) of the respondents prefer the cloud delivery model to the on-premises one. 43% of the respondents were equally ready to consider on-premises CRM and cloud CRM.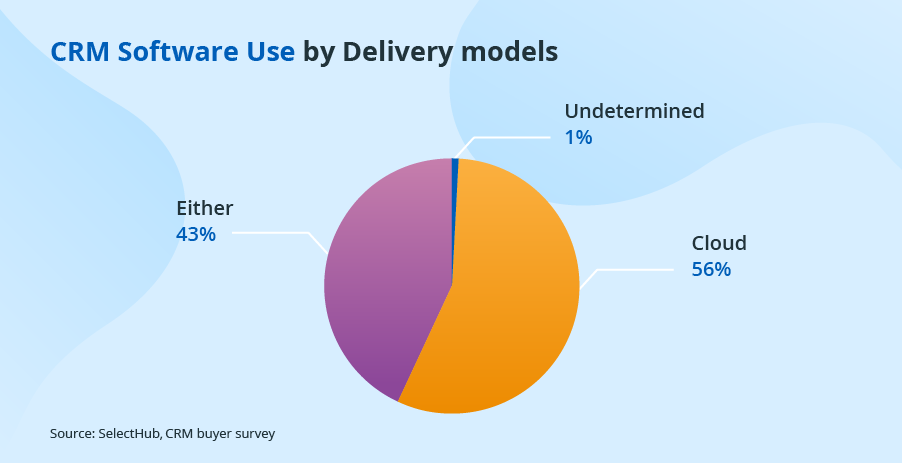 However, many tend to hesitate, and the reasons for that are solid for medium to large businesses: having ample IT resources and staff allows them to maintain the complex infrastructure of on-premises CRM.
As stated in SelectHub's CRM user survey, the majority (32%) of the respondents that use CRM belong to the service industry. They're followed by IT and manufacturing companies (both of the groups take 13%). Interestingly, in 2015, the leaders in CRM use that responded to the Capterra's survey were retail companies (18%).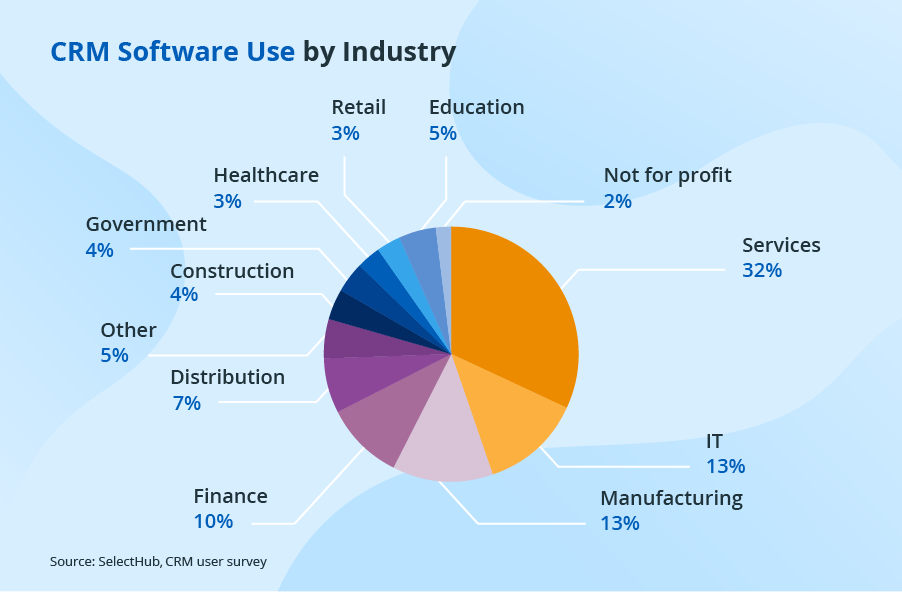 There's a direct correlation between CRM adoption rates and sales teams' performance. As stated in the Sales Operations Optimization Study by Miller Heiman Group, companies with CRM adoption rates of ≤75% have poorer sales teams' performance. It manifests in a lower win rate of forecast sales opportunities and a lower quota attainment rate as compared to sales organizations with a higher CRM adoption rate. Thus, if you need to improve your sales teams' performance, try to ensure all-round adoption of your CRM by providing hands-on user training and release notes on the custom-built CRM functionality.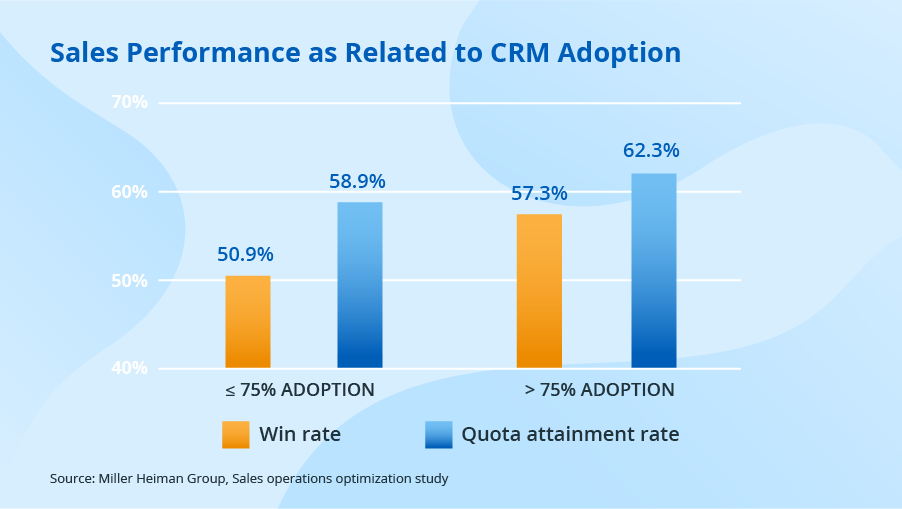 According to FinancesOnline, users of mobile business applications experienced a 74% increase in customer satisfaction, an 87% improvement in sales, and a 73% improvement in business process efficiency. Thus, investment in a mobile CRM application seems a worthy one.
The majority of respondents in the State of Inbound report by HubSpot mentioned manual data entry in CRM and the lack of integration their main challenges of using the system. Thus, deploying CRM as a separate system brings little value to its users and hampers CRM adoption. It's better to plan possible CRM integrations ahead of implementation, which curbs the main CRM problems, such as manual data entry and the lack of third-party integrations.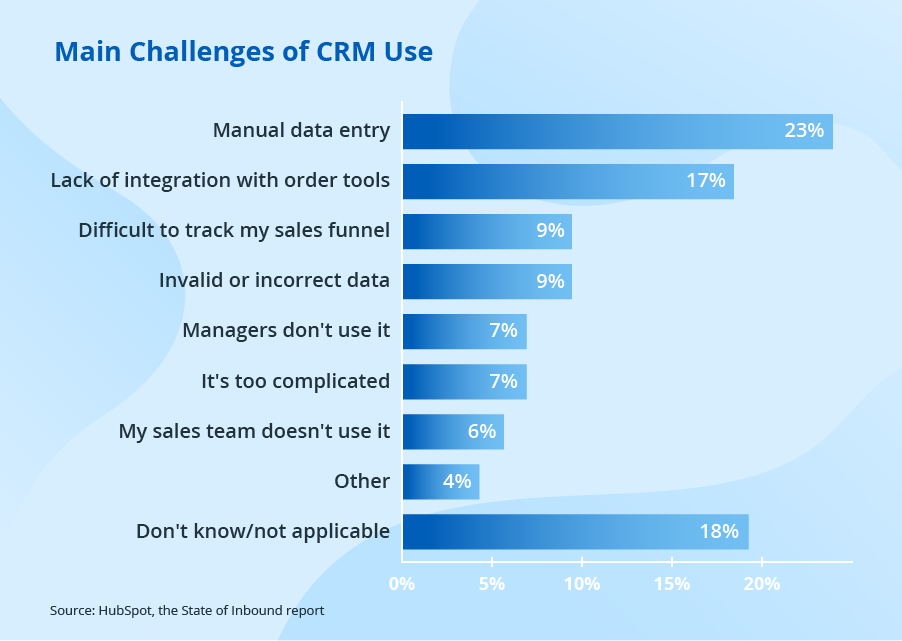 According to SelectHub's CRM user survey, 22.75% of the surveyed companies further invest in the CRM solution because it lacks the required features. Other reasons are the absence of centralized customer info and general inconvenience (difficulty to use, inflexibility or slowness) of a CRM solution. Thus, you should consider such CRM services as custom development, integration and customization from the start.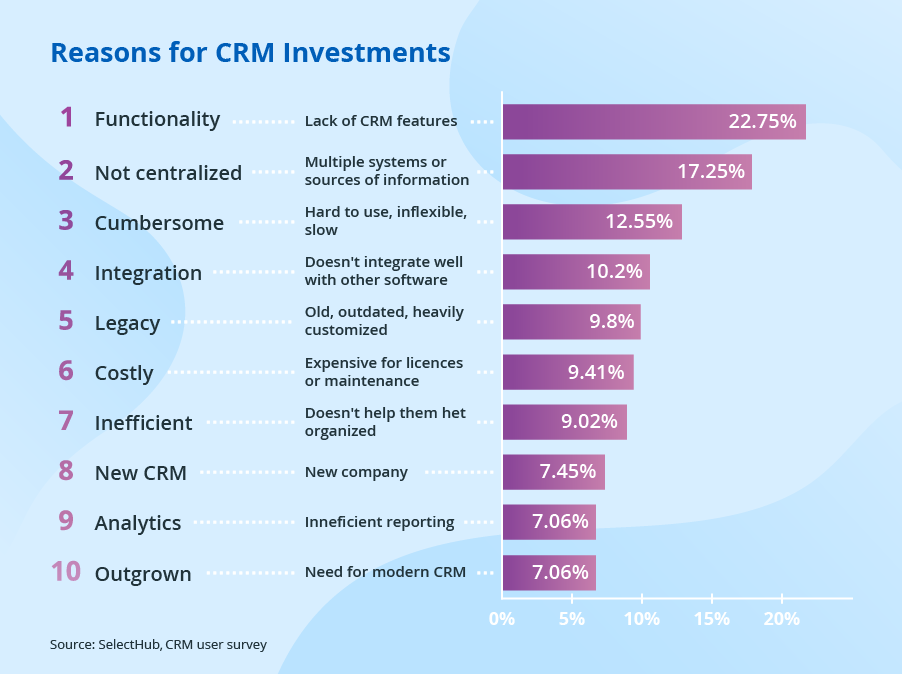 The final word
A CRM system that support sales, customer service or marketing activities is a must for companies who do not want to fall behind the competition. But purchasing CRM doesn't end the job on improving business processes. To help sales, marketing and customer service teams make the most of CRM's functionality, it's necessary to provide CRM customization, integration with external systems, and ensure user adoption.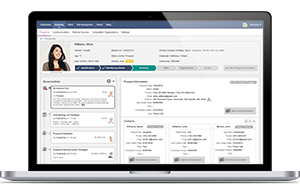 Do you want to manage customer relationships more efficiently? Experienced consultants will help you with CRM software of any complexity.