Editor's note: Anastasia explains how software for customer relashionship management can help you improve your customer support and presents the list of the best CRM platforms. And if you need help with building a structured customer service process, check ScienceSoft's customer service consulting services.
Today, neither the price nor the product is the main reason why customers stay loyal to the brand. It is customer service that has become the key differentiator between businesses. According to the recent stats, 96% of customers consider excellent customer service the number one factor in their decision to build long-term relations with a company. Therefore, I believe investing in high-quality customer service is a must for any company that wants to win the battle for loyal clients.
A CRM solution for customer service is up for the task as it enables multichannel communication with your customers, offers a 360-degree customer view for personalized service delivery, helps automate routine tasks of your customer service agents, and more. There are a lot of CRM platforms on the market that you can choose from depending on your company's needs. We, at ScienceSoft, have made our list of top 3 CRM tools for customer service. Read on to learn more about their functionality.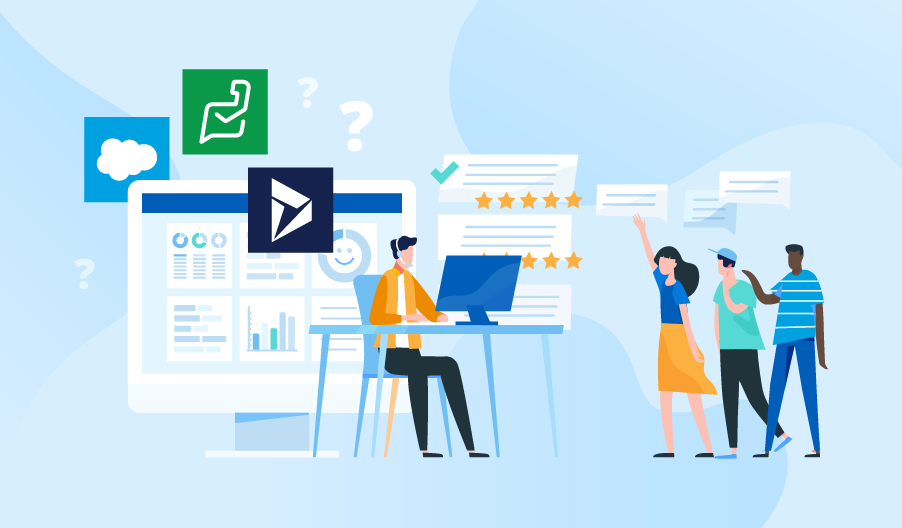 Available in two versions – Professional and Enterprise – Dynamics 365 Customer Service can meet the needs of companies of all sizes. It's an obvious choice for companies using other Microsoft products and looking for seamless integration with Office, Outlook, SharePoint, Power BI, Exchange, OneNote, and other apps.
Core features:
This feature helps split your case management process into 4 main steps: creation, assignment, escalation, and resolution. The case record contains all the information that can be necessary for service agents, including contact/account info and case details.
Knowledge management for customer service agents
Having access to the knowledge base, agents can easily search for relevant articles and provide customers with answers to their questions much faster. Some knowledge articles can form the basis for a self-service customer portal.
Service Level Agreements (SLAs) and entitlements
SLAs define the terms of ticket processing and stipulate case management procedures accordingly. Entitlements determine what service type customers are eligible for (e.g., phone support only, phone and email, or exclusive support across all communication channels).
The possibility to use pre-built templates for emails, entitlements, and knowledge articles can save your agents a considerable amount of time. Make sure email templates contain customers' names and other personal data to avoid impersonal attitude.
This feature enables you to visualize and analyze your customer service data. You can monitor important customer service KPIs such as the number of incoming cases broken down by an agent, communication channel or case priority, and others.
Pricing: Starts at $50 user/month (the Professional edition).
Learn more about Dynamics 365 Customer Service.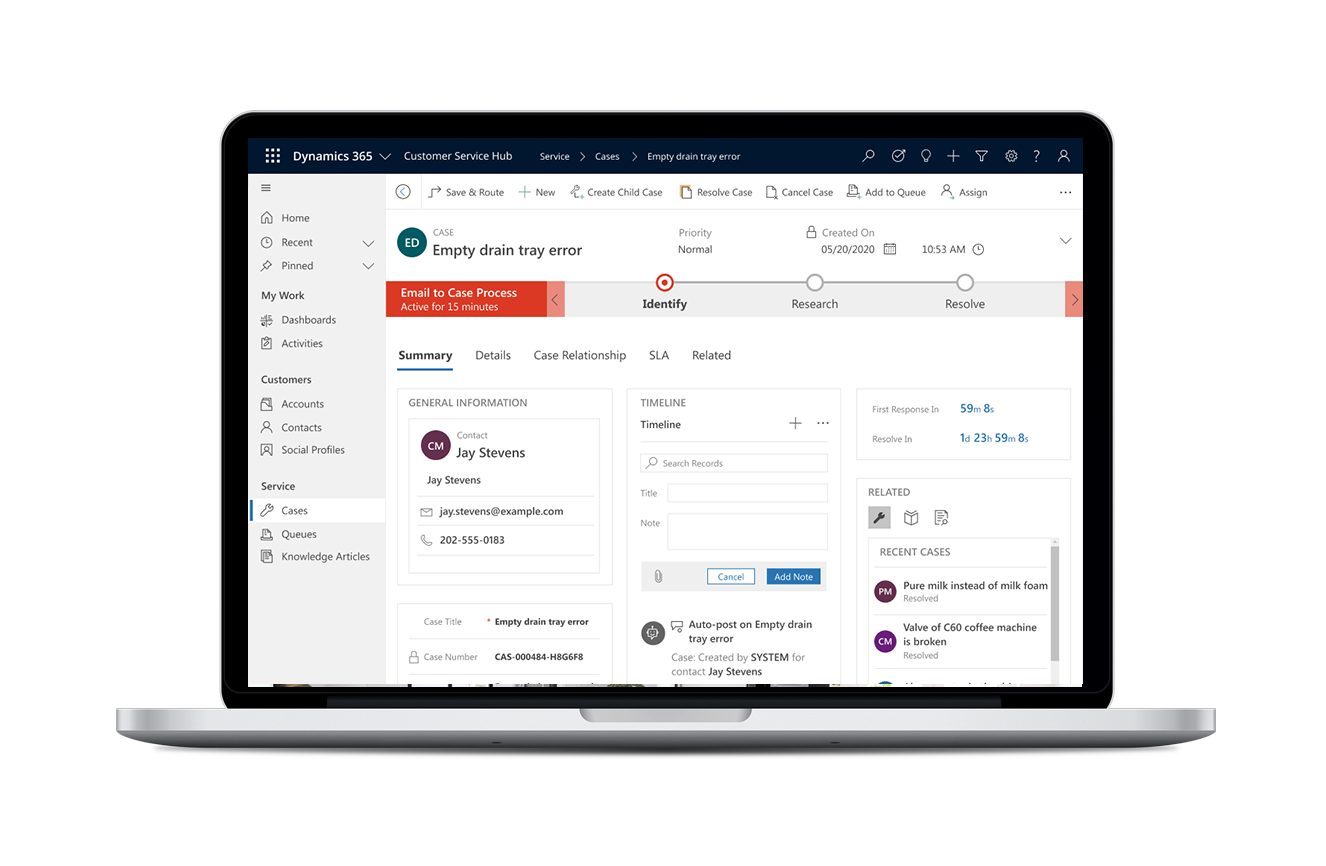 Watch Dynamics 365 Customer Service Demo
Salesforce Service Cloud is designed mostly for midsize and large organizations. It's a viable choice for companies using other Salesforce products, for example, Salesforce Service Cloud.
Core features:
Omnichannel customer communication
This feature helps manage a wide range of communication channels, such as web, email, phone, Live Agent chats, social media, community sites, and video chats. Cases from all these channels are brought into Salesforce Service Cloud and then routed to the best appropriate agents based on the level of their expertise.
With this feature, you can cover all the stages of your case management process: creation, prioritization, assignment, escalation, reassignment, and closure.
The knowledge base for customer service agents
Service Cloud enables creating a comprehensive knowledge base for agents that will help them easily find answers to customers' questions and quickly handle cases.
Case management automation
This feature helps automate all processes related to case management, including case assignment and escalation processes, entitlement management.
With AI-powered service analytics, you can track important customer service KPIs, such as the customer satisfaction rate (CSAT), first contact resolution (FCR), and more. It will allow you to gain insight into department and agent performance and evaluate your customer service success.
Self-service communities for customers
Self-service communities with access to the knowledge base enable your customers to find answers to common questions by themselves without turning to your service agents.
The tool can provide your customers with answers to simple questions such as order status or flight details. It will ease the load on your agents and save some of their time for more complex issues.
Pricing: Starts at $25 user/month (the Essentials edition).
Learn more about Salesforce Service Cloud.
Zoho Desk is context-aware help desk software designed to help companies deliver high-quality customer service. It is suitable for businesses of any size, including large enterprises.
Core features:
This feature will enable your customers to reach you out through various communication channels, including phone, email, web, live chat, and social media. All the tickets from different channels will be collected and organized in one tab for your agents' convenience.
A comprehensive knowledge base and FAQs will help your customers handle simple issues on their own and free up your service agents.
Zoho Desk enables automation of specific customer service workflows, including ticket assignment and escalation processes.
With this feature, you will get detailed insights into your customer service team's performance. Built-in dashboards conveniently visualize data KPI tracking.
This feature allows customers to engage in discussions both with one another and your agents. The community is a support channel where customers can ask questions, share ideas, and find solutions to their problems.
An AI-powered customer service assistant can provide your customers with immediate answers to their questions.
Pricing: The Standard edition starts at €12 agent/month. A free version for up to 3 agents is available.
Your next step to successful customer service
Happy customers are at the heart of any successful company. Investing in CRM for customer service will help you build long-lasting, trustworthy relationships with your customers by taking personalized care, understanding their needs and being there when they seek help. If you need assistance in improving your customer service process and increasing your customer satisfaction rate, contact ScienceSoft's team.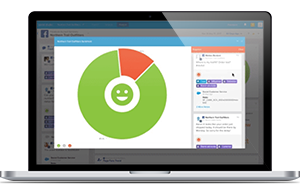 Looking for a way to improve your customer service? Our specialists in customer service management provide a full cycle of consulting and optimization.