Editor's note: In this article, Tanya reviews three design solutions for starting a new ecommerce website. Read on to learn when each solution is the best way to go, choose yours and feel free to put it into action with ScienceSoft's ecommerce web design services.
When launching an ecommerce website, one of the decisions with far-reaching effects on website evolution is the choice of a design solution. Website templates, custom design, and a headless ecommerce solution are three different variants that require a varying amount of resources, differ in their adaptability to a retailer's needs, and, therefore, suit different business situations.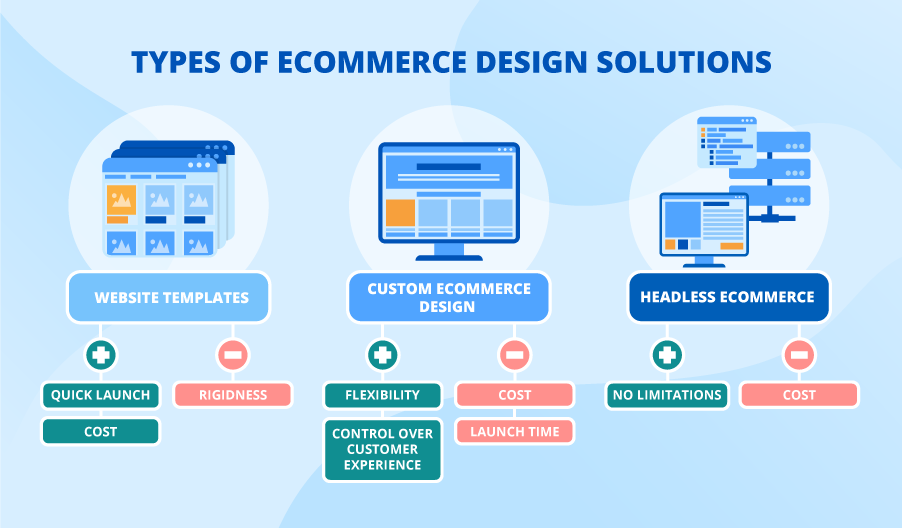 Website templates are pre-designed website pages that you further fill with your content and where you upload your product catalog. This is a go-to solution if you need to launch a reasonably priced website promptly. The customizability of such a website, though, will be very limited, so you must find a template that matches your vision at most. Ecommerce developers will be of great help here as they can share with you design best practices, assist in organizing all design ideas and expectations into requirements specification and find a perfect match on template stocks (like ThemeForest or Colorlib).
Pros
Quick launch. Being a ready-made solution, a website template requires minimum front-end development efforts to install.
Affordable costs. Out-of-the-box design solutions are relatively cheap, and they can be afforded by businesses with a limited startup budget.
Con
Rigidness. Website templates are designed with general requirements in mind, hence they provide good, though unremarkable, ecommerce experience. This option is off the table if your website concept goes beyond standards, or you are planning dynamic website evolution as your business matures.
Website design can be built from the ground up. That's when you cooperate closely with web designers, have custom user journeys mapped, and ultimately get website pages visualized in mockups and coded. You go for custom ecommerce design when you are sure no template provides the experience you want. This often makes sense for companies that have already established a solid offline presence and a brand image.
Pros
Control over customer experience. Custom ecommerce web design promises the experience that addresses your specific business needs. To deliver a worthy end product and pay off the investments, designers research your ideas and target audience, proactively guide you to reasonable design decisions and polish the experience until it fully reflects your brand identity. Professionally designed, your website inspires trust and has all chances to convert well.
Flexibility. As custom design is meant to meet your needs specifically, it has a great capability of being modified in the course of your website evolution. For example, if you notice a high abandonment rate at the checkout, you can experiment with custom checkout flows to find and remove bottlenecks preventing customers from completing the purchase. From this point of view, a custom design solution can be seen as an investment in your company's growth.
Cons
Cost. Building a custom website theme requires a considerable effort of the development team, which makes this solution way more expensive, especially comparing to a template.
Launch time. Target audience research, customer journey mapping, UI design, and the coding take time. So, if you are planning a quick launch, I recommend opting for a quality template instead.
Headless is a new approach to website architecture where the front-end theme and the back-end logic get separated. In a headless ecommerce solution, the back end is powered by any database-driven application, and website design is built on any front-end framework. This gives you unprecedented flexibility to create any kind of customer experience and visual presentation with much fewer development resources involved. If you are interested in headless ecommerce and feel that it might be the right solution for your business, go straight to this article where I discuss it in detail, illustrate with examples and describe which businesses may benefit from it the most.
Pro
No limitations forced by a website front-end theme. With a headless ecommerce solution, you don't need to connect your front-end tightly to the back-end logic. Your designers can create state-of-the-art visual and tailored customer experience on your website that will talk to the back-end ecommerce functionality via APIs.
Con
Cost. There can be no absolute answer if the cost speaks pro or con headless ecommerce as it strongly depends on your business situation and goals. This solution compares favorably to custom design if you anticipate CMS-to-ecommerce transformation and need to migrate 100+ web pages or if you have exceptional customer experience in plans. In these cases, going headless will help you save on development work. I put the cost as a con argument mostly because it's anyway pretty high.
So, what web design option should you choose?
I don't want to talk in clichés and recommend website templates strictly to small companies and custom design or a headless solution – to large ones. A grounded choice should be based on the design requirements you have, and they don't always depend on the company size. If you need help to elaborate on a cost-effective design strategy and bring it to life, you will find the involvement of our ecommerce team valuable, reach us at any time!