Development of a Field Audit Mobile App for Burger King, KFC and Friday's
Industry
Restaurants, Retail, Software products
Technologies
.NET, Mobile, Windows Phone
Customer
The Customer is a European company offering mobile quality assurance tools to clients in the food industry, healthcare and retail. The company's solutions power the regional branches of Burger King, KFC, Friday's and many more.
Challenge
The company came up with an idea of creating an app to help service-oriented companies improve performance and compliance by conducting regular field audits. Using interactive checklists on their Windows tablets, brand managers would assess on the spot how effectively their locations operate to satisfy the client requirements (hygiene, health and safety of food, response time and so on) and fulfil the commercial and marketing plans.
Solution
ScienceSoft assigned a retail application development team of an Architect, .NET Developer and Designer to build the app from scratch. To ensure that the software brings value across multiple industries, the team created 15 types of customizable questions to be included into checklists. Each question can be enriched with an intuitive tool to collect strategic metrics – for example, a timer to measure how long it takes an employee to accomplish a specific task. The questions vary from mandatory to optional.
Checklists are created on the server, so what a user needs is just an Internet connection to have them up to date on their device. For better navigation, checklists can be divided into sections, which makes it easy to jump between the relevant questions. The tool allows duplicating checklists for multiple locations (for instance, outlets of one chain).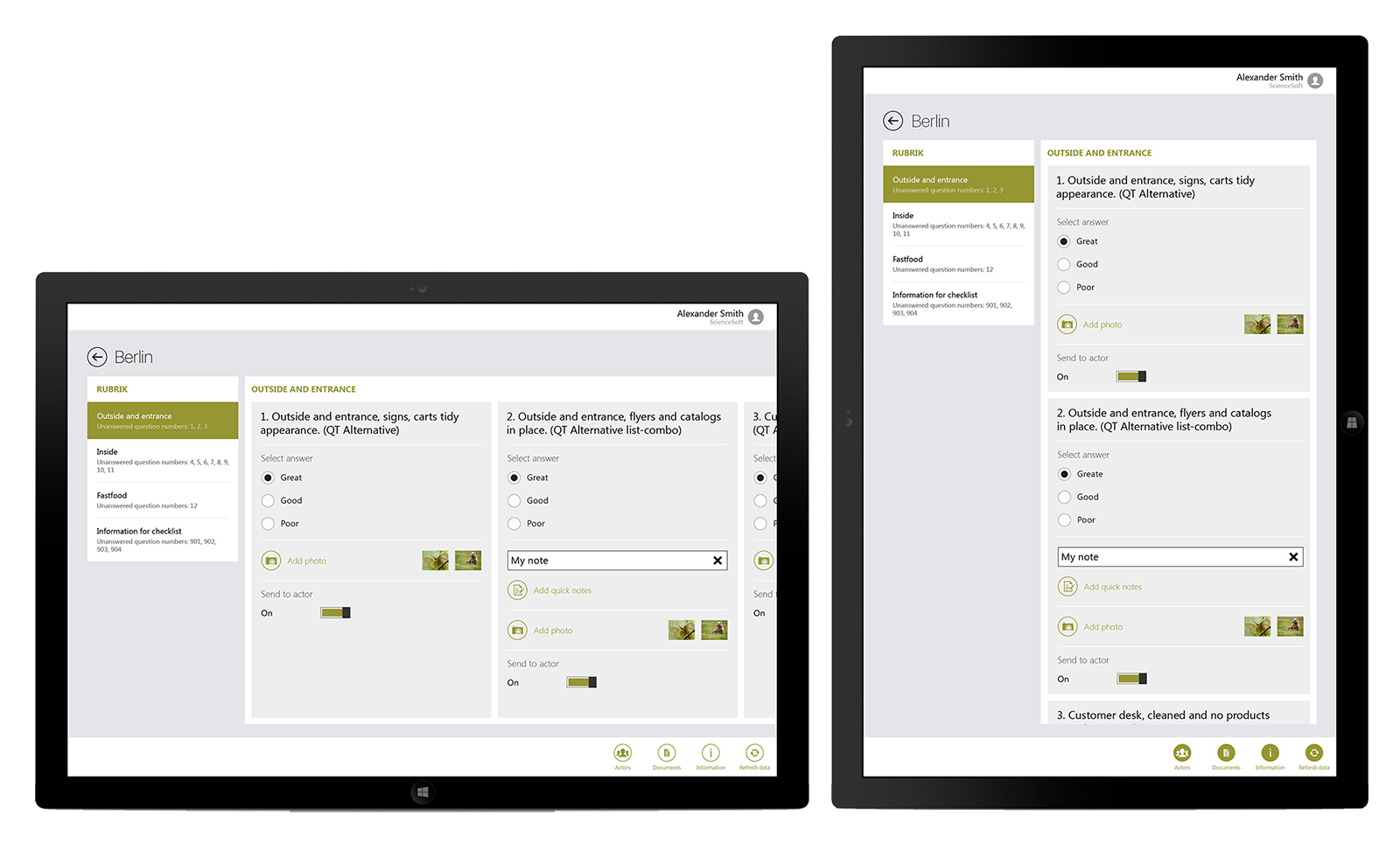 In addition to that, the app offers an offline mode to provide continuous access to the workflow. Thanks to an ability of attaching notes and photos, users can accurately document their findings.
Results
In the course of 1.5 months, ScienceSoft delivered the app with a multilingual support. The tool now helps businesses lessen paperwork significantly while measuring how efficiently their resources are allocated.
Technologies and Tools
Windows 8.1 / RT 8.1, WinRT, C#, XAML, SQLite for WinRT, .NET.

Need help with a similar project?

Drop us a line, and our rep will contact you within 30 minutes to arrange an initial discussion.

<![endif]--> <![endif]--> <![endif]-->