Microsoft Dynamics CRM Implementation for a US Market Leader in Cancer Diagnostics
Technologies
Dynamics CRM
Customer
The Customer is a California-based software consultancy that specializes in ERP and supply chain management solutions and serves to high-end clients in Life Sciences, Manufacturing, Retail and more industries.
The end client is a US-based multinational healthcare company. A market leader in epigenetic diagnostics of urologic cancers with 13+ years in biotechnology, the company provides innovative laboratory solutions to clinicians and commercial laboratories worldwide, with over 30,000 patients tested to date.
Challenge
The end client was looking to introduce a healthcare CRM system for its direct sales force in the US, responsible for driving the company's growth by selling its suite of diagnostics solutions nation-wide.
The system was to support all-round sales and performance management with a focus on the continuous sales model, and this was where ScienceSoft joined the project to deliver it.
Solution
In the course of 4 months, ScienceSoft's healthcare CRM project team has worked to deliver the CRM functionality that included:
Sales management: the configured CRM leverage out-of-the-box features to enable such workflows as opportunity management and customer satisfaction monitoring, with all the customer-related incidents and feedback details tracked within the system to analyze the history of customer interactions, take corrective actions and revive the relationship.
Sales force performance dashboards: the system allows sales reps and managers to monitor sales KPIs (see the screenshot below). The CRM also supports an interactive US map that is broken down by ZIP codes to each sales rep's specific geographic region of operation.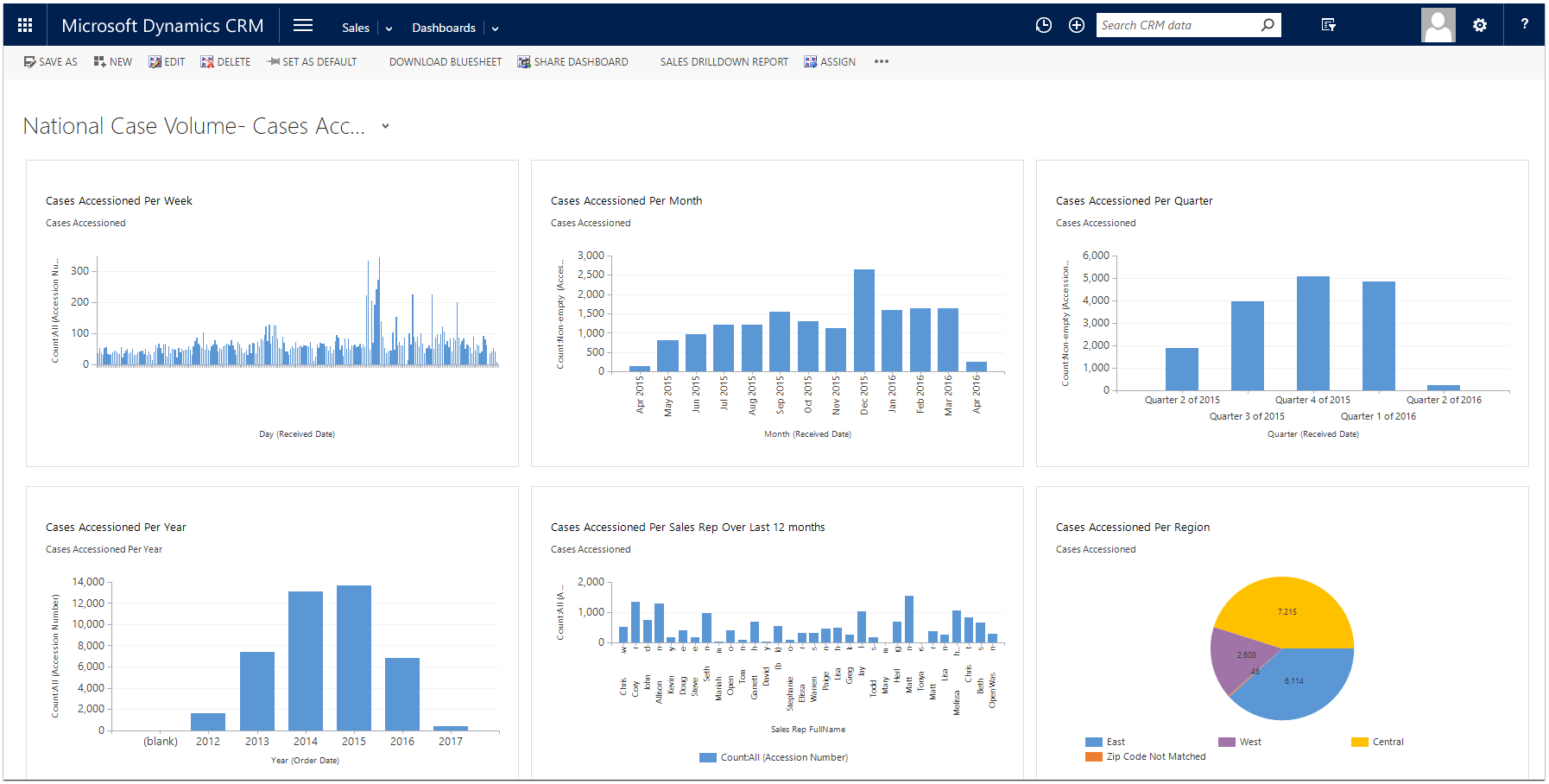 Screenshot 1 – The custom dashboard with historic data on sales KPI dynamics
Customer analytics: aimed at customer retention, the system enables the historic sales analysis to gain visibility into order dynamics, identify opportunities for repeat purchases and reveal customer segments that haven't purchased for the last 30, 60 or 90 days for sales force to re-engage these accounts.
Sales literature: the system supports storage and bulk emailing of up-to-date sales materials such as brochures, presentations and case studies to target recipients.
Mobile CRM: sales reps have a fully functional access to the mobile CRM version, complete with the interactive map and reporting dashboards.
Results
The end client's direct sales force have gained a fully functional CRM system, including its mobile version, that supports sales management and performance analytics by US geographic regions, featuring a range of reporting dashboards. The company has been successfully using the system since the early 2016.
Currently, ScienceSoft's team is involved in the ongoing maintenance stage.
Technologies and Tools
Microsoft Dynamics CRM Online 2016, HTML5, CSS3, JavaScript, Microsoft Insights, Bing Maps, Microsoft SQL Server.

Need help with a similar project?

Drop us a line, and our rep will contact you within 30 minutes to arrange an initial discussion.

<![endif]--> <![endif]--> <![endif]-->