In the life of any mid-sized company, there comes the moment when day-to-day workflows start to slip from its employees' attention, and this is a disturbing sign they actually need to be structured. That's not an easy moment as in a split second the dilemma arises: to choose a complex and expensive workflow management tool or to stay with the familiar, cost-effective and agile email? What to do if your email-based system turns to be exhausted but custom solutions are too complex?
Let SharePoint be your ship captain to bring you to the right decision.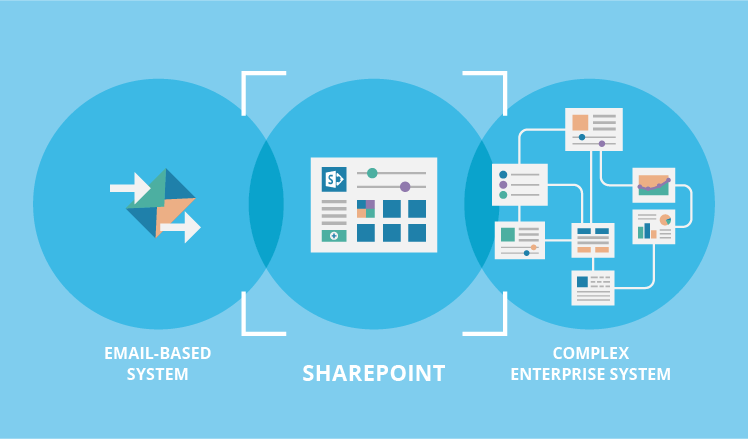 Not so long ago, email was the only way of corporate communication. Even now employees use emails heavily. Actually, there is no need to dump it. Email systems are known to be our reliable partners delivering information non-stop. Moreover, using email doesn't require any specific programming skills or investments.
So we can easily do with email only until our email boxes become rather similar to an uncontrollable whirlpool when it comes to more complex processes. We should admit that email is quite inadequate to handle sophisticated workflows. It doesn't allow to track workflows in their entirety or define their status of completeness, as well as get back to their previous stages.
Wishing to break free from this email slavery, we enter the world of diverse enterprise systems, which provide rich functionality and are claimed to handle processes of any scope.
On the one hand, complex solutions are really efficient owing to their wraparound character. Having some innovative software on board, you can use it like a magic stick to deal with a huge amount of data, to follow thoroughly every stage of your workflows and employees' performance, to get comprehensive reporting.
On the other hand, any enterprise system should be thoroughly tailored. No complex solution can be deployed without assistance. Thus you need to plan extra investments to hire external consultants and developers.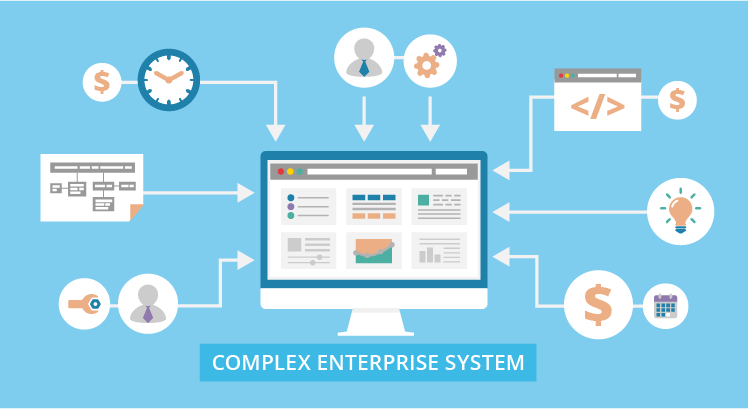 However, even having extra forces on board doesn't guarantee bright results. Complex solutions usually require strict, built-in workflow logic that can be different to the one you are using. This can lead to a workflow slowdown or even a workflow break (e.g. when the system requests data that you don't have).
The end of such an implementation looks sad as your workflow ship becomes a huge luxury cruiser in the river that risks to run aground. Having made a brave step forward toward the innovation, you would be cruelly pushed back to renew that close email or Excel friendship.
When email is no more capable of covering your workflow management needs and specialized software leads your business to even more difficulties, SharePoint is what can show you a good way out of this puzzle. On the IT market since 2001, SharePoint proved its effectiveness many times as a first-aid workflow kit for mid-sized companies. Though not a universal solution, SharePoint can still accommodate your individual workflows when customized either by in-house developers or external IT consultants.
As a web application, SharePoint doesn't tie users to PCs as it's also available on mobile devices. An integral part of Office 365, SharePoint Online can be a great solution for Cloud advocates. A special Workflow Manager add-in for SharePoint developed by ScienceSoft is another useful tool to manage workflows on your site. It allows users to see the list of website workflows, filter lists by name or workflow instances by status and definition name, to resume and suspend workflow instances, to view error notifications, etc.
To illustrate how SharePoint helps all the involved departments, we use the example of procurement workflows. Unless your company is among those relying heavily on procurement, such as large retail, wholesale, construction or manufacturing players with complex workflows, SharePoint can streamline your processes to let you reduce expenses as well as save your employees' valuable time.
Functional description of SharePoint for procurement workflow management
Features

Email

SharePoint

Specialized
procurement system

Automated procurement order (PO) creation & approval

A user can only send a PO to a supplier

A user can create PO templates; create POs and approve the manually after the system sends a notification

A PO can be created and approved automatically


Vendor management

A user contacts a vendor manually, subject to human errors

The system notifies workflow participants when communication is needed

Multiple VM tools are available (vendor information monitoring, vendor assessment and comparison, vendor performance evaluation, etc.)

Financial settlement & reporting

No financial or reporting mechanisms available

Users can audit the documenting lifecycle: user actions, document changes history, etc.

The system provides built-in financial and reporting tools

Automatic
notifications

To notify, a user sends an email manually; calendar appointments are available

Once enabled, automatic notifications assist you at every stage of an internal workflow

Internal and external notifications are possible (e.g. automatic tender notifications)

Shared document storage

Documents can be only attached to an email and saved in any folder on a user's PC or server

Users are able to create, store, share documents and folders with relevant colleagues

Sophisticated information sharing based on roles and business rules

The table above shows us strong automation capabilities offered by a specialized system. However, an enterprise solution requires a very strict compliance with built-in workflow structures and does not allow its users to skip any of the workflow steps.
We can add some other explicit characteristics, which highlight SharePoint advantages as compared with specialized systems:
Simplicity – SharePoint is easy to use. Neither difficult trainings for users, nor external consultants' help are required.
Flexibility – SharePoint enables users to be more flexible when following a workflow. No strict rules are imposed to successfully fulfill the process.
Total cost – SharePoint offers moderate pricing as compared with any specialized system (taking into consideration licenses, implementation and customization price).
SharePoint assists its users throughout workflows. Even if the system depends on human actions, it enables users to follow their personalized processes and doesn't let them forget about any step included in the workflow.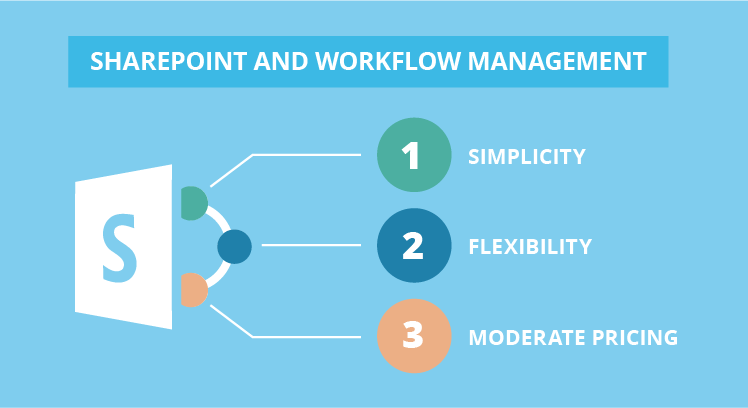 A short implementation period is not to be left aside. A fully functional complex system requires a considerable amount of time (1+ year) to be implemented. Are you ready to wait so long before your workflows get adjusted? With SharePoint workflows can be set much quicker (just in 2-4 weeks).
SharePoint on board
By implementing SharePoint workflows, you opt for a smooth management of your business processes. SharePoint's flexibility and user-friendly interface will allow employees to continue working in the familiar Windows environment, staying focused on accomplishing business tasks, not on system requirements or limitations. SharePoint will be your workflow companion to protect you from a workflow chain rupture and assist you at all stages.
Our SharePoint consulting team is always ready to answer your questions and help you get the most of your SharePoint site.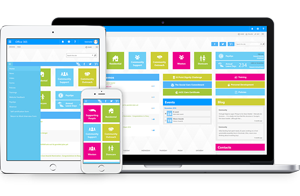 Do you face any SharePoint or Office 365 challenges? We are always ready to help and share our hands-on expertise with you.