Editor's note: We explain the essence of eSourcing and review popular sourcing tools. If you want to streamline your procurement processes and establish long-term profitable relationships with suppliers, you are welcome to turn to ScienceSoft's experts for software development consulting.
Digital procurement, or eSourcing, helps to find, select and manage potential suppliers of goods and services. The global sourcing software market is constantly evolving and is expected to maintain an annual growth rate of over 7.4% from 2021 to 2026.
Sourcing solutions allow companies to compare offers from multiple suppliers in real time using different criteria for supplier selection, for example, by location, by rating, as well as custom-set criteria. RFx can be created and sent to pre-selected suppliers via eSourcing software.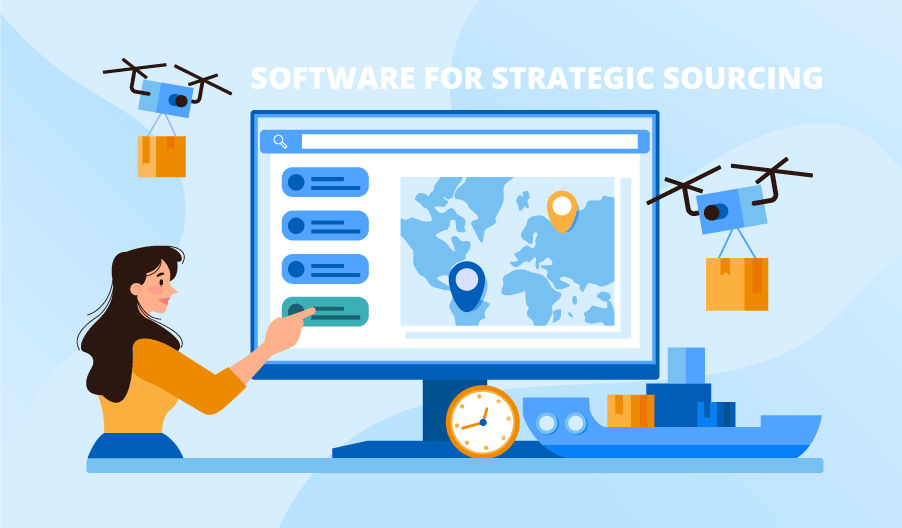 Sourcing software features
Supplier self-registration
Suppliers go through quick and easy registration in the system, providing their contacts and relevant business information. A buying company can configure the registration fields to collect the information they need for supplier assessment.
Automatic monitoring of current offers from suppliers
In an eSourcing solution, buyers can analyze and compare product and service offerings from different suppliers.
Bidding management
A buying company can create tenders, invite potential suppliers to take part in them, and select the most attractive offers. Suppliers can view and bid on the organization's requests in real time, and even update their price offers in response to competitors' price updates.
Supplier selection
Sourcing software can facilitate vendor selection by offering such capabilities as side-by-side comparison of vendor proposals and their qualification ratings. Also, the system can be configured to automatically evaluate registered suppliers according to the criteria specified by the buying company.
Supplier risk assessment
An eSourcing solution enables the analysis of supplier performance to reveal possible risks (e.g., reputational, financial, regulatory), which will save companies from supply chain disruptions and financial losses.
Purchasing optimization
The function of automated creation of purchase orders from approved bids will help speed up the procurement process and reduce the burden on the purchasing department.
Stock control
Integrated with inventory management software, a sourcing solution can help spot items running out of stock early and send automated low-stock alerts.
Sourcing software: top 3 tools
The app allows organizations to evaluate and compare vendor bids, and customize sourcing and purchasing workflows (for example, a vendor approval workflow for specific products and services).
Pricing: $180 per user/month.
The solution has a wide range of features, including automated creation of purchase orders from approved requisitions, simple registration of suppliers, fast processing of contracts, real-time visibility into transaction statuses.
Pricing: by request to the vendor
The solution enables supplier segmentation (e.g., to give the highest strategic priority to suppliers of high-volume or high-value products), provides analysis of suppliers based on, for example, location or price, monitors reputational, financial, compliance and other risks in real time.
Pricing: by request to the vendor
Improve your purchasing with sourcing software
With an easy-to-use supplier sourcing tool you can compare supplier bids, choose the ones that suit your company's needs best, and monitor your procurement process for risk exposure. If you need assistance in developing and implementing sourcing software, feel free to contact ScienceSoft's experts.
Looking for an outsourcing partner to take over your software development project or the entire pipeline of projects? ScienceSoft is ready to support your business growth and digital transformation initiatives.