Editor's note: Sergey explains the idea behind smart inventory management solutions, outlines their major benefits, and reviews real-life examples from market giants such as DHL and Kroger. If you would like to adopt a smart solution for intelligent inventory, ScienceSoft is ready to offer end-to-end inventory system development and implementation services.
A smart inventory management system is a state-of-the-art inventory solution that is powered by advanced technologies: IIoT, robots, RFID tracking, smart shelves, etc. The system collects and analyzes real-time data such as your goods' location, condition, availability, and shipment status to maintain optimal inventory levels. It offers 360-degree warehouse visibility, streamlines inventory handling throughout the distribution cycle, and minimizes the need for human intervention.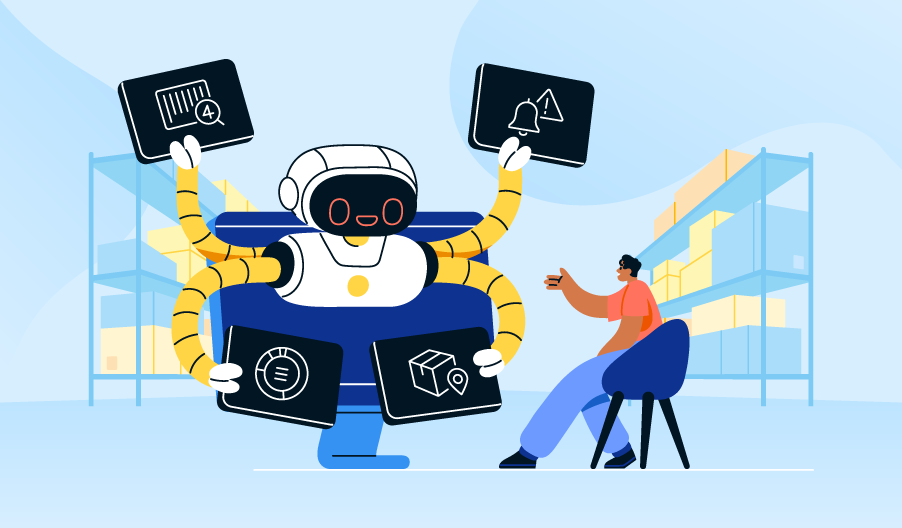 A French sports equipment retailer Decathlon deployed a smart inventory solution called StockBot in its stores worldwide to assist the shop staff. StockBot is an inventory tracking and data collection system that uses RFID tracking and smart navigation: it can move around a store autonomously, collect inventory data, and update the inventory database in real time. With StockBot, the shop assistants have more time to focus on customers.
The US' largest supermarket chain Kroger introduced EDGE smart shelves to offer a personalized shopping experience to each customer. The solution benefits from IoT-enabled displays that show prices, promotions, and other information about the goods. It also connects to the shopping lists on the customers' phones via Bluetooth and helps them navigate the store by highlighting the listed items. The IoT sensors mounted around the store collect real-time data on customer actions on and around the shelves – once processed by the system, this data is used to make informed inventory decisions.
Polaris Industries, a US automotive manufacturer, employed an RFID solution that automates inventory tracking throughout the plant. The workers receive real-time data from the system and know the exact location of each unit moving through the production line. Inventory management automation helps Polaris improve its inventory counting accuracy and reduce manual labor costs.
A US car part supplier Dana Incorporated introduced RFID technology in its inventory processes to automate item tracking and achieve real-time inventory visibility. With this solution, the company managed to reduce the number of errors coming from manual data entries, shorten production cycle time, and achieve 100% traceability of items.
NLMK La Louvière, a Belgian hot- and cold-rolled coil producer, introduced an intelligent inventory management solution that helps keep optimal stock levels, ensures smooth order fulfillment, and offers predictive analytics. When forecasting demand, the solution analyzes basic data such as order volumes and stock on hand, but also considers more complex factors, including demand and lead time variability.
DHL, a global logistics services provider enjoys the benefits of automation at its smart warehouse in Beringe, Netherlands. There, stationary and mobile robots work together with people. With machine vision, stationary robots perform picking tasks and handle packages of all shapes and sizes. Autonomous mobile robots can approach workers and transport the goods, reducing the physical toll on and improving health and safety conditions for the workers. Wireless tracking technology helps monitor the movement of warehouse equipment and people in real time to identify the blocked passages or areas that get overcrowded at peak times and improve navigation efficiency.
A UK online grocery store Ocado employs a fleet of 1,100 robots at its fulfillment center in Andover, Hampshire. The center has a three-story-high aluminum grid to store crates with grocery items and a 112-kilometer network of rails for the robots to move across. The robots pick up crates and deliver them to stations where employees assemble customer orders.
Smart inventory management as a new standard
Industry leaders worldwide have recognized the role of smart inventory management in increasing their operational efficiency and improving customer experience. Businesses in various market sectors implement smart inventory systems to gain precise insights into their inventory levels, optimize supply chain processes, reduce dependence on manual labor, and streamline inventory workflows. If you need a smart solution for efficient inventory management, don't hesitate to reach out to ScienceSoft. Our experts are ready to build a robust solution that will fully meet your unique inventory management needs.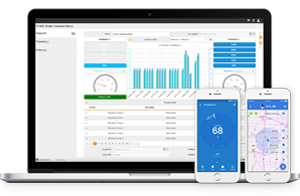 From roadmapping to evolution – we'll guide you through every stage of IoT initiative!