Editor's note: Andrew shows common marketing automation use case scenarios to explain how software-based automation can enhance the marketing efforts of estate agents. If you want to get started with marketing automation straight away, check out ScienceSoft's offering in marketing automation services.
The work of a real estate agent can be divided into two categories. First, there are activities such as negotiating with clients or hosting property shows. Second, there are routine activities such as responding to emails or filing paperwork, which require less creativity but consume more time. Both are equally essential for running a successful real estate agency, but you'd be hard-pressed to find a real estate agent that prefers the latter over the former. As a result, real estate agencies have started looking at software-based automation as a means to cut down on tedious work involved in real estate marketing.
Below, I demonstrate what processes in real estate marketing can be automated and how.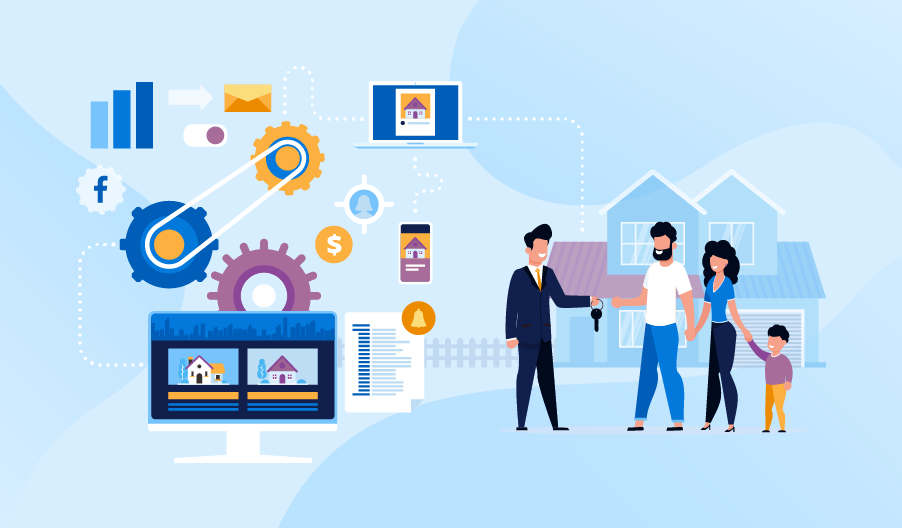 #1 Lead generation
Real estate leads can come from a variety of sources, including landing pages, email subscriptions, social media follows, and others. Keeping track of these sources manually is a difficult and error-prone process, and this is where automation can come to rescue. Marketing automation software can funnel prospects into a unified database, and real estate agents can access it from a convenient user interface. Prospects are added to the database as structured entries consisting of names, emails, phone numbers, and other types of information you want to gather.
#2 Prospect segmentation
Building up a unified database of prospects is essential for automated real estate marketing, but only as a prerequisite for converting prospects into leads and further into clients down the line. Surely, different prospects will have different expectations in terms of how they want to be approached, so segmentation becomes a necessary step in the conversion process.
CRM marketing software can automatically categorize and sort your prospects according to a variety of criteria. You can have them organized based on previous online interactions with your brand, or create your own categories.
#3 Email marketing
Once you have your prospects neatly categorized, you can start pushing them along the buying path via email marketing. Naturally, you don't want to be writing and sending each email individually. What you want to do is have your email automation system send out emails in predefined sequences that you set up in advance.
One example is a drip email marketing campaign, where a prospect receives a series of interrelated emails over a certain period, which is aimed at gradually enticing prospects into buying. Another example worth considering is a trigger email campaign, where the kind of mail that prospects receive depends on their online behavior, such as clicking on an ad.
Younger cohorts such as Millennials prefer to use social media to look for information, get in touch with realtors, and check out testimonials from other real estate customers. In order to build a social media presence as a real estate company, you will need to share property pictures, respond to queries, arrange property showcase events, and more. Fortunately, marketing automation tools can do the brunt of the work.
The simplest example of social media automation is automated content sharing. By using a social media automation tool, you can specify a series of social media posts in advance and have software upload them directly at specific intervals. You can do this for practically every social media activity, including talking to clients via a chatbot, for example, a Facebook Messenger bot.
#5 Landing page creation and testing
A landing page is usually the first point of contact between a real estate agency and a potential client. But creating an appealing and converting landing page from scratch may appear costly and time-consuming. Fortunately, landing page generators can solve both issues in an elegant way.
Some marketing automation tools allow creating landing pages from scratch in minutes. Once you define the parameters of the page, and the generator does its work, you can immediately try out different versions with A/B testing to find the one with the highest conversion potential.
Time to reduce your real estate marketing efforts with automation
While most real estate agencies recognize that marketing automation is the key to achieving better marketing outcomes, many are still reluctant to implement it. If you want to reap the benefits of real estate marketing automation but are unsure how, reach out to ScienceSoft's team of marketing experts – and we'll help you get started.
As a marketing automation provider, ScienceSoft will help you optimize marketing processes with platform-based or custom marketing automation software.