Editor's note: Sergey explains what problems organizations can solve by implementing a learning management system and provides examples of LMS software for corporate training and academic education. If you need assistance in choosing and implementing a robust LMS for streamlined eLearning, you're welcome to contact our LMS consulting team.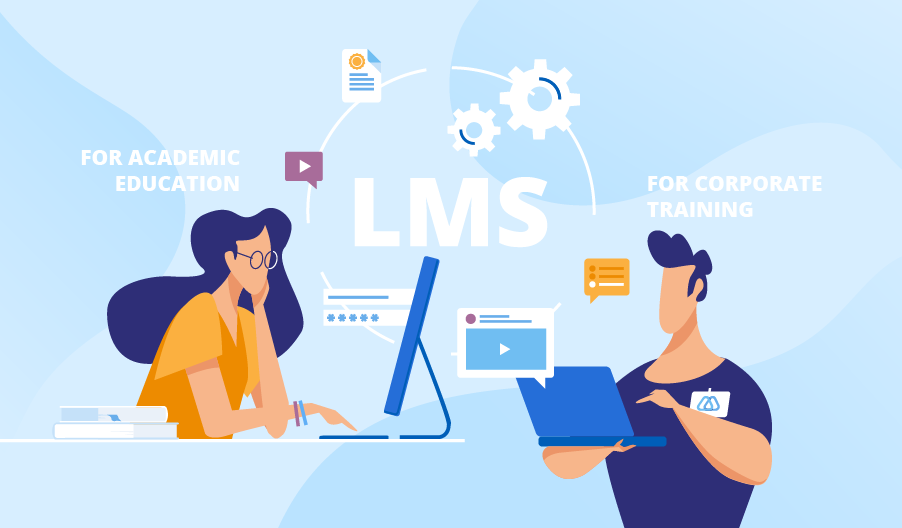 ELearning market is on the rise, with 79% organizations planning to spend more on online training in 2021 than they did last year. The global lockdown of the enterprise offices and educational institutions caused by the COVID-19 pandemic has driven the growing demand for eLearning technologies to enable corporate training and academic education in a completely remote environment. With automated learning administration, remote access to the learning content, scalability, and flexibility, learning management systems (LMS) appeared a suitable option both for businesses and for academic education providers. During 2020, LMS usage increased from 82% to 84%. Currently being the dominating segment on the eLearning market for 41% of organizations, LMS is among the most anticipated learning software purchases for 2021.
Learning management system: the essence
Learning management system is software designed to enable flexible corporate training and academic education in a web-based environment. It provides organizations with a simple and cost-effective way to manage their online learning programs and assess learners' progress, as well as facilitates creation and delivery of the learning content. The LMS can offer an engaging personalized learning experience for different types of audiences, from college students to industry professionals.
LMS main use cases
For corporate training by businesses of any size, from small companies to world-large corporations. Among the top industries showing the widest adoption of corporate LMS solutions are financial services, IT, telecom, healthcare, retail, and manufacturing. Besides, LMSs are widely used by federal agencies, municipalities, and non-profit organizations.
In the academic sector by educational institutions, such as colleges, universities, and K-12 schools, as well as by private tutors.
Common problems LMS can solve
Helps avoid limitations on the number of learners taught simultaneously, which is typical for traditional training methods.
Saves time spent on learning administration due to automated course assigning, scheduling and delivery.
Facilitates learners' attendance tracking and progress assessment.
Allows instructors to identify each learner's knowledge gaps rapidly to provide a tailored learning path for them.
Simplifies authoring of the learning content and enables its automatic translation into multiple languages.
Improves learners' engagement by offering interactive eLearning content and gamification.
LMS pros and cons
Pros

Reduced learning costs due to reusable learning content and remote eLearning delivery that doesn't require offline instructors and physical classrooms.
Enhanced learning accessibility and flexibility, as LMSs enable studying 24/7 regardless of learners' location.
Interoperability with third party eLearning tools due to LMS compliance with eLearning technical standards like SCORM.
Scalability in terms of the number of learners covered and courses delivered.
Support of instructor-led training, virtual classrooms, and social learning.

Cons

Inability to replace traditional in-person training completely, specifically in domains where practice-based experience is obligatory (e.g., healthcare, chemistry, manufacturing).
High requirements for learners' self-discipline and time-management skills, which can become a barrier to LMS adoption for some users.
Necessity of post-implementation LMS support for solving technical issues and upgrading the solution.
LMS software examples
Cornerstone LMS
Best for large enterprises
A world-class corporate LMS that provides personalized development and compliance training to employees and external users of enterprises. Due to its scalability, configuration options and branding capabilities, Cornerstone LMS has become extremely popular among large organizations. Cornerstone LMS offers effective eLearning management and employee data management, extended reporting and analytics capabilities, built-in content authoring tools, and mobile training via the Cornerstone Learn App. Due to delivering multiple learning content formats (e.g., audio, video, VR), this platform helps increase learners' engagement. Cornerstone LMS is compliant with the most popular eLearning standards, such as SCORM and xAPI, and it offers multiple pre-built integrations, including TTS, Citrix, PayPal, and LinkedIn.
Canvas LMS
Best for educational institutions
An open-source cloud LMS that provides rich functionality for online education in colleges, universities and K-12 schools. It offers automated course assigning and scheduling, lectures via Zoom or ConferNow, user profiles customization, as well as promotes collaborative workspace with instant messaging, video recording, and resource sharing between teachers and students. Based on the platform's reviews, users appreciate a convenient Canvas mobile application that offers 99% of the desktop version's functionality. Canvas LMS provides integration with Google services, social networks, and LTI tools like Flipgrid. Together with the learning object repository (Canvas Commons), the course catalog and marketplace (Canvas Catalog), and an index of open online courses (Canvas Network), Canvas LMS offers an all-in-one educational ecosystem to streamline eLearning in the academic sector.
Thinkific
Best for small businesses and individual course creators
A cloud-based LMS known for its user-friendly interface and rich capabilities for learning content creation. With built-in content authoring tools, a course creation tutorial, a template library to design mini-courses and learning portal pages, and integrations with PayPal and Stripe, Thinkific can be the best fit for businesses and entrepreneurs planning to sell their online courses. Due to its integrations with Google Analytics, Facebook pixel, and Mixpanel, the platform provides advanced analytics. A flexible pricing model that offers a free trial period, a free version restricted to the core feature set, and the Growth package makes Thinkific LMS a cost-effective solution for individual learning content authors and small organizations opting for content monetization.
HealthStream LMS
Best for healthcare providers
A web-based LMS designed to enable healthcare organizations to deliver professional and compliance training to health workers. The platform helps meet healthcare-specific training needs, such as role-based training on diverse medical disciplines, flexible asynchronous learning, blended learning, and AR and VR training for improved healthcare learning visualization. The solution goes with a course library of 20,000+ healthcare courses, as well as provides a built-in content creation tool with customizable templates. Due to supporting compliance with healthcare-specific standards like HIPAA and OSHA as well as enabling collaboration within a large community of healthcare professionals, HealthStream can be a better option for healthcare learning as compared to a general-purpose corporate LMS.
SharePoint LMS
Best for organizations using Office 365 or SharePoint
If your organization already uses Office 365 or SharePoint, you can build an LMS using the flexible SharePoint platform. This does not require additional IT infrastructure and makes it a cost-effective option. SharePoint LMS is fast to implement and deploy, and it provides a familiar Microsoft Office-like interface, which contributes to high user adoption. SharePoint LMS has out-of-the-box integration with Office 365 apps like Teams and Power BI, which helps to align employees' corporate training with their daily business tasks. SharePoint LMS offers learning content authoring, including creation of microlearning modules as well as rich social features. Due to customizability of SharePoint LMS, you can easily gain diverse additional features, such as blended learning support and learning trajectories management.
Get LMS that suits your learning needs best
As the modern LMS market is fragmented and highly competitive, choosing a fitting solution that will cover the whole spectrum of the organization's unique needs can be a challenge. Customization options become a staple for a robust LMS solution, and expert consulting support is required to safeguard LMS implementation from failure.
If you consider implementing LMS software to improve your corporate training, or the educational process, feel free to ask for qualified assistance of ScienceSoft's LMS consulting team.
Having experience in LMS solutions since 2015, we ensure successful implementation of LMS with optimal functionality, maximum ROI and high user adoption.