Editor's note: In this article, Veranika shares management tips for your customer support to work like clockwork and help you get more loyal customers. And if you need to establish a structured and result-driven IT support, you are welcome to consider ScienceSoft's outsourced help desk offer.
Customer support can become either your company's trademark triggering long-term customer engagement with your brand, or a disappointment and a point of no return for your customers. Just think about the fact that 51% of customers will not return after one negative experience with customer service. Keep on reading to learn how to establish customer support that will leave your customers satisfied.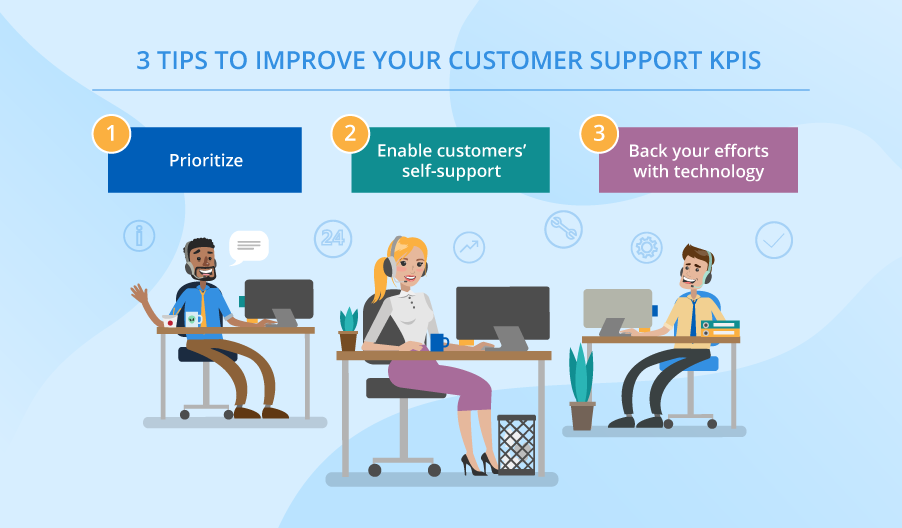 Why customer support has to work like clockwork?
The aim of customer support is to make clients feel heard and respected and build a proper reputation around the brand. It's true that establishing effective customer support requires time and money investments, but I am convinced that such investments will always pay off with the right customer support strategy. Think about your existing clients who will be willing to engage more with your product/service and your new customers who will be attracted by a good image created by top-notch customer support.
How to organize effective customer support management?
I have collected some of the most important tips for organizing effective customer support. As you will see, the main takeaway will be to organize an automated workflow for your agents backed by optimized effort allocation. In the next few paragraphs, I will describe how to do that.
#1 Prioritize
Startups and small businesses usually choose to solve the problems of their users chronologically. This approach can prove effective in the beginning. However, when a company and their service/product become bigger, the pick-and-choose strategy will be more a more suitable choice. That way, your support agents can give short and fast answers to those with easier problems, and dedicate more time to solving tougher problems.
#2 Enable customers' self-support
Providing your clients with self-support materials will reduce the efforts spent on those who come with simpler problems. A self-service customer portal or a knowledge base with articles, FAQs, user guides on your website will allow your clients to solve a great share of issues on their own, saving their and your agents' time.
#3 Back your customer support efforts with technology
Customer support software enables omnichannel customer communication, automated case management, and a working space creating a base for the agents' productive work.
With omnichannel customer support, your employees can deliver customer service across all communication channels (email, phone, mobile and video chats, social media, community websites, etc.).
Case management automates the entire case life cycle: creation, assignment, escalation, reassignment, and closure. For example, when a case hasn't been closed within the period set by your time-based rules, it gets escalated or reassigned. And the customer will be automatically notified about that.
Centralized working space for agents contains a support knowledge base to enable quick response to customers' issues. It also provides your agents with customer details and the whole history of interactions with customers. The consolidated data available to your support team can make your customer support more proactive as trends become easier to uncover. For example, your agent can see that a client is likely to encounter a recurrent problem in, say, 2 months, and creates a reminder to check on this customer before the problem occurs.
Final tip: Track progress and improve
It is surely hard to always meet your clients' high expectations. Luckily, a well-designed customer service strategy backed by software able to cover your particular needs and skilled customer service professionals will help you rise to the challenge. If you need help with establishing an effective customer support or improving your current support KPIs, you are welcome to turn to my team.
With 16 years in application support, we offer multi-tiered IT support for your enterprise applications or your software products and their users with minimum involvement from your side.