<![endif]-->
<![endif]-->
Ideas Sharing Add-In for SharePoint and SharePoint Online
What Is Ideas Sharing?
Boost company-wide communication with the Ideas Sharing add-in. With this add-in, your SharePoint intranet will enable employees to share and rate their colleagues' ideas related to business and social aspects of a company's life. Besides, this SharePoint idea management add-in accumulates ideas that can be later easily retrieved by tag or title. The add-in can also notify users about new ideas.
How to Get the Add-In?
You can download Ideas Sharing from the Office Store.
How to Configure the Add-In?
To configure the Ideas Sharing add-in, click the gear icon in the top bar.
1
Add ideas by clicking "+" sign in the top bar.
2
Change the title displayed in the top bar.
3
Sort ideas by the title, date added, rating.
How Does It Look like?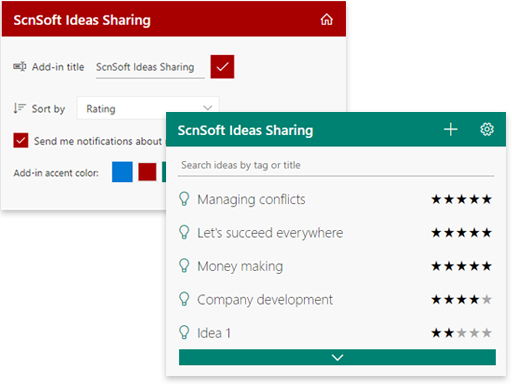 The add-in is available in 4 color themes
How to Add the App to a SharePoint Page?
To add the Ideas Sharing add-in to a SharePoint page, follow the instructions.
How to Troubleshoot the Add-In?
If the Ideas Sharing add-in does not display "+" sign in the top bar, please make sure you have a permission to add items to lists.

<![endif]--> <![endif]--> <![endif]-->