AdTech and MarTech Software Development
AdTech and MarTech software development is used to craft targeted digital messaging and drive more engagement for ads and marketing campaigns. ScienceSoft designs and builds programmatic AdTech and MarTech tools that rely on customer data to personalize digital content.
With the market of software development vendors being heavily populated, rely on facts to find a capable partner for your AdTech or MarTech project:
AdTech and MarTech Software We Create
Data management platforms (DMPs)
Integrate audience data from multiple sources and create anonymized profiles to send data to third-party programmatic ad tools – ad exchanges and demand-side platforms.
Data is collected from:
First-party sources: a company's business systems and customer touchpoints like a website, social media profiles, CRM.
Second-party sources: customer data from business partners who agreed to share it (suppliers, affiliates).
Third-party sources: data aggregators and marketplaces that sell audience data collected from multiple sources.
Programmatic advertising platforms
Use ML algorithms to automatically connect ads to the best advertising space according to the target audience.
We build all components of the programmatic ad ecosystem:
Demand-side platforms (DSPs): store ad creatives, surf through multiple ad exchanges, and bid for ad placement where it fits an advertiser's criteria.
Supply-side platforms (SSPs): send potential advertising inventory to ad exchanges on behalf of digital media owners.
Ad servers: manage and track the performance of multiple ad campaigns.
Ad networks: aggregate available ad inventory from multiple digital media owners.
Ad exchanges: launch real-time bidding for ad inventory across multiple ad networks.
Customer data platforms (CDPs)
Store and structure customer data integrated from internal and external sources. Recognize a customer across devices and channels and merge the information into a single customer profile. Provide a unified customer view to marketing tools for personalized campaigns.
CDPs work with different data types, including:
Personal characteristics: age, gender, location, etc.
Browsing activity.
Transactional data: purchases, returns, money transfers.
Interactions: chatbots, call center, emails.
Reactions to marketing campaigns: impressions, clicks.
Marketing software for multichannel engagement
We plan software uniquely for your marketing needs. Among the widely requested functional requirements are:
Management of unlimited user journeys.
Rule-based distribution of marketing content across different channels: email, phone, social media.
Behavioral microsegmentation.
Response-driven scenarios of marketing campaigns.
Conversational marketing via live chats, chatbots, messaging apps.
Support for different marketing content formats: email templates, visuals, video, presentations, landing pages, and more.
Web scraping for marketing intelligence.
Reward-based loyalty programs.
Customizable reports for marketing performance analysis.
Multi-touch attribution.
ScienceSoft's Service Specifics for Different Companies
We work with IT product companies selling advertising and marketing services to business clients and consumer-oriented companies looking for effective ways to do large-scale hyper-personalized marketing that consistently delivers excellent ROI.
Service focus for product companies
Research of a target audience and competitors to understand the addressable market and the product's strengths/weaknesses.
Product ideation and prototype building.
Multi-tenant product architecture design.
Billing system setup.
End-to-end product development or team augmentation with the required resources (consulting, project management, development, testing).
API and integration framework setup.
Service focus for consumer-oriented companies
End-to-end development of custom marketing software fully tailored for current needs and scalable for future growth.
Development of a custom real-time bidding system to sell ads in your digital space.
Development of a custom advertising platform that integrates with popular ad marketplaces (Facebook, Google) and automates the management of multiple accounts and a real-time bidding process.
The Financial Times Includes ScienceSoft USA Corporation in the List of the Americas' Fastest-Growing Companies 2023
For the second year in a row, ScienceSoft USA Corporation ranks among 500 American companies with the highest revenue growth. This achievement is the result of our unfailing commitment to provide high-quality IT services and create best-value solutions that meet and even exceed our clients' expectations.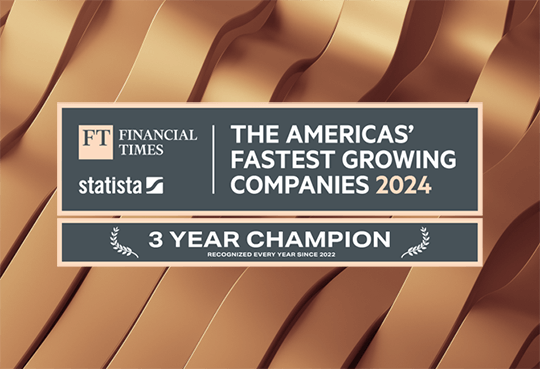 Results Our Clients Achieve with Programmatic Tools
With MarTech and AdTech solutions that ScienceSoft creates, modern companies can easily flex their promotional strategies following the likes of their audience and make the messaging totally relevant to them. As a result, they achieve the following positive gains:
| | |
| --- | --- |
| Increased return on ad spend | Time-effective multi-segment marketing |
| Potentially higher customer engagement through marketing personalization | High-ROI marketing strategies based on advanced attribution across channels |
Cooperation with ScienceSoft: Timeframes, Cost, Quality Guarantees
Project cost. Typically, we decide between fixed price and T&M (time and materials) pricing models depending on whether the project scope is prone to changes or not. We make sure to deliver the best value-for-money for each client.
Project timeframes. We commit to the project duration upon the software requirements investigation stage. If software is business-critical and urgent, we can launch an MVP in approximately 1-4 months and proceed with further releases every 2-4 weeks.
Quality guarantees. We adhere to mature and high-quality processes confirmed by the ISO 9001 certification. To address the confidentiality and security of customer data, we apply all-around security controls required by the ISO 27001 certification.
MarTech and AdTech Software We've Created
All about Marketing & Advertising
<![endif]--> <![endif]--> <![endif]-->