ServiceNow® Platform Active Directory (AD) Integration for Single Sign-On
Industry
Retail, Travel & Hospitality
Customer
The End Customer is a UAE-based retail and leisure enterprise that employs 40,000+ people and has stores and hotels in 15 countries.
Challenge
The End Customer's employees use multiple systems and platforms at work. It is highly inconvenient for them to have different credentials for each system and to log into each system separately. To help the Customer's employees work more efficiently, the Customer needed to perform the integration of ServiceNow with Active Directory and ensure a single sign-on property for several related systems.
In addition, the Customer struggled with applying ITSM processes (Incident Management in particular) to their configuration items in HP UCMDB. So the Customer also needed to integrate their ServiceNow with their HP UCMDB to use UCMDB configuration items in full-scale ServiceNow-based ITSM processes.
Solution
To achieve the desired results of both integrations, ScienceSoft performed the following activities: consulting, platform setup and production rollout.
First, ScienceSoft's ServiceNow experts analyzed and clarified the Customer's requirements. Then, our team proposed several possible solutions. Working jointly with the Customer's team, they have selected the most suitable integration options.
To integrate ServiceNow with Active Directory, ScienceSoft's specialists first configured the ServiceNow LDAP (Lightweight Directory Access Protocol) module to exchange information with the Customer's Active Directory server. Then, ADFS (Active Directory Federation Services) – a part of AD – was configured to grant access to the Customer's user identity information. After that, our team configured the Customer's ServiceNow and established the connection with ADFS from ServiceNow's side. This finally integrated the two systems making ServiceNow a part of a broader single sign-on (SSO) system.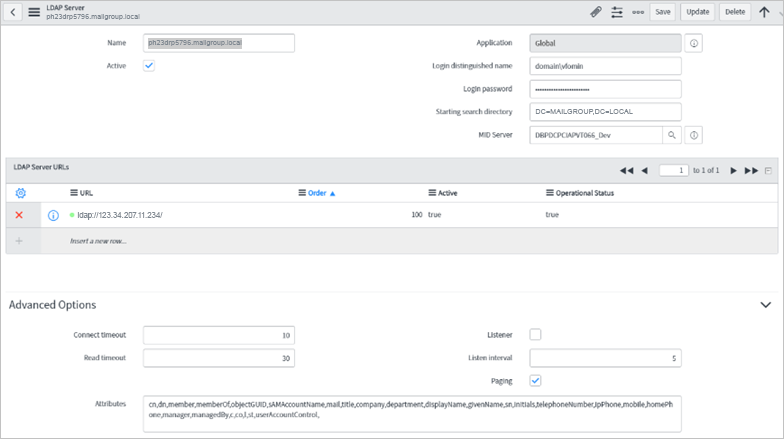 For the purposes of integrating ServiceNow with HP UCMDB, the Customer provided an Import Set configuration setup that needed to be used in the integration process. By adjusting it, ScienceSoft's team ensured the required integration. The data exported from UCMDB was transformed and stored in intermediary staging tables until ServiceNow loaded it into its own database. This way, our team implemented the integration of ServiceNow with HP UCMDB.
Results
Our team successfully integrated Active Directory with ServiceNow. The End Customer's ServiceNow platform became an element of a broader collection of related systems with a possibility of single sign-on. Concerning the integration of ServiceNow with HP UCMDB, now the Customer is fully capable of managing UCMDB configuration items in ServiceNow. Thanks to ScienceSoft's fulfillment of the Customer's integration needs, their employees are now able to perform their duties more efficiently.
Technologies and Tools
ServiceNow, Active Directory, HP UCMDB

Need help with a similar project?

Drop us a line, and our rep will contact you within 30 minutes to arrange an initial discussion.

<![endif]--> <![endif]--> <![endif]-->