Editor's note: Alena shows how telemedicine technology is of advantage to healthcare organizations and patients and explains why it is worth investing in. And if you'd like to reap telemedicine benefits, feel free to check out our telemedicine application development offering.
Statistics show the stable growth of the telemedicine market influenced by such factors as the growing demand for online services, the healthcare technological progress, the COVID-19 pandemic, etc. But what exactly makes telemedicine more and more popular: hype or objective benefits? In this article, I will give an overview of the most significant advantages of telemedicine technology, show how telehealth benefits care providers and patients for you to decide whether this technology is worth opting for.
Telemedicine enables remote health care delivery with the help of telecommunications technology. The National Telehealth Resource Center defines the following telemedicine types:
Live Videoconferencing (Synchronous) – two-way interaction between a patient and a healthcare provider using audiovisual telecommunications technology. To see how this type of telemedicine works in real life, check ScienceSoft's telehealth project for Chiron Health platform.
Store-and-Forward (Asynchronous) – transmission of a patient's medical information through an electronic communications system to a care provider without a real-time interaction.
Remote Patient Monitoring (RPM) – personal health and medical data collection from an individual outside a medical facility via electronic communication technologies. The collected data is transmitted to a healthcare provider (hospitals, clinics, living facilities, etc.) for use in care and related support. A demo of a telemedicine app with RPM will help you get a better understanding of its functionality.
Since telemedicine is inextricably linked with the use of telecommunications technologies, many barriers to receiving medical care are removed by telehealth technology. For example, telemedicine allows receiving the necessary healthcare services without visiting healthcare providers, which is extremely important for the elderly, people with disabilities, patients from rural areas, post-surgical patients, etc. Patients can use a telemedicine app not only for ordinary e-visits but also for real-time body condition monitoring with the help of wireless medical devices and wearable biosensors. According to the American Well's Telehealth Index: 2019 Physician Survey, 93% of surveyed physicians note that telemedicine software improves patients' access to care.
Healthcare providers can achieve an improved quality of care delivery as telemedicine technology allows real-time patient health data monitoring (this online demo shows how it looks in real life). This data can be collected automatically with the help of medical devices or wearable biosensors. Also, personal health data can be added to the system by patients manually. Using relevant information about patients' physiological parameters, physicians can quickly change or supplement a treatment plan and prescribe necessary medications if needed. In such a way, telemedicine applications can help reduce the readmission rate and emergency room utilization. For example, the Veterans Health Administration declared that they reduced hospital readmissions by 51% for heart failure and by 44% for other illnesses with the help of telemedicine software.
As telehealth reduces emergency room utilization and readmission rate, it helps care providers save quite a lot of money as well. According to statistics, Jefferson Health saves from $309 to more than $1,500 on each avoided emergency room visit. Also, telehealth technology enables care providers to use outsourcing remote analysis services (for example, telepathology and teleradiology) and avoid the cost of specific medical equipment and highly specialized medical staff.
ScienceSoft's customers note that telehealth solutions make patients feel more secure and confident, as they can reach a care provider with a few clicks and know that their health data is monitored by professionals. Moreover, high-quality telemedicine applications allow patients to participate in their treatment process: patients have access to their treatment plan, information about their vitals with their physician's comments or suggestions and relevant educational materials. The positive influence of telehealth technology on the level of patient satisfaction is confirmed by the J.D. Power 2019 U.S. Telehealth Satisfaction Study, where the patient satisfaction rate for telemedicine services reached 851 out of 1,000 (based on a 1,000-point scale).
As my practice shows, telemedicine applications can be extremely useful for both patients and care providers. Therefore, investing in telehealth software, software product companies have the possibility to enter the healthcare IT market with a profitable product. And to increase the chances for market success, I recommend cooperating with professionals experienced in the development of telemedicine applications. If you are interested, you're welcome to turn to ScienceSoft's healthcare IT team to develop your high-quality telemedicine application.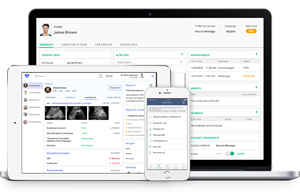 Looking for a solution to your healthcare IT challenge? Our experienced healthcare consultants are here to help.