According to an AIIM's report, 40% of orgs consider their SharePoint implementations unsuccessful. The reason for it is that companies rush into a full SharePoint implementation cycle without proper understanding how their business and infrastructure requirements align with the platform's capabilities and how to take advantage of SharePoint functionality. As a result, implementation fails and a solution intended to streamline work becomes an obstacle and doesn't bring the expected ROI. Users don't see the benefit of using it, which affects acceptance and adoption and leads to the loss of productivity.
In this article, we'll show how to avoid failure and make SharePoint implementation successful.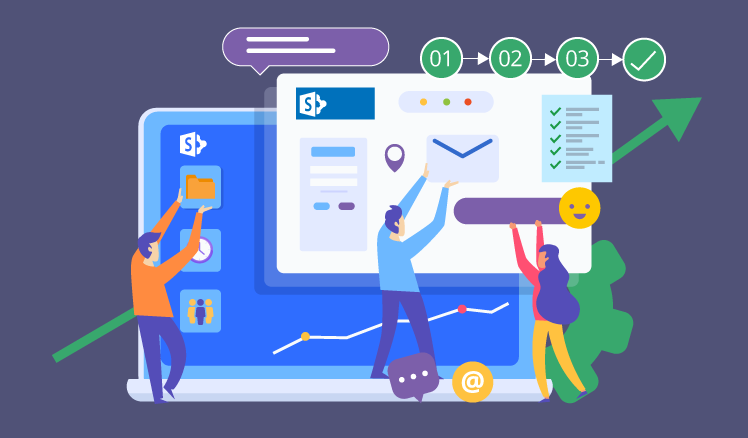 Ingredients for successful SharePoint implementation
In general, technical issues rarely derail a SharePoint project as compared to organizational issues. To become sound, SharePoint implementation requires a robust strategy in line with a company's business goals and operations, which will ensure a SharePoint solution's acceptance and adoption by users. This strategy should be designed with a full understanding of business scenarios that a SharePoint solution is going to support and their importance to the organization.
For successful implementation, business and IT stakeholders carefully analyze business goals that determine design and functionality of an upcoming SharePoint project.
Below we provide the success factors of SharePoint implementation based on 100+ projects completed by our SharePoint team.
A well-designed plan
Successful SharePoint implementation requires careful planning. Usually, the implementation project plan involves the following stages:
Discovery and analysis. A SharePoint team studies a company's requirements, including customizations and integration with third-party tools. Then it analyzes a company's business processes (like document management) and selects relevant SharePoint functionality to streamline them.
Design. This stage consists in creating a solution according to a company's needs, for example, building an information architecture that helps to match a company's content to certain SharePoint sites.
Deployment. At this stage, a SharePoint team deploys a SharePoint solution into the company's digital environment. The process depends on the nature of a SharePoint solution: on-premises or cloud. Migration from older versions of SharePoint or third-party software can also be made at this stage preceded by data mapping that ensures seamless data migration.
Configuration and customization. This is the stage where SharePoint is configured based on a company's requirements. A SharePoint team creates sites and libraries, adds users, determines security groups, sets up metadata and views, builds navigation, etc. The process is much simplified due to SharePoint's built-in site templates and various web parts available out of the box. If the out-of-the-box functionality doesn't meet a company's business needs custom features can be added to a solution, for example, non-linear approval workflows.
User acceptance testing. The stage involves testing of a SharePoint solution by a selected group of users. A SharePoint team makes changes based on the group's feedback, and then they make the solution available for all users.
Training. When a solution is successfully deployed, end users need training on how to use it for their day-to-day activities in the form of, for example, instructor-led training, a video guide. However, not all end users may need training but only content owners or site administrators.
Support and evolution. At this stage, an IT team fixes arising issues, makes upgrades, improves UI and UX, etc. Customizations and integrations can also be performed if needed.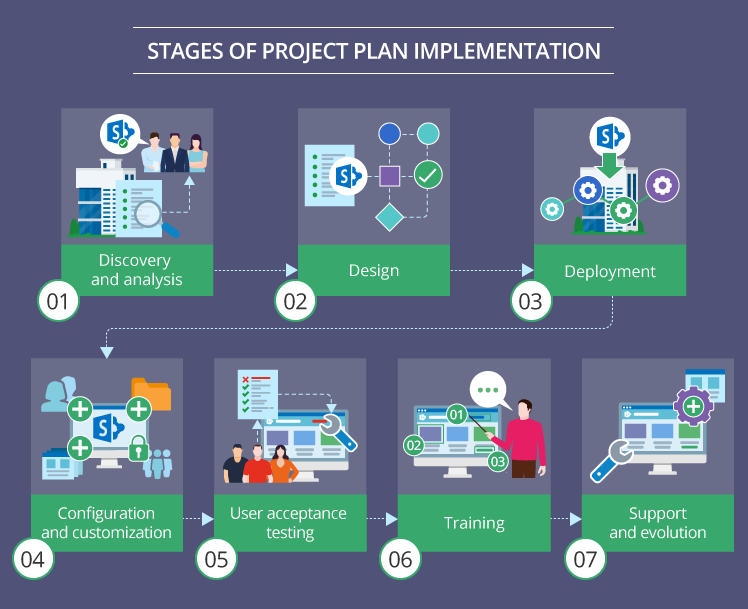 Clearly defined timeframes
A robust SharePoint implementation project needs careful scheduling. A company should take into account not only the deadline for the whole project but also a timeframe for each step or a milestone. A typical SharePoint project takes about 3–6 months and has the following timeframes: discovery and analysis – 2–4 weeks; design, deployment and configuration – 4–6 weeks, testing – 4–5 weeks, training – 1 week, support – 4 weeks.
Attention to the deployment specifics
The implementation process for the on-premises deployment of SharePoint will differ from the cloud deployment (SharePoint Online). Here are the main specific features of the two deployment models:
SharePoint On-Premises
Hardware. Implementation requires a farm, a group of servers hosting SharePoint. The number of servers depends on the number of users, an amount of content, etc.
Maintenance. To stay viable, the implemented solution requires regular maintenance. It can be carried out by an in-house or an outsourced IT team.
Customization. There are many customization capabilities that allow tailoring a solution to a company's needs.
SharePoint Online
Quick start. There's no need for servers or hardware for implementation. A company just subscribes to SharePoint Online or Office 365. However, hardware is required for proper migration, for example, to SharePoint Online.
Accessibility. A solution based on SharePoint Online is deployed in Microsoft data centers, which makes it available for a company's employees on all mobile devices all over the world.
Updating. According to Microsoft's cloud first principle, SharePoint Online is always the first to get updates.
There is also a third deployment option – hybrid – that allows combining the on-premises and the cloud deployment of SharePoint. This option is suitable for companies that store common documents in the cloud but are bound by compliance regulations, such as SOX, GLBA, HIPAA, to store sensitive documents on premises.
Factors that increase ROI of SharePoint implementation
The success of SharePoint implementation comes at a cost of spending significant time and financial resources. No wonder some businesses are not content with their return on investment (ROI) from SharePoint solutions, which is equally applicable to the on-premises and the cloud deployment of the platform. However, it shouldn't discourage companies as there is a number of ways to increase ROI after implementation:
Using the platform's capabilities to the full. SharePoint is not a single application but a platform that offers multiple opportunities: it can be an intranet, a document management system, a collaboration hub, a knowledge base, a blogging platform, etc. By leveraging such SharePoint functionalities as content management, project management, and business intelligence, organizations can reduce the number of additional custom and third-party applications, thus saving on their development and maintenance.
Establishing clear governance. Maintaining the SharePoint environment in an optimal state requires skilled IT specialists and clear governance rules. So, organizations should have a centralized SharePoint control center with specialists who have expertise in a wide variety of issues from hardware and infrastructure to content management. Such a team will help a company to maximize utilization of a SharePoint solution and effectively address business needs.
Eliminating dead websites and duplicate documents. After a solution is implemented, a SharePoint team should always keep its sites and documents in order. Keeping sites and content that are rarely used or not used at all, as well as duplicated documents, is a waste of space and efficiency of a SharePoint solution and a waste of time of an IT team that supports it. So, unused sites and content should be removed on a timely basis.
Deploying a compliance policy. To address the needs of regulated industries, the centralized control center can enforce a compliance policy and best practices that ensure the system is managed efficiently and run in accordance with regulations. The team ensures that documents are accessed and downloaded only by authorized people and see to the compliance with all the industry-specific requirements to security and audit.
Factors that increase user adoption
A successful SharePoint solution needs a well-planned user adoption strategy as good user adoption is an indicator of a healthy solution that provides value to its users. Techniques of ensuring SharePoint user adoption include:
Incremental implementation. Implementation of a SharePoint solution in phases is beneficial for user adoption. A pilot group of users can be selected to engage with a solution and give feedback. Starting with basic functionality facilitates mastering SharePoint for the pilot group, which encourages them to cooperate with an IT team on making it better.
Refining UX & UI. SharePoint solutions are as valuable as their users find them, so if their usability is poor and design is plain, they will not bring value to users. And, on the contrary, if a solution is easy to use and useful to the company, it will be actively used. To make SharePoint solutions more efficient, companies should see to making interfaces attractive and intuitively navigable and create neat user experience. For example, the Promoted Links Web Part can help to make SharePoint sites more user-friendly.
Comprehensive training. Many companies use SharePoint mostly as a file share and don't take advantage of this feature-rich platform, for example, they don't use metadata to better organize their content. Such features as content personalization, workflows, and reporting services that can help users to facilitate work on their routine tasks and increase productivity are also rarely used. So, companies should arrange comprehensive training to educate users on SharePoint's capabilities and how to leverage them. As users are not expected to remember everything at once, it's better to allow them to refresh their knowledge through FAQ, training guides and videos.
Simplicity in features. Simplicity is the key to user adoption. It's better to go with out-of-the-box functionality, if it's enough to cover current business needs. And even some default features may not be needed. For example, basic SharePoint functionality offers many links to web parts, so it's better to clean up navigation leaving only those links that are actually used.
Engagement. One of the ways to enhance adoption rates is increasing users' engagement and motivation to use a SharePoint solution. For example, an intranet's content should be valuable for users and include KPI dashboards, communities, media gallery, and news. Also, gamification features can help to encourage active using of SharePoint solutions. Thus, a person can be awarded a badge for leaving comments, editing content, etc. Also, to increase engagement managers can show an example and use various intranet tools when they assign tasks for their subordinates, create announcements, share documents.
Regular monitoring. It's necessary to analyze SharePoint usage and adoption, for example, which features are used and which aren't. Surveys can be created for users to leave their feedback on usability issues, new functionality.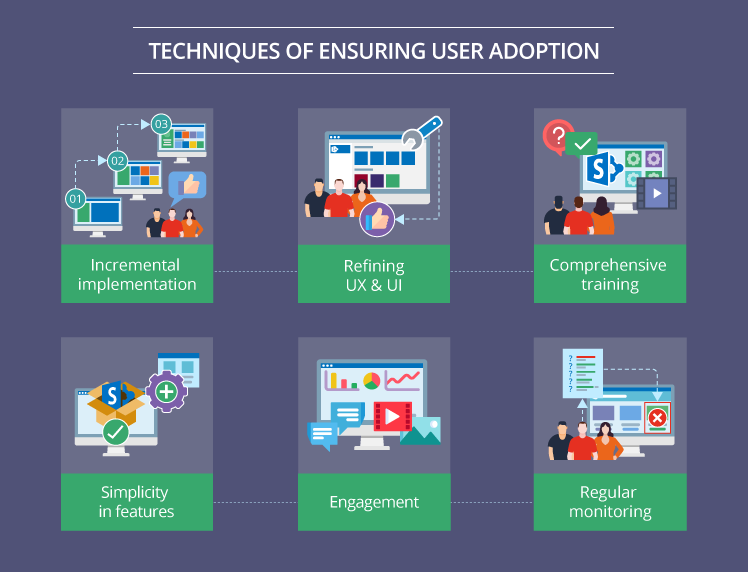 Implementation cost considerations
SharePoint implementation costs range from $20,000 to $200,000 depending on the solution type and scope, the number and complexity of integrations and customizations, and more. Besides, you should take into account not only the cost of the development itself but also the related expenses. They include:
Licenses. Microsoft offers various licensing options for SharePoint and Office 365. The subscription plans depend on storage space and a number of used applications and start with $5.00 user/month for SharePoint. Also, licenses for Microsoft SQL Server and Microsoft Windows Server are required as they don't go together with SharePoint.
Security tools. To enable the security of a SharePoint solution, Microsoft offers a wide range of malware protection and backup products. Of course, third-party solutions can also be applied to protect SharePoint from malware and data loss.
Hardware and infrastructure. The on-premises deployment of SharePoint requires servers (Microsoft SQL Server, SharePoint Web front-end, and SharePoint application servers), disk storage, networking hardware, etc.
IT staff. Expenses on IT specialists depend on the complexity of configuration and development a SharePoint solution requires. For example, if users employ only basic SharePoint functionality, the costs of IT maintenance and support will be lower as compared to using SharePoint as a development platform for business applications when the expertise of various specialists, such as business analysts and IT help desk may be required.
Third-party software. Sometimes, SharePoint can't handle tasks on its own and needs integrating with third-party tools, which carries additional costs. For example, a SharePoint document management system doesn't allow converting paper documents into searchable PDF files, and the system needs integration with third-party optical character recognition (OCR) tools.
So, how to make implementation successful?
First of all, effective SharePoint implementation requires a competent and thorough analysis of a company's business needs and matching them with the platform's functionality, which also helps a company to decide upon the most suitable deployment option: on-premises, cloud or hybrid. Then an accurate implementation plan with well-defined timelines and scope of works for each phase is required. Also, attention should be paid to making a SharePoint solution attractive and convenient to use as high user adoption is one of the main indicators of successful implementation.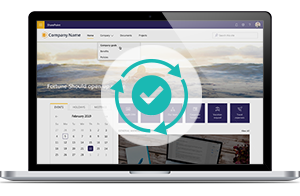 Having implemented over 100 successful SharePoint projects, we'll guide you through SharePoint implementation from planning to support and evolution.